The kitchen is often considered the heart of the home, a hub where meals are prepared, conversations flow, and memories are forged. However, as time passes, kitchen cupboards and cabinets may lose their luster, appearing tired and dated. Rather than opting for replacement, a cost-effective and eco-conscious alternative is to rejuvenate them with a flawless home painting job. This comprehensive guide will take you through the process of painting your kitchen cupboards and cabinets step by step, ensuring a fresh, new look that revitalizes the core of your home.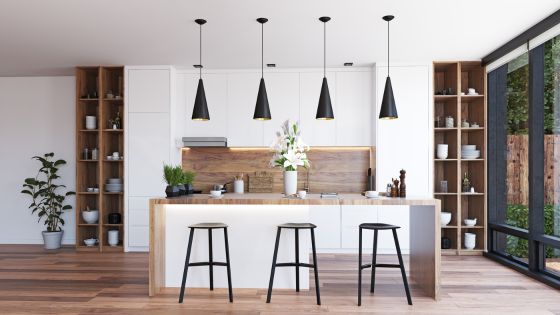 Preparing Your Kitchen Cupboards and Cabinets
Before you start your kitchen transformation, it's crucial to prepare the cupboards and cabinets properly. This preparation phase is vital for achieving a smooth and long-lasting finish.
Assessing the Condition
Begin by assessing the condition of your kitchen cupboards and cabinets. Look for any damage, cracks, or loose hinges that need repair before painting. Addressing these issues upfront will ensure a better end result.
Cleaning and Degreasing
Over time, kitchen cupboards and cabinets can accumulate grease, dirt, and grime. Clean them thoroughly using a degreasing solution to remove any built-up residue. A clean surface is essential for paint adhesion.
Sanding
After cleaning, lightly sand the cupboards and cabinets to create a rough surface that will help the paint adhere better. Sanding also helps to smooth out any imperfections and provides a better base for the paint.
Choosing the Right Paint and Color
Selecting the right paint and color for your kitchen cupboards and cabinets is a critical decision that will significantly impact the overall look and durability of the finished project.
Types of Paint
There are several options when it comes to choosing paint for your kitchen cupboards and cabinets. Water-based paints are eco-friendly and have low odor, while oil-based paints offer durability and a smooth finish. Be sure to select a paint suitable for kitchen use, as it will be exposed to heat, moisture, and daily wear and tear.
Color Selection
When choosing a paint color, consider your kitchen's overall aesthetic and your personal style. Neutral tones like white, gray, and beige are timeless and can make your kitchen feel brighter and more spacious. However, bold colors can add personality and make a statement. Take your time in selecting a color that complements your kitchen's existing decor.
Gathering the Necessary Tools and Materials
To ensure a successful kitchen cupboard and cabinet painting project, gather all the necessary tools and materials beforehand.
Tools
Paintbrushes: High-quality brushes designed for smooth surfaces.
Roller: A small roller for larger flat surfaces.
Sandpaper: Various grits for sanding.
Painter's tape: To protect areas you don't want to paint.
Screwdriver: For removing hardware.
Drop cloths or plastic sheets: To protect your kitchen from paint splatter.
Materials
Primer: A high-quality primer designed for your chosen type of paint.
Paint: The paint color of your choice in the appropriate finish (e.g., satin, semi-gloss).
Cabinet hardware: New hardware can give your cupboards and cabinets a fresh look.
The Painting Process
Now that you've prepared your cupboards and gathered your supplies, it's time to dive into the painting process.
Step 1: Remove Cabinet Doors and Hardware
Start by removing all cabinet doors and hardware. This includes handles, knobs, and hinges. Label or keep track of each piece to ensure they go back in the right place.
Step 2: Apply Primer
Primer is essential for creating a smooth and even surface for your paint to adhere to. Apply a thin coat of primer to all the surfaces you plan to paint, including the cabinet frames and doors. Let the primer dry completely.
Step 3: Sand Again (Optional)
After the primer has dried, you can choose to sand the surfaces lightly once more for an even smoother finish.
Step 4: Paint the Cabinets
Now it's time to paint your cabinets. Begin with the cabinet frames, using a brush for the corners and edges and a roller for the larger, flat areas. For cabinet doors, paint one side at a time, allowing each side to dry before flipping them over.
Step 5: Apply Additional Coats
Depending on the color and type of paint you've chosen, you may need to apply multiple coats for full coverage. Be sure to let each coat dry thoroughly before applying the next.
Step 6: Reattach Hardware and Doors
Once the paint is dry, reattach the cabinet doors and hardware. Make any necessary adjustments to ensure everything lines up perfectly.
Tips for a Successful Cabinet Painting Project
To ensure your kitchen cupboard and cabinet painting project goes as planned and adds to the overall home improvement project, consider these tips: Just as a sturdy roof protects your home from the elements, a well-executed paint job safeguards and beautifies your kitchen cabinets. Prep work is crucial; thoroughly clean all surfaces and remove hardware for a professional finish. Selecting the right paint can make all the difference, so choose a durable formula designed for cabinetry. Remember, patience is key—allow ample drying time between coats to achieve a flawless look. With careful planning and attention to detail, your painting endeavor can significantly enhance the ambiance of your kitchen.
1. Proper Ventilation
Ensure good ventilation in your kitchen while painting to disperse fumes. Open windows and doors, and use fans if necessary. This will also help speed up the drying process.
2. Patience Is Key
Allow ample time for each coat of paint to dry before proceeding to the next step. Rushing can lead to a less-than-perfect finish.
3. Quality Brushes and Rollers
Invest in high-quality brushes and rollers to achieve a smooth and professional-looking finish.
4. Protect Surrounding Areas
Use drop cloths or plastic sheets to protect your kitchen surfaces and floor from paint drips and spills.
5. Consider Professional Help
If you're unsure about your painting skills or want a flawless finish, consider hiring a professional painter experienced in cabinet and cupboard painting.
Maintaining Painted Kitchen Cupboards and Cabinets
Once you've successfully painted your kitchen cupboards and cabinets, it's essential to maintain them to ensure their longevity and appearance.
Regular Cleaning
Regularly clean your painted cabinets with a mild soap and water solution. Avoid abrasive cleaners, as they can damage the finish.
Gentle Handling
Be gentle when opening and closing cabinet doors and drawers to prevent chipping or scratching the paint.
Touch-Up as Needed
Over time, minor wear and tear may occur. Keep some extra paint on hand for touch-ups to keep your cabinets looking fresh.
Painting your kitchen cupboards and cabinets can be a rewarding and budget-friendly way to transform your kitchen's appearance. With proper preparation, the right paint and color choices, and attention to detail, you can achieve a professional-looking finish that breathes new life into your kitchen space. Whether you opt for a classic white or a bold color statement, your revitalized kitchen will become a place where you'll love spending time with family and friends, creating delicious meals and cherished memories.