What is the definition of custom software development?
Custom software development is the process of creating, developing and maintaining software applications that have been designed specifically for the needs and specifications of a company or business. When compared to off-the-shelf software, custom software is developed to address specific issues, streamline operations and improve overall productivity. Ensuring that the outcome, in the end, matches up with the objectives and goals of the company. It frequently necessitates close collaboration between the development team and the client.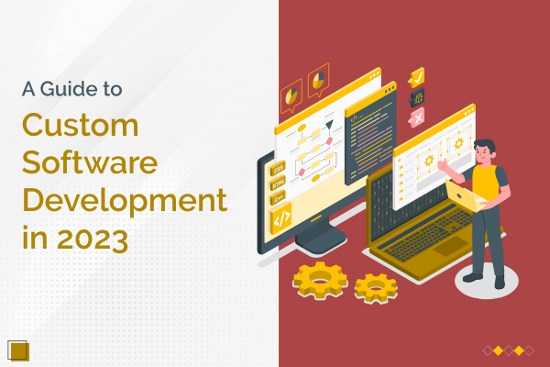 Who requires the development of Customised Software?
The custom software solutions could prove to be helpful to organisations in all sectors, including manufacturing and healthcare. Several factors, such mentioned below, could render the development of custom software essential for your company:
● Introduce software to the market
A number of companies emphasise offering market-specific industry-specific software, such as recruitment or logistics software.
● Start-ups
Startups often invest money in custom software development services in order to develop a software product that will be their primary marketing element.
● Enhance Internal Operations
Several companies oversee internal operations with the support of customised software. Every business has unique ways of operating, thus it may require bespoke software.
● Enhancing Client Service
In order to stay competitive, businesses will spend more on developing software that is exclusive to them.
The key stages of custom software development
There are five primary essential phases of developing custom software that must be taken into account.
● Design the Software
Designing the software's design, user experience, functionality and essential features is the initial stage of developing custom software. In general, software development teams of a software development company USA or Indian based are in charge of creating the application.
● Developing the Software
In this stage, the software's development will then commence. This could mean that it is made accessible at certain points or once the entire piece of software has been developed.
● Software Testing
There are two main testing steps, the first which happens once the software development team is done developing it. Second, the company will also perform tests on the software to confirm that it is performing as expected.
● Software Deployment
The software will be deployed on the company's server after comprehensive testing.
● Launching the software
The software may be launched in steps, such as an initial release and a full release. The organisation and the software will determine this.
Where to Look for the Best Software Development Company
It might be challenging to find the best custom software development company USA or Indian based, to collaborate with on the building of your custom software that meets your expectations, aims and objectives. Working with a company that can fulfil your specific needs will be vital for the project's timely and cost-effective completion. Here is where to start when looking for a top software development company:
● Contact your Network
Take advantage of your network to look for referrals of businesses with a track record of completing projects successfully.
● Local Presence
Working with someone who is geographically close to you can provide you peace of mind and a more reliable and trustworthy service. Many software development organisations employ developers all around the world.
● Online Marketplaces
This could be a possibility if you're searching for a developer for a small project, but it might not serve as the best solution for more complex ones.
How to Select the Best Software Partner for Your Company
Selecting a suitable partner is essential due to the fact that you will be working with them for a long time as most software development projects might take weeks to deliver. When looking for a partner, there are a lot of things to take into account, such as:
● Experience
Working experience on a project with a scope, technology, business or domain that is similar to that of yours.
● Skills Se
Skills in the latest and cutting-edge technology to develop software that is future-proof.
● Communication
The frequency and channel of communication must be exceptional and take place at the right moment.
● Delivery and Project Managemen
Strong organisational setup in place to manage and complete the project successfully.
● Reviews and Testimonials
Look for the reviews on both their website and additional review websites.
● Company Culture
Ensuring that the culture and values of the business match yours.
The Advantages of Custom Software Development for Your Company
● Reliability
Custom software is more trustworthy and secure than generic off-the-shelf software. This is to ensure that businesses could manage and control the software as they see fit. The most powerful tools and security protocols are frequently used by custom software developers, resulting in the highest performance and dependability for their final product.
● Personalised Solutions
Custom software solutions enables companies to provide consumers with specialised solutions. Businesses can create more profound client relationships and enhance customer satisfaction by adding a personal touch. According to a recent McKinsey report, 71% of customers prefer customised service and 76% have a feeling of dissatisfaction when they do not receive it.
● Customer Satisfaction
Customer satisfaction can be greatly improved by the development of custom software. By providing a customised user experience, businesses can improve the value of their relationships with their customers and increase the retention of clients.
● Security
Compared to general off-the-shelf software, custom software is typically less vulnerable to hacking. This is due to the fact that custom software is closed-source and only used by the company, decreasing the likelihood of attacks.
● Integration
A seamless integration with current systems and processes could be achieved by simply integrating custom software with already-existing company software.
● Flexibility and Scalability
Custom software can be customised according to the need to adapt to a business's changing demands. Commercial software, on the other hand, cannot be updated and might breach licensing agreements if modified. Custom software gives organisations the flexibility to scale as necessary and make adjustments to suit their changing demands.
Building custom software with us
Businesses can gain a lot from creating custom software, from better security and dependability to better-customised solutions and improved client retention. Businesses can use custom software development to boost customer engagement and establish deeper customer connections by analysing the trends and demands of their target market.
Consider contacting our team if you're wishing to invest in custom software development. In order to fulfil each client's unique requirements and expectations, we have offered custom software development services to a range of customers.