Are you wondering how to ensure your software is thoroughly tested and bug-free?
One possible solution to achieving this is hiring an effective QA team.
QA is an integral part of the software development process, directly impacting the project's success.
So, how do you choose the right software tester for your project?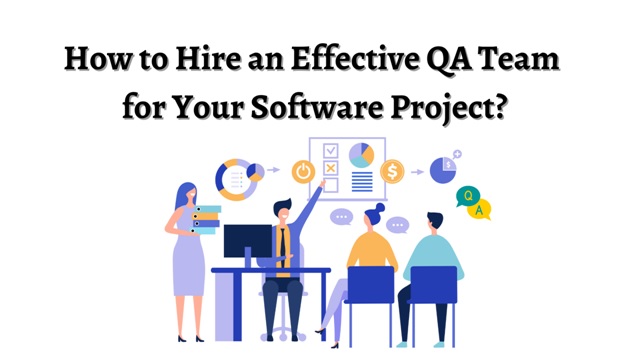 Well, there are many factors to consider when hiring a mobile app tester, including their experience, expertise, communication skills, and ability to work well under pressure.
Ultimately, the experience of your QA team can make or break your software testing project, so it's essential to hire the best software testing service provider.
To ease your efforts, this blog will provide tips on hiring an effective software testing team for your business.
Let's start.
5 Effective Tips To Follow Before Hiring A Reputable App Testing Company
1. Read Reviews
Review platforms like Clutch, G2, GoodFirms, etc., are some places to find the software testing company. These websites are a great place to start your search and learn about the potential team.
Reviews can also provide insights into their previous client's satisfaction levels. You will get an idea of their services, quality of work, methods they use, attention to detail, and their ability to identify & report bugs.
By reading reviews, you can make an informed decision based on the quality of their work, client satisfaction, cost-effectiveness, and trustworthiness.
2. Check Out Websites And Portfolios
If the website functions well and the UI/UX is user-centric, it indicates that the potential software testing service provider pays close attention to the little things. Also, by accessing their website, you can see if they have a track record of delivering quality work.
Your next step should be to examine the portfolio of the company you are researching.
While reviewing the portfolio of app testing companies, pay attention to the following:
The type of testing they perform
Industry focus
Size of their past projects
Strengths and weaknesses of the team
Expertise
Overall, by checking out the website and portfolio of software testers, you can choose an app testing team with the expertise and experience necessary to deliver a high-quality product. By doing this, you can save time and money while ensuring the success of your project.
3. Evaluate Their Security Policies
A QA team with inadequate security policies could leave the software vulnerable to malicious attacks, data breaches, and other security threats.
You need a reliable software testing service provider that uses secure data handling strategies, non-disclosure agreements (NDAs), and other security protocols to prevent unauthorized access.
A thorough evaluation of the potential team's security policies can also help ensure compliance with regulatory requirements and industry standards.
4. Check Out the Certifications of Potential Team
Certifications show that the potential team members have undergone rigorous training and demonstrated software testing proficiency.
Hiring a certified team ensures that testing is performed effectively, leading to high-quality results. It also reduces the risk of errors, defects, and security vulnerabilities arising from poorly conducted testing.
Ultimately, checking out a potential software testing team's certifications helps ensure that the team is competent, professional, and qualified to deliver high-quality results.
5. Examine Their Communication Skills
Usually, software testers involve working with the developers and project managers to identify and resolve issues. If they fail to collaborate effectively with other team members, it can negatively impact the overall quality of your project.
Hence, ensuring that the potential quality assurance team follows effective communication strategies and tools to convey information, like Slack, email, etc., is essential. It ultimately leads to a smoother testing process, better quality software, and a more successful project.
Other Important Things To Keep In Mind
Check out the testing standards the potential QA team follows
Past projects
Testing methodologies and practices
Testing priorities
Prepare your requirements
Final Thoughts
By following the steps described in this blog, you can create a solid hiring process. It allows you to identify the most suitable candidates, assess their skills & experience, and ultimately select the right software testing service for your project.
QA teams are more than just testers. They are professionals who understand the importance of quality and are committed to delivering a flawless product.
With the best software testers, you can be assured that your project will be tested, validated, and ready for launch, paving the way for your success.