A hoarding for construction sites is a boundary or a temporary fence around a construction area. It is done to prevent the construction from coming into view by the general public. The hoards for construction sites are mostly wood, plywood, or metal. The hoarding is done to protect the workers and the public from any damage due to the construction.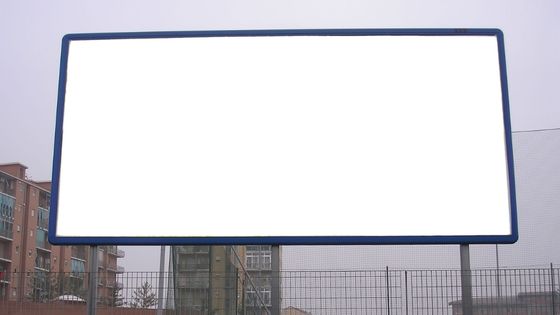 Hoarding systems are obligatory on any construction point for safety and security purposes. Construction hoarding is the use of boards, walls, or other standing structures to gesture and secures the boundary of a construction point.
Top 3 Types Of Hoarding For Construction Sites
There are various types of sites; to help you have an overall better understanding, the article lists the types which are as listed below. Continue reading further till the end to know more.
1 Timber Hoarding:
Timber or wood is a useful natural source used as a hoarding. They are eco-friendly, sustainable, and can be stored for later use. They can last longer as compared to other types. This material is very strong and durable and can't be easily destroyed. It is a good option. This is the best type of hoarding for construction sites.
2 Steel Hoarding:
Steel is a strong material and is reusable. Construction in areas prone to strong winds can be covered with steel hoarding. As well as being reusable, they are also easily installed and customizable.
3 Concrete Hoarding:
This type has one big advantage, it is adjustable and can easily be dismantled and shifted. They save a lot of time, space, and money.
7 Benefits Of Using Hoarding For Construction Sites
Hoarding on a construction site can have several benefits. They are:
1 Maintains Privacy Of Your Projects
Some builders want their projects to be unseen till it is fully constructed. Using hoarding helps them hide the construction from the eyes of the public.
2 Protection Of The Project:
Some people are there who can enter the construction site and either hamper themselves or the project. To keep the project secure, hoarding is a must. It ensures the safety of both the person and the site.
3 Safety Awareness:
The construction site can be harmful due to the blocks, instruments, etc. By using hoardings, one can know to the public that there is some construction going on at that place and be away from it for their safety.
4 Security
One of the main benefits of enforcing hoarding for construction sites is that it provides security for your construction site, which can help prevent theft and fiscal loss.
5 Cost-Effective Solution
One of the most advantageous elements of construction hoarding design is its capability to deliver a cost-effective solution for your construction business.site hoarding allows you to reduce protection and advertising costs, as our sustainable signage can be re-used for unborn systems. It's also extremely easy to install, which means the installation period will be quick and cost-effective.
6 Advertisement:
Brand awareness can be created by hoarding on which the brand logo and other information are given. Your brand identity can be embedded here to penetrate the public's mind because of the hoardings.
7 Ease Of Communication:
General people find it easy to communicate with the builder or the contractor to know what is built. If they discover that a building is being built, they may communicate with the builder for the flat rates.
These were some benefits of installing hoarding in your construction area. Besides the mentioned above points, hoarding for construction sites can ensure safety in construction sites. Brand advertisement can also be done easily, the health of the workers and the local people can be conserved, and the construction can be protected from any harm or damage.
Construction hoarding is a temporary structure, but that doesn't inescapably mean that hiring is the stylish(and cheapest) option. By its veritable nature, a construction design can last a long time and there's always a chance it could run over schedule. It's surprising how snappily a 'hire bill ' can mount up.
Investing in your own hoarding is frequently the more cost-effective option. You're in control of how much you spend, and the hoarding is yours to keep, and it can be used time and time again for unborn systems.
Conclusion
The construction site must be accompanied by hoarding for the better safety of everyone and the protection of the project. In such cases, hoarding for construction sites can be the best solution to any construction-related issue. You can use company colors, logos, and so on in your design to reinforce your brand identity and visual marketing strategy.
Local figures can also be encouraged to engage with hoarding by participating in its design. Marketing opportunities are immensely increased. Even before your project is complete, this can get the public involved. Hence, get hoarding fitted in your project site for better results, including safety and marketing.