One of the easiest and fastest rummy versions played worldwide is Gin Rummy. It is gaining more popularity in the USA with the advent of online games. The fundamental objective of the game is to have a collection of cards to meld and be the first player to reach the agreed-upon score, generally 100 points. In addition, players must have the least deadwood by the end of the game to beat opponents.
Gin has two types of meld – sequences or sets of three or more cards in the same suit and sets of three or four cards sharing the same rank. The deadwood cards are those that are not part of any of the meld. Players can form any combination of melds within their hand – all runs, all sets, or some runs and some sets.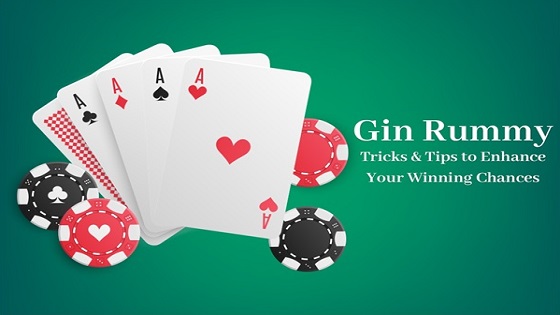 While the game offers a lot of casual fun, playing online means competing with random online opponents or your friends. If you wish to take the friendly out of the competition, you need to know the correct Gin Rummy strategies to enjoy consistent wins.
Observe the Discard Pile
Watching how your opponents interact with the discard pile can teach you a lot. Their discards and what they take are critical indicators of what they are melding and how close they are to getting the combinations.
It is important to note that strong players do not draw from the discard pile unless it is required for completing a meld. Weaker players take from the discard pile.
If your opponent is a weak player, you must avoid discarding cards equal to the ranks of those suited consecutively to the cards they are picking up.
Typically, strong players discard high cards early in the match. So, if you notice the player discarding a high card later in the game, know the player has switched strategies and is close to knocking or gin.
Keep High Pairs Early in the Hand
Players who know the most basic strategies of the game will discard the high cards at the start of the game. When playing against such a player and you are dealt high pairs, keep them for the first 4 or 5 turns to try your luck. Then, you can discard them.
If your opponent is great at the game, you must control yourself and not get tempted to discard the high unpaired cards early in the game. It might be a trap, and you may hand over the win to your opponent on a platter.
Knowing When to Knock is Critical
When a player completes all the melds, few hands end, and knocking to end a hand is highly likely. Knocking before your opponent is always a good idea if less than fifteen cards remain in the draw pile. It would be best if you remembered that most players play with house rules which award twenty-five bonus points for making a gin but only ten or twenty bonus points for an undercut.
When playing the match, you can often outscore the opponents by knocking early, even if you occasionally catch out.
Build Melds Using Card Triangles
Players can consider building melds using card triangles. So, you can create a set of three with two cards suited consecutively, and the third can hold the same rank as the other two cards. So, for example, if you have a six and seven of spades, along with a 6 of a different suit, the set represents a card triangle.
With these card triangles, you will have four options to build a meld.
Middle Cards Offer More Options
If you face a situation where you cannot build a meld out of a single card, the best option is to go for a middle-ranked card. The cards numbered 5, 6, and 7 can help you in such situations. These cards present you with a middle ground as an option, and you can meld three to four cards. Moreover, if you find yourself stuck, it wouldn't be a bigger deal than holding on to cards with higher value.
Until Completion of a Run, do not Draw from the Discard Pile
When you draw from the discard pile, there are two significant drawbacks. First, you are giving scope to your opponents to look at your top card. If your opponent sees this, it might change the game. The second drawback is that your opponent may look at the card you have picked from the discard pile. For instance, if you have chosen a six of diamonds to match with the six of spades, you may never get the next six because your opponent might get hold of the card and prevent you from finishing your sequence.
Change the Style of Playing
It is essential to be flexible when playing Gin Rummy. It is advised not to remain steadfast on a specific strategy. If the plan doesn't work, you must be flexible to change it according to the cards at hand. While the matches are timed, your strategy must depend on the cards you are dealt. Also, you need to study your opponent's moves and accordingly strategize your moves.
The Bottom Line
Mastering Gin Rummy is possible with patience and the stability of your mind. It is vital to remain calm when things are going out of hand. You can play practice matches by implementing the above tips.