If you're a content creator, you know that having the right tools can make all the difference. The right tech accessories can help you create better content faster. The right tools can also help you make your content more engaging. Here are seven of the best tech accessories for content creators.
1. A Good Laptop
Most content creators use laptops to write, edit, and create videos. A good laptop should have a fast processor, plenty of storage space, and a great camera. And if you are using a computer to write or edit text, you'll need a good mouse to move your cursor around the screen quickly and accurately. Look for one with high-precision sensors and comfortable grips. Whether you use a computer or a laptop, you should choose one with a resolution that's high enough to allow you to see the details in your images and videos.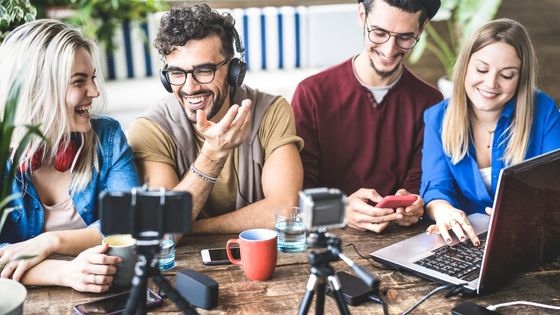 2. A High-Quality Video Camera
When it comes to content creation, video cameras are arguably the most important tool a person should have. Since their humble beginnings as consumer devices, video cameras have come a long way. Today's video cameras are capable of capturing high-quality footage that you can edit into compelling videos. Video is the most popular form of content on the internet, and for a good reason. It's a powerful medium that you can use to capture and share stories, images, and moments in ways that text alone cannot. If you are in the market for a camera, look for one that has high-quality optics and features such as automatic focus and stabilization.
3. A Good Audio Interface
If you're going to be recording or editing audio, you'll need an audio interface that can handle high-quality recordings and editing. Look for one with plenty of ports and inputs, as well as a quality microphone. An audio interface allows you to convert microphone signals into a format your computer can understand. It is also responsible for routing audio from your computer to your headphones.
4. An External Hard Drive
If you're going to be storing any significant amount of data, an external hard drive is a must-have. A hard drive will also come in handy in case you lose data on your computer or pc. You will also need a hard drive enclosure to protect the disk from damage.
5. A Good Graphics Card
Creating content is a demanding process that requires a powerful computer. A graphics card is an essential piece of hardware for any content creator, as it helps to render images and videos quickly and smoothly. A good graphics card can make a big difference in the quality of your work, so it is important to choose one with high processing power and enough memory to handle the latest video and image editing software.
6. Connecting Accessories
Connecting accessories are essential for content creators because they allow the creation of a seamless flow between devices and facilitate the sharing of data between them. For example, if you are working on a project and need to send someone a file that you have created, using a USB hub will allow you to do so without having to go through the hassle of finding an extra cable or trying to remember which device has a port that can accommodate your file. Other connectivity accessories that will come in handy include a webcam extension cord and HDMI accessories such as an HDMI port for a laptop for all-in-one connectivity needs.
7. An Editor or Video Editing Software
Among the various tools content creators use to produce videos and articles, one of the most essential is an editor or video editing software. These programs allow users to cut, merge, and rearrange footage; add music, sound effects, and subtitles; and create engaging videos that engage viewers. A video editor can also help content creators make complex videos more understandable by breaking them down into smaller chunks or segments.
Closing Thoughts
Having the right tools as a content creator will come in handy to help you create better content that stands out from similar content from other creators. And if your content is unique, it will likely attract a bigger audience which will come in handy if you are creating content for commercial purposes.