Your videos reflect your brand. For example, hiring a professional video animation services provider to create compelling videos can do a lot to your business.
Video animation is essential in today's world. If you're considering introducing animated video into your business, you're not alone. In 2021, nearly 85% of companies used video animation to market their business, compared to 63% in 2020. This number will only grow in the next few years as brands explore the infinite benefits of using animated videos as a sales tool.
There are many videos to choose from. It can be used to market your services or products, increase brand awareness, increase brand recognition, and more. As far as video animation agencies are concerned, it's a great tool because it tends to give you helpful information in a short amount of time.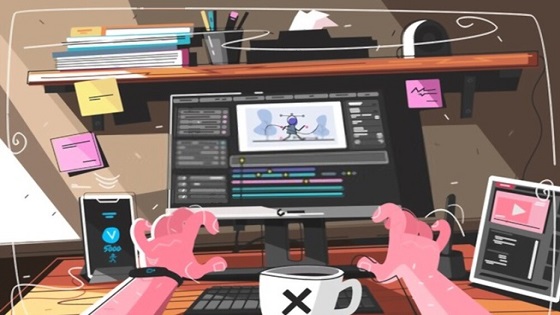 Partnering with a video animation service provider with great expertise, creativity, and industry acquaintance plays an important role in the video's success. But, hiring the right one is a daunting task. It requires attention and knowing what to look for. Today, in this blog post, we share some of the important tips on hiring an affordable video animation services agency. So let's get started!
Seven Best Tips on Affordable Video Animation Service
Here are some of the important tips you should consider while hiring video animation services for your brand:
Think What You Need
The information is the most important part of any animation video for a business. Before choosing a video animation company, you must know what kind of video you want. Funny, educational, light-hearted, or thoughtful?
Also, consider your product or service. How does this affect the information you're sending? Once you understand this, you can now hunt for video animation services that are experts in what you need.
Plan Your Budget
Before hiring, it's helpful to analyze how much companies charge for their work. Compare and choose video animation services with reasonable costs. You can compare and search the prices of different animation agencies and calculate the average cost.
Remember, hiring cheap and low-price services can be attributed to poor job quality, so choosing a very low-quality company is not recommended.
Check Portfolio
Once you have a budget, start looking for an online video animation agency.
The best way to learn about animation video services is to check out the site's testimonials and portfolio. Check how many videos they have on their portfolio. The more videos, the more experienced company. This is essential for an excellent final product. Not only the quantity of videos but also the quality is a top priority.
See how complicated the animation is? There are exciting transitions between images. Is the design up-to-date, exceptional, and related to your brand? We also understand that the purpose of animated videos is to connect with a global audience, explain your message or motto, and maintain interest.
Check Out The Animation Style
Check their work. Is it original? Does the artistic presentation seem appropriate for your company/product? Is it visually appealing and interesting? Do you think originality is important in your project, or do you think you need information that is fluent and easy to learn? These are just a few of the things to consider when hiring a video animation agency.
Check Client Testimonials.
We live in an age where you can find any business review online. Before choosing a video animation company, we recommend carefully checking its reputation and reviews. You can simply find customer reviews on the company's social pages and on an online platform like Trustpilot and find out if you are providing satisfactory service. If there are negative reviews, please read them carefully to determine whether the complaints are justified.
Commitment and Consistency
If the potential company has enough experience, they will guide you through the correct video process and help you choose the best type (motion graphics, whiteboard, or character animation), project duration, etc.
No one knows your business better than you, but your business video probably has a solid track record in the field. Pay attention to their guidance, even if they disagree with you. Beware of companies that keep making special requests like "I need a video of a week, better quality, lower price." If this happens and the salesperson doesn't speak, you're on the wrong track. The hallmark of a good company is not complacency but commitment and consistency in the face of pressing needs.
The Voiceover and Animation
The voiceover of your video should be done by a professional who knows how to use tone and type appropriately and echoes the dialect. For example, let's say different English-speaking nations use individual pronunciations. For example, there is a difference between British and American English pronunciation.
Now talk about the video. It must be clear. Videos with unconceivable graphics are impractical. The general design is the same. The designs must be original and attractive. In motion graphics, the design must be modern and striking. Remember that your video is a marketing tool that takes part with the rest of your operation, so keep it consistent with your brand's logo or website.
Correspondence and Client Support
Some companies offer quality products and reasonable prices but rarely have the time to communicate effectively with customers. So it's important to have an open conversation and provide excellent customer service that guides you through the video creation process. The video animation company must answer your questions and concerns and ensure that you are actively involved in all stages of the project. After all, only you know your business well!
Conclusion
Choosing a professional video animation service provider is important but not too difficult if you follow the correct procedures. Proper research on the above aspects will help you to find the best animation company for your business. The best video animation companies assist you in making the best animation videos. The best videos will improve your ranking in the Google search engine. So, help your business grow faster.