With the rising competition, it has become necessary to automate beauty salon operations with the help of different solutions. All salon functions, such as appointment booking, inventory management, customer management, and payroll processing, can be easily managed with advanced technology. This includes an online booking system, point of sale system, CRM system, etc. Eventually, it streamlines the salon tasks and creates a positive customer experience. It automatically sends booking confirmations and reminders for upcoming appointments, which results in reducing the number of no-shows. Additionally, the automation helps the salons to keep track of inventory levels and notify them about the shortage of stock. Leveraging mobile apps and online booking systems for salons is the best way to attract customers where they can easily book appointments 24/7 from any location.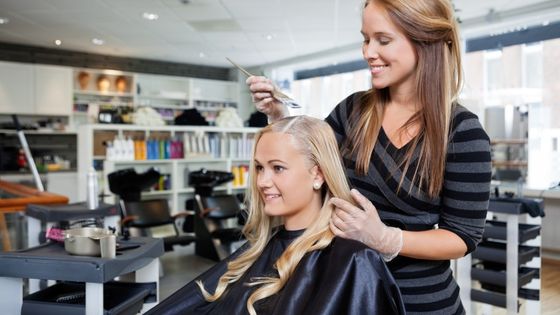 The blog demonstrates five ways that help automate salon processes and make the challenges easier for salon management.
A Complete Guide On Beauty Salon Automation: 5 Ways
24/7 Online Appointment Booking
Nowadays, customers prefer to book salon appointments online instead of visiting the salon premises. Additionally, it is challenging for salon employees to manage all the appointments manually. However, the integration of an online booking system solves the problem for both employees and customers.
Customers can book, rebook, and cancel appointments at their convenience around the clock from any place. Initially, customers have to check the availability of the salon staff member from whom they want to take the beauty treatment. If the staff member is available in the salon, the dashboard displays their availability, and customers can reserve the booking. The system sends notifications to both employees and customers for upcoming appointments so that they can prepare themselves accordingly. This can save their valuable time and decrease the chances of appointment scheduling errors. Furthermore, this system helps to collect customers' information and preferences, which ultimately helps provide personalized services.
Use Email Marketing Tools
The salon business can use email marketing tools to attract and retain customers. It automatically sends SMS and emails on their birthdays and anniversaries, which makes them feel valued. With the help of the tool, the salon can share its latest beauty offers and deals with its customers. It also helps to send reminder emails for their upcoming booked appointments. Additionally, it notifies customers about their pending payments. Conclusively automating email marketing can save a lot of time and effort while ensuring emails are consistent, targeted, and effective.
Automate Inventory Management
It can drastically affect the customer experience at a salon if beauty products are out of stock. Therefore, it is important to automate inventory management, which significantly reduces errors and improves the customer experience. The system keeps real-time track of inventory levels, reduces wastage, and significantly lowers operational costs. It also sends automatic notifications to reorder stock to avoid last-minute retail product stockouts. Furthermore, it centralizes inventory information from different branches into a single database, which the salon can access from any location on any device.
Send Automatic Booking Confirmations And Reminders
It can be a tiring and lengthy process for salon employees to make confirmation calls to customers during their busy schedules. However, automated confirmation emails can help improve employee productivity. When employees receive notification of appointment confirmations from customers through the system. They can prepare themselves to provide quality beauty services to them. Additionally, the system can automatically send alert reminders about upcoming appointments to both employees and customers to prevent late cancellations and no-shows.
Integrate Payment Processing
Integrating payment processing with salon management software can streamline the payment process and reduce the risk of human errors. The cloud-based salon software can simplify the process of recording and managing financial inflows and outflows for a beauty salon. With the help of the software, salon owners can easily track cash transactions, pending and advance payments, and generate financial reports. It makes the payment and invoicing process smoother and quicker for both the salon and its customers. Also, customers can make payments 24/7 with multiple payment gateways. Additionally, the ability to access the system means that salon managers can keep an eye on financial transactions without even being physically present in the salon. Overall, robust salon software can be a great way for any beauty salon looking to improve its financial management processes and bottom line.
The bottom line
Salon owners put constant effort into taking their salon business to great heights. For example by launching new beauty products and services, providing the best customer service, and implementing efficient marketing strategies. These efforts help to build the salon's reputation and attract more customers. However, the golden mantra for driving a salon business forward is for the salon manager to automate their salon processes to increase efficiency and productivity. This can be done by implementing online booking for salons, automating email marketing, integrating payment systems, and effectively managing inventory.