Whether you have a brand-new automobile or your grandfather's hand-me-down, adding a few intelligent car accessories will help your ride feel more modern and unique. So, which one are you getting?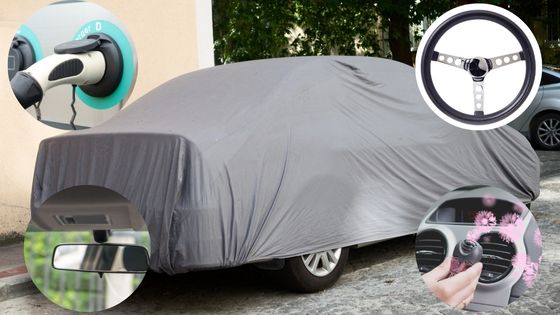 Benefits of Car Accessories
You'll need extra accessories to keep your car in excellent functioning order and maintain its attractive looks. This could include fresh tires and polished seats at all times. Furthermore, they are great for emergencies. A portable charger could be there to save your life if suppose you are stuck in traffic and your phone dies.
Not everything needs to be practical; some things are just for aesthetic purposes. Buying something to make you and your car more presentable is okay. Your car's main plan should be to keep you secure while driving on a busy road. Therefore, no item should be placed at the expense of the security of your car. If your vehicle doesn't already have any additional safety features, you should consider buying one.
Every year you see terrible signs of climate change. Even having accessories like a portable trash can in your car can be quite helpful. Rather than polluting, you can keep all the trash in the bin for the whole day and then recycle them as needed at the end.
Popular Car Accessories
1. Car Cover
A car cover is essential if you live in extreme conditions. This could be anything. Suppose intense wind, dust, rain, or even snow. Any of these events can greatly damage the exterior of your car. Similarly, it's also essential to protect your car from other vehicles. Your car could be parked at your house or outside a restaurant, and another car or motorbike could pass, leaving a huge scratch. Now it doesn't have to be a dull gray car cover. Get your own customized with your favorite color or pattern.
2. Air Freshener
Only vacuuming won't be able to remove the offensive odor from your car. The cabin of your car is a small, tightly sealed space that is typically sealed. To remove allergens smells, and moisture from the air within, you should think about using an air freshener, which will always make the interior of the automobile odor-free. If you spend a lot of time in your car, keeping an air freshener on will be better because sweat build-up can smell poorly and even cause migraines.
3. All-Purpose Charger
It would be nearly impossible to manage your daily activities without a phone. Similarly, gadgets like computers and smartwatches have become indispensable in our daily lives. While you commute to work, your devices continue to charge.
A great idea is to keep a universal charger in your car. You can simultaneously charge several devices while driving using a multi-port universal charger. It is not just for you but even if you decide to take a road trip with your friends.
4. Steering Wheel Accessory
When you buy a new car, it almost becomes like your child. Now it could be from dust or scratches, but you never want it to be harmed. This can be done by using a cute steering wheel cover. as you can see, it's not just for protection purposes but for aesthetic values. You can choose your favorite color or pattern to make it stand out more.
5. A Mirror-Swinging Animal
If you're looking for a cute travel companion, look no further. Get yourself an adorable swinging animal. Fasten it to your rearview mirror and observe him ride as the road surface changes.
Should You Be Spending a lot on Car Accessories?
You might still have second thoughts about whether spending so much money on these products makes sense after reading the signs and the list of accessories. Not saying you have to put everything in your car, though. Budget and needs should come first.
Yes, some accessories are beneficial when it comes to your car. Be it a GPS tracker or even a swinging animal to help you survive urban traffic. The point is that though they may be helpful doesn't mean that they are a requirement. A car is a significant investment, so remember to stay within budget. You shouldn't spend too much money on something you infrequently use. You can consider it if it improves your car's aesthetics.
Conclusion
A car ride is an adventure, and the car's features and design significantly impact whether this is a positive or negative experience. Car accessories are important not only for aesthetics or comfort, but they can come in handy in emergencies as well. These five popular car accessories can surely make your experience a positive one. So, what are you waiting for?