When it comes to hitting the gym, having the right gear can make all the difference in your workout experience. In this article, you will find five must-have items that every gym-goer should have in their arsenal.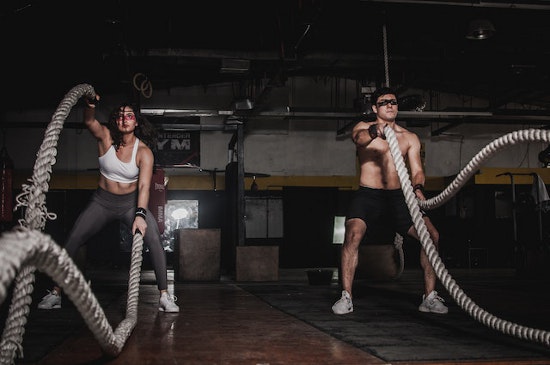 5 Must-Have Items for the Gym
Here are five essential items that every gym-goer need to have:
1. Gym Bag
The first and most obvious item is a gym bag. A good gym bag should be durable, spacious, and have plenty of compartments to store all your workout essentials. To ensure durability and longevity, opt for gym bags made of high-quality materials like nylon or canvas, as they can withstand regular wear and tear.
2. Gym Shoes
Your gym shoes can have a major impact on your workout performance. Proper gym shoes should provide adequate support and cushioning to protect your feet and prevent injuries. In addition to providing support and comfort, gym shoes should also have good traction to prevent slipping or sliding during your workout.
3. Workout Clothes
Choosing appropriate workout clothes is crucial to ensure comfort and optimal performance at the gym. It's recommended to select clothes made of breathable, moisture-wicking materials like spandex or polyester, which can help regulate body temperature and wick sweat away from the skin.
4. Water Bottle
Staying hydrated is vital during any workout, which is why a good water bottle is essential. Look for bottles that are lightweight, easy to carry, and can hold at least 20 ounces of water. Some water bottles even come with built-in filters, which can be especially useful if your gym doesn't have a water fountain or if you're sensitive to the taste or smell of tap water.
5. Gym Towel
Last but certainly not least, a gym towel is a must-have item for any gym-goer. Whether you're wiping away sweat or cleaning off equipment, a good gym towel can help keep you feeling clean and fresh throughout your workout. You can also purchase a cooling powder to get rid of excess sweat.
How To Choose The Right Workout Clothes
Choosing the right workout clothes is essential for a comfortable and safe workout experience. Here are a few tips to help you select the best workout clothes for your needs.
1. Choose Fabrics That Provide Wicking
Wicking fabrics are specially designed to draw moisture away from your body, helping to keep you dry and comfortable while exercising. Polyester, Lycra, and spandex are all excellent choices for wicking fabrics.
2. Consider Cotton
While wicking fabrics are excellent for moisture management, some people prefer the feel of cotton. Cotton is absorbent and breathable, making it a good choice for low-intensity workouts or for those who tend to sweat less.
3. Go For Comfort
Since everyone has a unique body, what might be comfortable for one person may not be comfortable for another. That's why it's important to experiment with different styles and brands of workout clothes to find what works best for you.
Also read: Best Gym Clothing Brands You Should Totally Check Out
How To Stay Motivated At The Gym
Here are a few practical tips to help you stay motivated at the gym:
1. Set Realistic Goals
Setting realistic goals can help keep you motivated and give you a sense of purpose when you're at the gym. Make sure your goals are measurable, specific, and achievable. For example, instead of saying you want to "get in shape," set a goal to run a 5K or lift a certain amount of weight by a specific date.
2. Find A Workout Buddy
Exercising with a friend can be a great source of motivation and accountability. You can support and motivate each other, exchange workout tips and advice, and make your workouts more enjoyable. Plus, having a workout buddy can make it harder to skip the gym when you're feeling unmotivated.
3. Mix Up Your Routine
Doing the exact same workout routine repeatedly can get dull and tedious. To prevent boredom, try new exercises or add variety to your routine. Take a group fitness class, try a new cardio machine, or add strength training to your routine. Varying your workout routine can help you stay engaged and avoid getting stuck in a fitness plateau.
4. Reward Yourself
Giving yourself a reward for achieving your fitness goals is a great way to keep yourself motivated. You can treat yourself to a massage, a new outfit, or a delicious meal at your favorite restaurant. Choose rewards that are meaningful to you and that you'll look forward to.
Conclusion
Having the appropriate equipment and gear is crucial for a comfortable and effective workout. From a backpack to a gym towel, all are essential items that every gym-goer should have in their arsenal. By investing in these items, you can stay comfortable, safe, and hydrated while achieving your fitness goals.