Important documents and certificates require different types of proofing for various reasons. Some such original documents and certificates such as the birth certificate, degree certificate, and more, are often required when an individual is traveling internationally.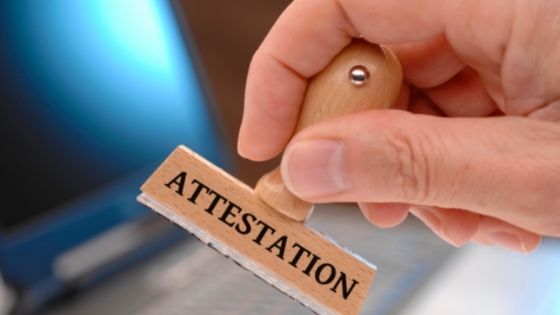 When traveling to some other country, these documents and certificates which the individual wants to use abroad have to be first attested by the concerned government authorities. This article is a complete guide to the Attestation process that is followed and the answer to the questions such as who can attest documents in India.
Why opt For Attestation?
Attestation is a process by which the information contained in certain documents and certificates which have to be used abroad, are verified and legalized by the concerned departments of the governments. Attestation helps legitimize the document or the certificate and is proof of their originality and authenticity. Documents and certificates are attested by providing a stamp or signature to them by the gazette public officer of the concerned authority of the government.
Attestation of documents also enhances the value of the certificate or the document because having gone through all kinds of verification by the government authorities at different levels, no other individual and authority can question the credibility of the documents and certificates.
Attestation is a multi-level procedure that involves different departments. It begins with verification at the regional level by different departments like universities or notaries and then goes on to the state level verification by departments like State Home Departments, Sub-Divisional Magistrate, or the Human Resource Development Department.
Then, the documents and certificates get attested by the Ministry of External Affairs and after this stage, they are attested by the Embassy of the nation where the document has to be used.
Which Countries Require Attestation of Documents?
Countries that require attestation of documents and certificates are those which are not a part of the Hague Convention. There are around ninety countries that are signatories to the Hague Convention.
All other countries are not signatories to the Hague Convention and some of these nations are Afghanistan, China, Egypt, Ghana, Jamaica, Iran, Iraq, Madagascar, Pakistan, Saudi Arabia, UAE (United Arab Emirates), and more. Attestation of documents and certificates can help the individual avail various types of benefits in these countries.
Importance of Attestation
Attestation of documents and certificates is a mandatory process. It is highly important because of the following reasons:
Attested documents and certificates permit legal and safe entry into another nation. If the individual is found to have documents and certificates without proper attestation, it is likely that the authorities of another nation seize these documents and consider them forged. The individual might not be permitted to enter and the authorities can impose certain penalties as well.
Attestation is an essential requirement when applying for a visa and failure in producing attested documents and certificates can result in visa requests getting rejected. Different individuals travel internationally for different purposes and hence, apply for different types of visas. Different reasons which require specific types of documents and visas are as follows:

Student Visa – Students tend to travel abroad for pursuing their studies or higher studies from their dream college or university located in another country. For the same reason, they need to get their educational documents such as degree certificates and more, attested as they will help them in not just seeking admission to such institutions but also help them acquire a student visa.
Employment Visa – Employment or the work visa is required by individuals when they apply for a multinational company abroad or have to travel abroad for work purposes. To acquire a work visa, the individuals need to get various important documents and certificates attested for instance their degree certificate and more.
Residential Visa – A lot of individuals plan to relocate to another country for which they need to present certain important documents and certificates. These attested documents like marriage certificates, birth certificates, and so on help the individual in acquiring a residential visa.
Family Visa and Dependent Visa – For acquiring a family or dependent visa also, individuals need to get various kinds of documents and certificates attested.

Attestation also helps prove your credentials and the attestation of a birth certificate is highly important because it helps in proving your origin and nationality.
Attestation of commercial documents and certificates helps businessmen carry out their business operations abroad as well as expand their business and get export permissions easily.
Who Can Attest Documents in India?
Attestation Guide is a company that is one of the best Attestation Services Providers. Attestation Guide has a systematic procedure that is followed for the attestation of documents and certificates and is also transparent for its customers to understand what services they are being charged for. Attestation Guide provides rapid services and also helps individuals in all kinds of attestation.
The firm has the government's approval and accordingly, the documents and certificates are attested as per the guidelines of the government. The professionals are always there to help out the individuals in resolving any issues and queries and also help in completing all formalities. Thus, the Attestation Guide provides legal and hassle-free services as per the needs of the customers and offers premium quality attestation services all over India.
Few Final Words
The attestation process is essential and involves several legalities. For an individual, it can be very confusing and draining because the individual would be required to go to different places where the different government departments are situated as they are all located in different parts of India. This would also increase the total cost that the individual has to bear. Not just this, it is highly stressful to stand in long queues and get the task done.
Often different departments have their own typical procedures and hold back the documents and certificates for additional verifications. This makes the process time-consuming as well and you might not be able to get your documents attested timely. It is, thus, advisable to hire a company that provides attestation services to individuals.