Nobody enjoys being chilly. Heat is essential for keeping us happy, healthy, and comfortable, whether it's a crisp autumn day or the dead of winter. It's no wonder, therefore, that heaters are so popular among those who want to warm their toes and regain sensation in their fingers.
While a battery-powered heater would give tremendous flexibility, mobility, and minimal power consumption, they simply cannot deliver enough power to be utilised for heating. They don't exist because their BTU (British thermal unit – how heat production is calculated) is too low to generate efficient heat over even a modest region.
That does not, however, imply that you must freeze. Although a battery-powered heater may not be an option, there are a number of different heating choices that might meet your needs.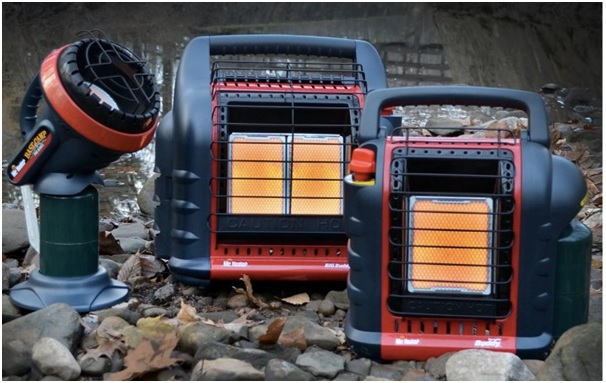 We've put together a list of heaters that can keep your car warm in the morning, keep you warm when camping, or warm up your home office throughout the winter.
Are you ready to locate the best space heater for your needs? Continue reading to learn what to look for, as well as some of our personal favourites to consider.
First and foremost, safety!
It's critical to use caution while working with heat or flames.
Fuel-based heaters produce smoke or gas as a result of combustion, which might be harmful to one's health if there isn't enough ventilation. There's also the possibility that anything will come into touch with the flame (if it's exposed), which might result in fires or burns if safety procedures aren't taken.
Electric heaters are also hazardous because the coils that generate heat reach dangerously high temperatures. Longer exposure to a hot element can result in severe burns and the ignition of objects.
Why can't a heater be powered by batteries?
It's actually fairly straightforward. The majority of batteries are made to provide a modest current to whatever they are powering. Unfortunately, heaters take a lot of electricity for a long time to be effective.
Sure, you could use a battery to power a battery-operated space heater for a short period, but the heat would be ineffective and the battery would quickly be depleted.
Buying Guide For Cordless And Battery-Powered Heaters
While battery-powered heaters are not an option, there are a variety of different choices to explore. You may get many of the same outcomes as a battery-powered heater with a different type of heater if you are careful with your usage. After you've determined which fuel type is best for you, you may decide which model will best suit your needs.
Types of Fuel
The sort of fuel that is best for you will be determined by how you want to use your heater. Some fuels produce more BTUs, are more portable, or are completely emission-free. As a result, one of the first stages in purchasing a heater is to determine which fuel source you wish to utilise.
Electric Space Heaters – AC Powered
AC electricity, sometimes known as mains power, or any other term for the 120-volt AC power that comes from your power outlets, is a zero-emissions fuel. They usually function by superheating a coil with electricity, creating heat that radiates from the heat source via a fan or exhaust.
For the same reason why battery heaters aren't employed in large-scale heating, AC electricity struggles to deliver significant BTU counts. They can't pull enough electricity to generate massive amounts of heat as combustion can.
An AC heater, on the other hand, can be used in an office, bedroom, or other inside place that does not require a lot of heat.
12 volts
In autos, 12V warmers are commonly utilised. These heaters are connected to the car's battery via the cigarette lighter, which supplies the necessary amperage for optimal heat production.
12V power sources are available in a variety of BTU outputs, with some personal heaters ranging from 1000 to 10,000 BTUs. As the BTUs grow, however, more electricity is drawn.
Heater with Propane
Because propane can be stored in tanks, it is a practical fuel source for operating your heater. Propane also burns cleanly, resulting in less emissions (though ventilation is still required). These types have a hose or connector that allows you to attach the tank. This allows propane to flow into the heater, ignite, and produce heat that is circulated by a fan or exhaust.
Combustion is used in propane tanks, allowing them to give more heat with less effort. An ignitor, which is driven by a battery, electricity, friction, or a pilot light, is used to start this process.
Propane tanks are inexpensive and commonly used for camping or small-scale heating solutions such as a vented outdoor cottage.
Kerosene and Diesel
When ignited, both diesel and kerosene are liquid fuels that produce heat. They also employ a battery, an electrical igniter, friction, or a pilot light as an igniting source. Because of the greater emissions and disagreeable odours they emit, as well as the heat, they should have sufficient ventilation for safety reasons.
Diesel burns less cleanly than kerosene but, in many circumstances, produces more BTUs. Both, however, emit scents. They are also the hottest-burning fuels in general.
These two fuel kinds would shine in a garage or other bigger outdoor setting.
Safety
Any device that produces heat or pollutants is potentially dangerous. It's critical to take safety precautions when there's a live flame burning, extremely hot coils exposed, or dangerous fumes produced by burning fuel.
The area where you use your heater is the most crucial thing to consider when it comes to safe use. Indoor places with no ventilation offer quite different alternatives than well-ventilated outside areas.
Electricity-powered (AC or 12V) choices are the safest for indoor usage in smaller spaces or areas without adequate ventilation. Because they do not consume fuel, they produce no pollution. They frequently incorporate auto-shutoff for tilting and grates to shield you from the burning coils, which helps keep users safe and prevents them from accidentally igniting things.
Electrical and propane fuel sources can be used if ventilation is acceptable but the site is still indoors. When used with caution, semi-interior usage can be safe as long as the propane emissions can escape and the heat source is insulated from contact with anything.
Any fuel source can be utilised in an outdoor setting as long as the flames or heating devices are protected from touch. These heaters, on the other hand, might be dangerous if ventilation is blocked. An oxygen depletion sensor also contributes to safe usage by turning off the heating before a problem arises.
Although it is not powered by a battery, it is almost as good.
When the weather becomes frigid, heaters might be your best friend. They can, however, be harmful to touch and inhale the fumes, as with anything that employs a heat source. Because there are no true battery-powered heaters to consider, you'll need to do some study to figure out how to safely handle your demands with a different option.
The best choice for you may differ depending on where you wish to use your heater.
Electric heaters are typically safer and less expensive, but they may struggle to provide enough heat to heat a whole room.
Gas heaters, on the other hand, may create more BTUs, but they also require ventilation to be safe (and supply fuel to burn).
Hybrid alternatives, such as a diesel air heater, can offer a nice mix of both benefits, but they must be connected properly to operate well.
Overall, no battery is capable of properly powering a heater. However, with the aid of our guide, you can learn about the advantages of various fuel sources and determine which is ideal for your needs. Then it's only a matter of maintaining on budget and making sure it can cover the full area you wish to keep warm. Keep yourself warm!
Visit usercompared.com for more details.
Frequently Asked Questions about Battery Heaters
Is There A Tent Heater That Runs On Batteries?
While most people would prefer a simple solution to remain warm while camping, there is no such thing as a reliable battery-powered tent heater.