Do you know why good handwriting is important? Handwriting helps to know the personality and skills of the person. Being a student is very important. Because it plays a vital role in getting good scores. The main mantra of enhancing and improving your handwriting is practice. Write as much as you can and see the amazing result. So, here are some tips that can help you to make your handwriting more eye-catching our handwriting more eye-catching :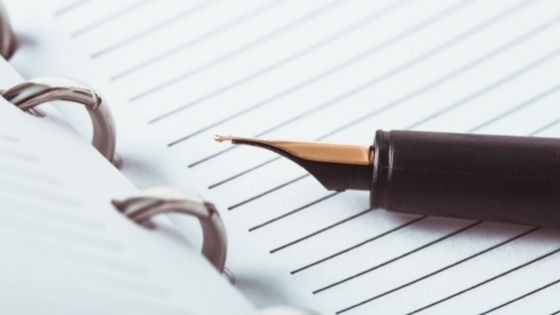 The importance of consistency cannot be overstated. Whatever handwriting style you choose, whether cursive or not, you'll want to pick a collection of letter styles that you enjoy writing and that look well together.
There appear to be an infinite number of brands and varieties of pens and writing implements available. It's up to you to figure out which pen-style best suits your level of control, line thickness, pressure, and preference.
Plan on writing in cursive or print; without warming up, it might be difficult to produce attractive letters. A few basic workouts can help you develop characters who are clear and confident.
Write on Lined Paper or Use a Template.
It's critical to use proper spacing to keep your text legible. Letters do not run together when there is enough space between each letter, each word, and each line of text. Writing slowly and steadily will help you maintain regular spacing.
Rest the pinky of your dominant hand against the wall if you're writing standing up (like on a whiteboard). This keeps your hand steady and avoids you from smearing your work.
If you look over our graphic recordings, you'll find that we use all uppercase 90% of the time. This is due to the fact that capital letters are of the same height, resulting in a cleaner and more legible appearance.
Graphology – for handwriting
Abb Jean-HippolyteMichon of Paris invented the name "graphology" in 1897 by combining two Greek terms graph in, to write, and logos, knowledge. He was the founder of The Society of Graphology and the first to offer handwriting analysis scientific backing.
This course is for anyone who is interested in learning more about their own and other people's personalities. Whether or not they are aware of it. You can utilize your Graphology abilities to uncover hidden aspects of your personality that have gone unnoticed, unaddressed, and are generating difficulties for others or yourself. You may utilize the handwriting skills you learn in this course to help others better their lives in a variety of ways.
Graphology can be utilized for entertainment or for business purposes. To profoundly read characters/mind-reading impress; surprise; learn more about oneself; discover who loves or dislikes you; friends; relatives; foes, and so forth. To assist those in need; to discover negative characteristics in individuals, such as potential workers.
What are the benefits of studying Graphology?
The graphology course has a lot to give you after completing it profoundly. This course seeks to distinguish between fact and fiction so that the student understands what a party trick is and what is true. By the end of the course, you'll know if you have a genuine interest in this fascinating and personally rewarding subject. To give you a clear picture of this, we have added here some learning outcomes of this course; take a look into it :
Understand the origins and history of graphology as a branch of psychology.
comprehending the alphabet evolution and different types of writing systems.
Have a rudimentary understanding of graphology, including how it works and the physical and mental aspects of writing.
Understand the 40 elements of the R-S Psychogram as they apply to individual handwriting samples.
By actively examining examples, you've built abilities in analyzing handwriting.
Few fun facts about handwriting
Handwriting has always been a big task for students. Here are some fun facts about handwriting that you may not know :
Illegible handwriting affects one out of every three school-aged children. In addition, kids who place in the top ten percent of their class usually have outstanding handwriting skills.
Brainwriting is another name for handwriting. Slow writers lack mental and physical coordination, making it difficult for them to spell words correctly, create sentences, and discriminate between letter cases (upper, middle, and lower cases).
Personality attributes such as attitude, emotional stability, inventiveness, and communication are all reflected in one's handwriting.
Every year on January 23rd, National Handwriting Day is observed.
A fascinating fact about "pencil" is that an ordinary pencil can write around 35 kilometers or 45,000 words.
What would you study in this course?
 Graphology is defined and given a brief history.
It's a psychological setting.
Graphology's applications
A broad history of the alphabet and writing systems.
Recognizing letters as symbols and connecting them to our worldview.
The importance of Copybook and Copperplate in the development of handwriting.
The physical mechanics of writing, as well as the expressive component of movement, all play a role in how and why handwriting deviates from the standard.
The usage of the Roman-Staempfli psychodrama as a data sheet and overview of the human mind.
The meanings of the forty components of psychodrama.
Parts of handwriting analysis
The students who are studying this course look for cheap assignment help in Australia. If you are looking for the best assignment help at the best price range then take assignment help Perth. There are various benefits of assignment help from experts. They will assist you to deal with the complexities and issues related to the topic. So, feel free to connect with them and enjoy the service under your budget.