An infographic CV that includes infographics, charts, and other design components is gaining popularity on the internet. It may appear appealing when compared to your plain, traditional verbal resume. A well-designed infographic CV can be a significant differentiator, propelling you to the top of the pile for your dream job in seconds. Unfortunately, a poorly built one can quickly disqualify you. Are you thinking of producing an infographic CV to help you stand out from the crowd? Before making one in this manner, it's a good idea to learn a few ground principles.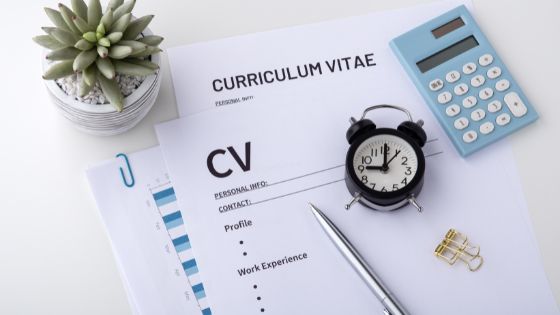 Do's
Select a Minimalist Design
You may want your resume to catch people's attention, but it's a professional document, and there shouldn't be too much going on. For instance, cramming your resume with too many design features or sophisticated charts won't help you land a job. Limit yourself to one or two complementary colors and a clean design template with a few simple visual components. Remember that the content of your resume, not the design, is the most important factor in landing your next job. Choosing a minimalist design does not imply omitting details. An infographic resume is still a marketing document requiring you to include work experience, abilities, education, and a professional headshot.
Establish a Framework
Having a logical flow in your resume is always important, even if your infographic resume is full of design aspects. It's not a good idea to strew stuff across the page randomly. For example, your contact information and summary should be at the top, followed by your professional experience and talents. If you modify the sequence, your resume will appear strange. If you're not sure, stick to the same format as a standard resume.
Keep It Brief
You may have a big list of accomplishments and a few hobbies, but you must be selective when highlighting the proper items on your CV. The best place to start is with the job description for the position you're looking for. Then you can choose the suitable experience and talents to include in your resume based on the job requirements.
Put Your Abilities on Display
One of the key advantages of an infographic resume over a standard resume is that it allows you to stand out from the crowd. Out of hundreds of resumes, the hiring manager will remember yours. So, make the most of it by emphasizing all of your relevant skills. Don't forget to include your transferable skills in addition to your technical skills. To accentuate your abilities, including aesthetically appealing features such as bar charts and graphs take help from CV writing service Dubai.
Incorporate it into your Portfolio
An infographic resume is one of the greatest alternate forms for showcasing your professional experience, creative talents, and creativity. An infographic CV can be used as a business portfolio to show off your design sense or sales data if you work in a creative or marketing industry.
Don'ts
Excessive Use of Colors and Fonts
Subtlety is the way to go regarding colors in your resume. Your favorite colors may be neon greens and pinks, but they don't belong on your résumé. You can only customize your infographic resume to a certain extent. Stick to grays, blues, and greens instead. Also, if you're using more than one hue, make sure they complement one another. The same rule holds true for your fonts. Use a good typeface in addition to a pleasing hue. Other than Arial and Time New Roman, you can use any good font you want, as long as it's not too ornate or comical.
Use it as Your Sole Resume
Have you applied for a number of jobs and waited days for a response from the recruiters? You can feel as if your resumes have vanished into thin air. But rest assured, it has been read. Just that, it's possible it wasn't a human recruiter who read it—the ATS most likely did. Many firms and recruiters to screen potential candidates using ATS, or Applicant Tracking System. ATS stands for the applicant tracking system, and it is a piece of software that collects, classifies, and stores resume for recruiters. It saves time and makes finding the perfect candidate among thousands of applications easier for recruiters. If you don't use the right keywords to showcase your relevant abilities and expertise, ATS won't think you're a good fit for the job.
Experiment on Your Own
It takes considerable creative talent and experience to create an infographic CV from scratch. You'll need to know how to use specialized software like Adobe Illustrator or Photoshop. If you're not a designer, it's difficult to create a professional-looking résumé. With so many online resume templates to choose from, producing a fantastic infographic resume is simple, quick, and enjoyable. You don't need any specific abilities, and you don't have to spend hours creating your résumé. All you have to do now is choose a template you like and make changes.