In this digital world where everyone was free to look for their partner on many digital platforms made for the sexually oriented majority of people at the same time, the people of minorities such as Gays, Homosexuals, and others were only dependent on the physical meeting which in many cases goes into the vein. It also takes a lot of time too and for the digital stage, there was no such platform that was made specifically for these people. FabGuys for such people was a bane. Let us understand more about it.
ABOUT FABGUYS:
FabGuys is an online adult dating site made for those people who belong to the community of homosexuals specifically Men and Gays. This is a completely free platform as there are no charges needed to sign up, log in, or use the platform. Fab guys were created in 2010 by some British engineers. But very few times it has become famous in other places such as the USA, Canada, and New Zealand. People from these countries can join the site, create their profiles, look for their gay partners, and mutually decide on a date.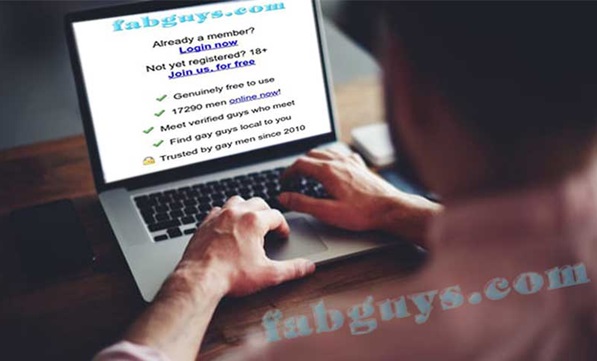 The interface of FabGuys is also very user friendly and you need not worry about anything starting from the registration process to meeting someone personally. To sign up for a free account at Fabguysgo through this article for free.
HOW TO REGISTER AT FABGUYS?
The registration process of Fabguys goes through three processes to complete. However, all of these are just the same for signing up on any other platform. First of all, go to the home page of FabGuys at fabguys(dot)com and at the left bar, click on the "Join Free" option to open the sign-up page and start the process. Let us see how to go for this one by one.
• PROCESS 1: PERSONAL DETAILS:
In this process, you provide your
personal details to FabGuys such as starting from your Name, Age, Address, and Sexual Orientation from the list provided as MM(Men-Men), TS(Transsexual), TV(Transvestite), and CD(CrossDresser), "Member ID", choose a "Password", and finally click on the "Confirm I'm 18+" option to go to the next process. You should remember the Member ID, and Password of your account to login in every time.
• PROCESS 2: PARTNER'S PERSONAL DETAILS:
Here, you will be asked to provide the details about your partner whom you are looking for such as his sexual orientation from TV, TS, MM, and CD again. Choose any one of these to set what you are looking for in your partner. Now, give the address of your residence so that Fabguys can find a mate nearest to your location. In case, you travel a lot give the details of your destination. Now click on the Submit button to go to create your account. And here you are just a step behind to find your partner.
• PROCESS 3: CREATE YOUR PROFILE:
After your account has been created, go to www.fabguys(dot)com and at the left bar, enter the Member ID and Password you choose in the first process and click on the login button to access your account and login to fabguys.com. Now, create your FabGuys profile by adding a profile picture, and other details related to your work, interest, and hobbies. This information will make your profile more attractive. People will understand more about you and will reach your profile.
This is all about the signup process of FabGuys but there is one problem with this platform. The thing is that FabGuys is not available everywhere, so people of this community who does not live in these places will find it very difficult to look for a partner of the same orientation. And if you too are living in such a place, you do not feel worried as we have a solution to these problems too as there are many other websites working regionally and inter-countries to provide the same features as FabGuys that you can consider as FabGuys Alternatives. And a list of such alternatives is also available on our website Guidebrain(dot)com. Here, is more information about FabGuys such as how to login into FabGuys or how does FabGuys works, all information is available on our website.