When you hear the word jewellery, you instantly visualize heavy necklaces, danglers, embellished bracelets and whatnot. But fashion and jewellery have evolved for a considerable time now. It's an accessory to grace your appearance effortlessly.
Wearing jewellery is not confined to any particular grand occasion, you can wear it anytime. The choices are numerous. From your zoom call to grocery shopping, you can rock any outfit with your minimalist jewellery options. If you love layering, the possibilities are countless for you.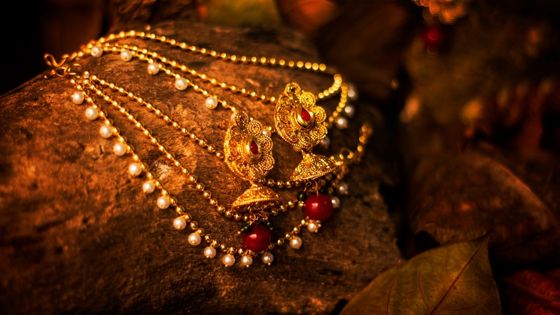 According to experts, rocking jewellery like a diva is relatively easy, if you follow some simple rules. Here, we have compiled these tricks and tips for you to style every piece you own, effortlessly.
1. Focus on The Neck and The Ears:
As mentioned earlier, layering is getting hype more than any other trend this year. Whether it be stacking up your ears, necks or bracelets. Feel free to experiment. Try the latest ear cuffs, if you do not have multiple piercings. Moreover, there are plenty of opinions for stacking earrings which don't even require any piercings. The only thing to consider is, not overdoing it. If you are layering up your necklaces then avoid stacking up your ears.
2. Think In 3D:
Jewellery is all about expressing your emotions. It has all the power to uplift your mood and vibe among your peers. It is better to add some texture to your simple jewellery. Add some peppy colour to your platinum or plain gold round pendants. You can start with a bead or some bright coloured gemstone. I bet you're going to like these small details that make your entire look an instant hit.
3. A Single Pearl Pendant:
Not to be mentioned, pearls are the classiest of all. The purity and calmness of white pearls add sophistication. Pearls have been in trend for centuries. The modifications to the pearls are evident. Thus, a single pearl pendant is doing rounds this year. As they say, a true gem is enough alone. This master-class jewellery gel with all your night dresses, formal dresses, or even your casual outfits. You can consider this accessory as everyday wear.
4. Make Your Closet Staples More Versatile:
Just like your closet staples (clothing); you need to have a collection of versatile jewellery. These sorts of pieces are extremely handy while travelling. Yes! Of course, your jewellery collection must have different sets of jewellery items; but we are suggesting you make a separate collection of jewellery that adds instant charm to your appearance, whether it be your work wear or some memorable date night dress.
5. Keep It Quirky:
Traditionally jewellery holds a special place in our life. Sometimes it belongs to our roots, our ancestors, culture or ethnicity. Nothing can beat this connection with traditional jewellery, but it's better to get some change. The latest jewellery additions are jaw-dropping. All the artsy designs, boho jewellery, and modern art jewellery are worth a try. Just check out the internet for some quirky jewellery options that suit your style and personality. There are endless options in gold, rose gold, sterling silver and platinum. Plastic jewellery and enamel jewellery have also managed to enter the league.
6. Plan According to Your Destination:
While travelling or attending some event, It's necessary to keep a check on the weather and other geographical aspects of the destination. These small details let you pack the accurate clothes to the destination. Your choice of jewellery and clothes makes a big difference in projecting yourself correctly. This small delta will help you avoid any unnecessary last-minute juggles. For instance, beach parties don't require a lot of jewellery shows. You can always rely on your statement necklace or earrings. Whereas any event at night needs some bling costume paired with your diamond sets, earrings or cocktail rings.
7. Wearing Matching Accessories:
Choosing an accessory is not a tricky task, but making a correct choice is much more challenging. You can always rely on your bags, scarves, and shoes for that. While choosing any jewellery with an outfit, always make sure it goes well with your other accessories. One mismatch of accessories has the power to ruin your entire look. Make sure to keep a balance between all your accessories. Avoid too much of anything.
8. Don't Be Afraid to Mix Fine Jewelry with Less Expensive Pieces:
It's absolutely ok to wear your favourite jewellery item with your luxe jewellery sets. There is nothing wrong to layer up these less expensive pieces until they prove to be a misfit among the other jewellery items. The value has nothing to do with the charm of a jewellery item. Always pick the mixed patterns and textures while layering or stacking up a piece of jewellery. It adds new energy to your appearance. The world is open to all the new experiments and breaking all the notions of standard rules of wearing jewellery items in a certain way.