In this article, you will learn basic and advanced drone flying techniques and prepare for your first drone flight regardless of your drone model.
With our drone guide, you will learn how to fly your drone efficiently and with minimal guesswork – from completing a pre-flight checklist to controlling its flight pattern to using some advanced techniques.
After learning the controls and how they interact together, you will fly a drone like a pro once you learn how they operate and how they work together.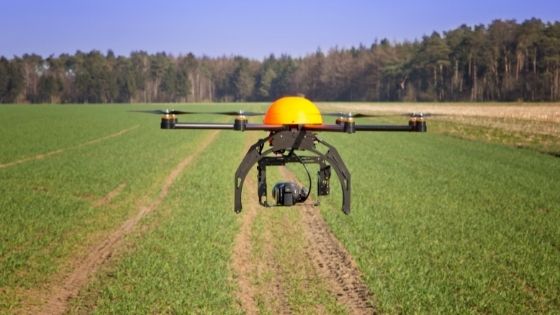 The first time you use the drone, you should gently push the sticks so that the drone moves. As you gain more experience, you can make faster movements.
There are four main controls for drones:
Roll: You can do this by pushing the left or right stick. The drone will literally roll left or right as you push the sticks.
Pitch: The right stick is used to move forward or backwards. Moves the drone forward or backwards by tilting it.
Yaw: You do this by moving the left stick left or right. The drone should be rotated left or right. It helps you to change directions while flying by pointing the front of the copter in different directions.
Throttle: The left stick can be pushed forward to increase the speed. The left stick can be pulled backwards to decrease the speed. The height of the drone can be adjusted by pulling the left stick backwards.
The following checklist can be used before each flight:
CHECK THE WEATHER AND SITE SAFETY:
Less than 10% chance of precipitation
The wind speed is less than 15 knots (less than 20 mph)
Minimum 500-foot cloud base
At least 3 statute miles (SM) of visibility
Check civil twilight hours when flying at dawn or dusk
Put in place zones for takeoffs, landings, and emergency hovers
Electromagnetic interference: a possibility?
Check for towers, wires, trees, buildings, or other obstructions
Set up a safety perimeter if necessary in case of pedestrians or animals
If present, discuss the flight mission with the other crew members
VIRTUAL INSPECTIONS OF AIRCRAFT & SYSTEMS:
It is easy to read and display the registration number
Examine aircraft frames, propellers, motors, and undercarriages for abnormalities
Check the gimbal, camera, transmitter, payload, etc. for abnormalities.
Lens caps and the gimbal clamp have been removed
Microfiber cloth to clean lenses
Plugin propellers, batteries, and fuel sources, and insert SD cards and lens filters
A POWER-UP
Open the DJI Go 4 app with the remote control
Turn the aircraft on
Establish the transmitter's connection with the aircraft
On the transmitter, point the antennas upwards
Check that the display panel / FPV screen is working properly
Whenever necessary, calibrate the Inertial Measurement Unit (IMU)
Every time you fly, calibrate your compass
Both the transmitter and aircraft should have their batteries/fuel levels checked
Check that at least six satellites have acquired GPS locations for the UAS
TAKE OFF
About 10-15 seconds of takeoff at eye-level
Make sure there are no imbalances or irregularities
Pay attention to abnormal sounds
Test the response and sensitivity of the control by pitching, rolling, and yawing
Make sure there is no electromagnetic interference or any other software warnings
Securing the flight operations area one last time
Flight mission to be conducted
Let's begin by discussing a few important safety protocols and recommendations. In addition, drones can be dangerous and are not toys.
This will take some getting used to, because the drone will be facing different angles in relation to how you're facing, so you will need to pay close attention to how each movement of the sticks will affect the drone's flight.
Do you belong to those smart users who are looking for drones to learn the basics? Our recommendation is that there is numerous Best Drone Under Budget available on the market. It is easy to learn the basics of these budget drones – fun for both kids and adults – before graduating to more expensive and sophisticated models.
In order to ensure a safe flight, let's layout a few safety precautions:
It's best to turn the throttle down to zero if you're going to hit something to avoid potentially damaging your drone, injuring someone, or injuring yourself.
Be sure to remove the drone's battery before working on it. You might have a hard time doing future flights if it accidentally turns on and the propellers start spinning.
When the propellers are moving, keep your fingers away from them.
When you're a beginner, you should secure your drone with a cage or tie it down.
For a safe operation, a legal and safe location for the flight is also critical.
Follow these tips for finding the right location:
We recommend starting out in a large, open area, like a park or a field. It is common for people to learn on grassy areas, so if the drone needs to crash land, it will at least have some sort of cushion.
Keep away from people and animals.
Avoid windy conditions when you are a beginner and be aware of your drone's performance limitations (consult its user manual).
Last but not least, make sure your drone is positioned legally, safely, and visually interesting. We have compiled a list of the best places to fly a drone in various cities across the country after conducting thorough research.
Congratulations on finishing our How to Fly a Drone training guide! We hope it helps you get to know how to fly a drone like a pro.