A ceramic coating is one of the best investments you can make to protect the factory paintwork on your car for the long term. It keeps the paint shiny, repels liquids, and protects it from harmful contaminants.
Some car owners mistakenly believe that applying a ceramic coating eliminates the need for maintenance. However, ceramic coatings degrade prematurely without maintenance, exposing your paintwork to potentially damaging elements.
A ceramic coating in Tucson must be maintained on a regular basis in order to provide all of its benefits to your vehicle for an extended period of time.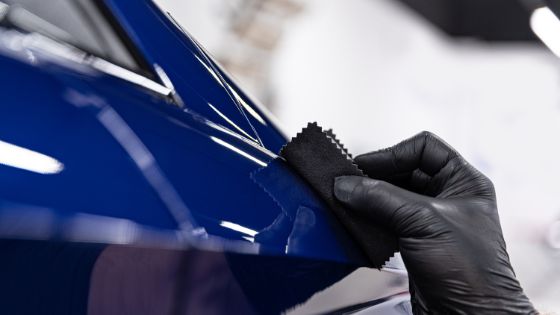 Ceramic coatings are a great way to protect your car from the elements. However, just like any other coating, it needs to be clean and free of dirt and dust. To wash your ceramic-coated car, follow these simple steps:
Do not wash your car for seven (7) days after ceramic coating application
Ceramic car coating take some time to cure and provide adequate protection for your paintwork. A ceramic coating is a significant investment, and unless you want to wash it all away, you should not wash your car for at least a week after it has been applied. This time allows the ceramic coating to cure fully.
Wash your car
The application of a protective layer to your vehicle does not make it dirt or contaminant-proof. It still needs to be washed on a regular basis, though not as frequently as when it only had the factory clear coat. Here are a few pointers to remember when washing a car with a ceramic coating:
Wash your vehicle every one to two weeks
As you drive your ceramic-coated vehicle, its hydrophobicity prevents most water-based dirt and smudges from adhering to its surface. Dirt, pebbles, and other small degrading materials, on the other hand, become embedded in the ceramic coating. Without regular washing, these materials erode the ceramic coating, causing it to lose its hydrophobicity over time. This is why you should wash your car every 1-2 weeks to protect and maintain your ceramic coating.
Do not wash your car in direct sunlight
Water spots and streaks are more likely to form if you wash your car in direct sunlight. To avoid this, wash your car in the shade or in the garage to achieve a spot-free surface.
Direct sunlight generates heat, which eventually cracks your ceramic coating. Clean your ceramic coating early in the morning, in the shade, or in the garage to preserve its integrity.
Do not air-dry your car
Air drying your car will result in water spots that will stain it. Instead, dry your ceramic-coated surface with a clean microfiber towel.
Remove contaminants from your coated paint immediately
Because they are acidic, contaminants such as bird droppings, bug splatters, and tree sap can degrade your ceramic coating. This means that if any of them end up on your ceramic-coated paint, they must be removed as soon as possible. Remember to blot rather than wipe to keep contaminants from spreading on your paintwork.
Do not go to an automated car wash
Brushes are used to clean your car at an automated car wash. However, these brushes may cause damage to your ceramic coating, causing it to degrade over time. If you need to use a car wash, use a touchless car wash.
Annual maintenance checkup
Check in your car with the detailer who coated it once a year. The detailer will use their skills to rejuvenate your ceramic coating and restore the shine and protection of your vehicle. You can also visit Mumsports for best results.
Final Words
A car with a ceramic coating shines from afar, and if properly maintained, this shine lasts for a long time. However, the ceramic coating wears out without proper maintenance, and your vehicle loses its shine and polish.