If you're an engineer or other individual responsible for maintaining energy and utility infrastructure, you know how critical keeping your equipment in top condition is. Any failures or malfunctions can lead to costly downtime, safety risks, and environmental damage.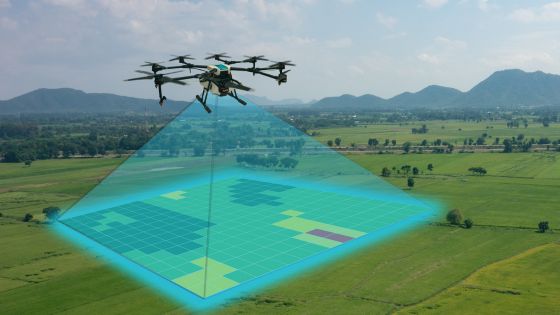 Traditional inspection methods can be time-consuming, expensive, and dangerous for workers. Fortunately, drone technology makes inspecting and maintaining energy and utility infrastructure easier and safer.
Improved Efficiency and Safety
One of the most significant advantages of using drones for infrastructure inspections is improved efficiency and safety. Drones can quickly and easily inspect hard-to-reach areas that are inaccessible or hazardous to human workers. This advantage means companies can perform inspections more frequently and thoroughly, leading to better maintenance and fewer equipment failures.
Drones also cut down on the need for workers to climb ladders, scaffolding, or use helicopters, which can significantly reduce the risk of falls and other accidents. Additionally, drones equipped with thermal imaging cameras can detect equipment failures before they become apparent to the naked eye, allowing engineers to take proactive measures to prevent costly downtime.
Cost-Effective Solutions
Another important advantage of using drones for energy and utility infrastructure inspections is the solution's cost-effectiveness. Compared to traditional inspection methods, which can require considerable staffing and equipment, drone inspections require only a small team of operators and a drone. This reduction in labor can result in significant cost savings for companies, particularly those with large infrastructure networks to maintain.
Companies using drones can also perform inspections more quickly and efficiently than traditional methods, reducing labor costs and minimizing equipment downtime. They can allocate important resources more effectively and focus on critical tasks like repairs or upgrades.
Enhanced Data Collection and Analysis
In addition to improving efficiency and safety, drones can provide enhanced data collection and analysis. They can collect high-resolution images and videos of infrastructure, which can be analyzed using machine learning algorithms to detect defects or anomalies. Engineers can more easily identify potential issues before they become critical, which allows for more targeted repairs or upgrades.
Furthermore, drones can collect data on infrastructure that is difficult or impossible to access with traditional methods, such as underground pipes or remote wind turbines. Companies can use this data to create 3D infrastructure models, allowing engineers to visualize the equipment and identify potential issues more efficiently.
Reduced Environmental Impact
Using drones for energy and utility infrastructure inspections can reduce environmental impact. Traditional inspection methods, such as helicopters or ground-based vehicles, can impact the environment significantly due to emissions and land use. On the other hand, drones have a much smaller carbon footprint and can access infrastructure without disturbing the surrounding environment.
In addition, drones can help identify potential environmental risks, such as oil or gas leaks, before they cause significant damage. This early detection can help companies respond quickly and prevent further environmental harm. Using drones for inspections can also help companies comply with environmental regulations and demonstrate a commitment to sustainability.
Energy Industry Example
Many energy and utility companies are using drones for inspections. For example, an energy company might use drones to inspect their wind turbines, which helps them reduce inspection time significantly and allows for improved predictive maintenance to optimize the company's wind turbines and increase their lifespan. Inspections by a drone may also uncover blade damage and other issues that human inspectors would not have been able to see.
Some studies have shown that drone-performed inspections were faster, safer, and more cost effective than traditional inspection methods for distribution network inspections. The study found that drones could cover more areas in less time, detect more defects, and reduce the risk of worker injury.
Inspect More Easily with Better Results
For companies that need an efficient and effective way to maintain their energy and utility infrastructure, using a drone for inspections can provide numerous potential benefits.
It can transform how engineers approach energy and utility infrastructure inspections by improving efficiency, safety, cost-effectiveness, and data collection. Real-world use and studies demonstrate the value of using drones for inspections, and their reduced environmental impact shows a commitment to sustainability. For engineers or business owners, considering the benefits of inspections performed by drones can help maintain infrastructure more efficiently and effectively to ensure that your equipment continues to operate at its best.