Are you worried about aching in your back and wondering if it's related to your age? You're not alone. Back pain is one of the most common complaints among adults, especially those over 40. As we get older, our bodies go through various changes that can affect our back health.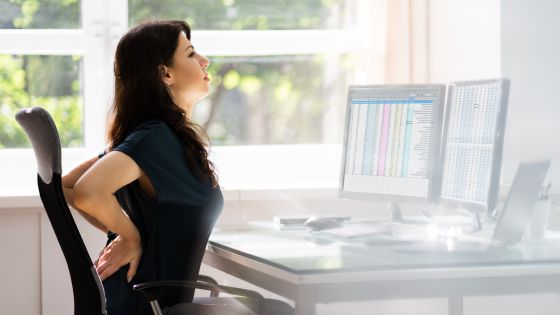 How Our Spines Change with Age
Our spine plays an essential role in supporting our body and protecting our spinal cord, which connects the brain to the rest of our body. It's made up of 33 vertebrae stacked on top of each other, separated by discs that act as shock absorbers.
As we age, our spines undergo several changes:
Loss of moisture and flexibility in discs: The discs between our vertebrae contain a jelly-like substance that helps them absorb shock and maintain flexibility. With age, these discs lose moisture and become less flexible, making them more susceptible to wear and tear.
Bone spurs: As discs lose moisture and shrink, the vertebrae can come closer together and put pressure on our nerves. In response, our bodies may develop bone spurs (also known as osteophytes) in the spine, which can cause pain and stiffness.
Loss of bone density: As we age, our bones lose density, making them more prone to fractures. This loss of bone density is especially concerning for those with osteoporosis or low bone mass.
Common Age-Related Back Problems
As our bodies age and undergo these changes, we may experience various back problems. Some of the most common age-related issues include:
Degenerative Disc Disease: As our discs lose moisture and shrink, they can also become more prone to tears or cracks, leading to degenerative disc disease. This condition can cause pain, stiffness, and limited mobility.
Spinal Stenosis: Bone spurs or thickened ligaments can narrow the spaces within our spine, putting pressure on nerves and causing spinal stenosis. Symptoms include pain, numbness, and weakness in the back or legs.
Osteoarthritis: As our joints experience wear and tear over time, they may develop osteoarthritis (OA), a condition that causes inflammation and pain in the affected area. In the spine, OA can cause stiffness and pain in the back or neck.
Compression Fractures: As our bones become weaker with age, they may be more prone to compression fractures, which occur when a vertebra collapses. These fractures are common in those with osteoporosis and can lead to severe back pain and even deformities.
Managing Back Pain and Maintaining Back Health
Although back pain may be more common as we age, it doesn't have to be a normal part of getting older. Certain lifestyle changes and habits can help manage back pain and maintain overall back health, such as:
Exercise: Regular physical activity can help strengthen muscles that support the spine and improve flexibility.
Maintaining a healthy weight: Extra weight can put a strain on the spine, so maintaining a healthy weight can alleviate pressure and reduce back pain.
Proper posture: Paying attention to your posture, both while sitting and standing, can help prevent unnecessary strain on your spine.
Stretching and staying active: Taking breaks from long periods of sitting or standing and incorporating stretching into your routine can help prevent stiffness and muscle imbalances.
Seeking medical treatment: If you are experiencing persistent back problems, specialists in Oklahoma City suggest seeking medical treatment for proper diagnosis and management.
Conclusion
While age can bring about various changes to our spine, it doesn't have to mean constant back pain or problems. By understanding how our bodies change with age and implementing healthy habits, we can maintain back health and prevent unnecessary strain on our spines. Remember to stay active, maintain a healthy weight, and seek medical treatment for persistent or severe back pain.
So, age may affect your back, but it doesn't have to control your quality of life. Take care of your spine, and it will take care of you!