Introduction: This write-up discusses efficient methods to convert NSF to PST without Lotus Notes. Detailed instructions for the manual approach and Lotus Notes to Outlook Converter will be provided for you to perform this conversion.
The IBM Lotus Notes Utility uses a Domino server to store various aspects such as contacts, emails, calendars, events, appointments, tasks, etc. NSF stands for Notes Storage Facility, and it is the default database file used by the IBM Lotus Notes Facility.
Similarly, mailbox data, like emails, calendars, events, etc., are likewise stored in Outlook PST (Personal Storage Table) files. The client's system houses these items locally. Now that you know the fundamentals let's discuss how to convert NST to PST.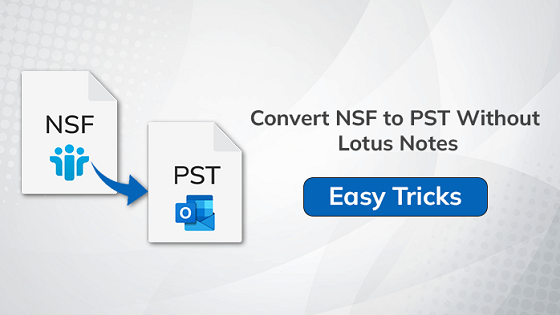 So now, Before exploring both methods, let's take a moment to discuss some of the main reasons for exporting Lotus Notes email to Outlook.
Reasons to Convert Lotus NSF to PST Without Lotus Notes
Cost of Maintenance: Unlike Lotus Notes, Outlook offers reduced maintenance costs.
Easy to Use GUI: Compared to Lotus Notes, Outlook's GUI is more user-friendly.
High Purchase Cost: There is no need to purchase Outlook because Microsoft is already incorporated. But users have to buy Lotus Notes which is quite expensive.
Requires Technical Expertise: Unlike Lotus Notes, Outlook allows non-technical users to comprehend how it functions easily. To use IBM Notes, you need to have some technical knowledge.
Account Management: Users can use one or more accounts in Outlook. However, this is not feasible in Lotus Notes. Users are limited to managing one account.
These are some main reasons why users convert NSF file to PST. Now, let's learn how to convert NSF to PST without lotus notes file format easily.
# Method 1: Detailed Manual Method to Export NSF to PST
To transfer IBM Notes NSF to Outlook PST without using Lotus Notes, you need Microsoft Transporter Suite. Free software called Microsoft Transporter Suite is used to move data from Lotus Notes to Exchange Server. Here are the steps to convert NSF to PST without Lotus Notes.
To begin, download the transporter.msi for your 32-bit or 64-bit operating system.
You can install it by clicking on the downloaded setup and then pressing Next.
Click the "I accept the terms in the License Agreement" checkbox.
Search the path for the Transporter for the Internet Mail component. Next, click Next to continue.
Open the Microsoft Transporter Suite that has been installed.
Create a . CSV file with the following fields:
SourceIdentity: User Email ID
Source server: POP Server Name or IP address
SourceLoginID: Account username to connect to the server
SourcePassword: User password
TargetIdentity: Email Address
Once the .csv file has been created, select the option to add mailboxes and import it.
Go to the left and select the mailboxes option from the tree structure.
Press Migrate after that, then choose the Mailbox option from the right pane.
Select POP from the Select Mailbox Type selection, check the box next to Specify Client Access Server, and click Next.
Next, choose the Client Access Server and the POP mailbox type to transfer. To continue, select the Next button.
In the Select Date Range wizard, select the All emails checkbox.
Tap on the Migrate option after looking over the summary of the mailboxes you've chosen.
Finally, press the Finish button to wrap up the procedure.
Transfer NSF To CSV and Import CSV to PST File Format
Now, you have to move NSF to CSV and import them into PST format.
Step 1: Transfer NSF to CSV format
Start the IBM Lotus Notes Program first.
Click it by going to the File menu. Then click the Export menu item.
Select the file's saving location from the Export dialogue box now.
Set the "Comma Separated Value" option to choose the file format, then give your file a name. Press Export.
Select the options you need in the CSV Export box, then click OK.
Step 2: Import CSV to Outlook PST
Now, you have to import CVS files into Outlook PST
Open the Outlook software.
Press the Open & Export>>Import/Export option after selecting the File tab.
Choose "Import from another program or file" from the dialogue box on the screen, then click "Next."
Select the "Comma Separated Values" option and click "Next."
To select the exported CSV file, click the Browse option. Choose any option from the Options menu, then touch Next.
If you want to make any other settings, click the Checkbox now, and then click Finish.
Finally, Outlook PST will import each of your CSV files.
This manual approach is free of cost but takes lots of users' time. Data loss and corruption can also occur while performing the steps manually. That's why we suggest you to use the Lotus Notes to Outlook Converter Tool. It is a multi-featured utility to convert NSF to PST without Lotus Notes. Additionally, it offers easy to use interface to its users.
Conclusion
I hope you enjoyed this article; here, we have provided the complete solution to convert lotus notes to outlook. First, you will get all the steps of the manual steps to convert NSF to PST without Lotus Notes. But it has some limitations, so we recommend you use the Professional Solution.