Every successful firm relies on effective business communication. This is even more relevant for modern firms because of recent massive transformations in workplace culture. As a result of technological improvements and the influence of COVID-19, robust business communication solutions have become more than a must in every industry today. Fortunately, there are many remarkable corporate communication apps available that make it easier for leaders and managers to engage with their employees, connect the dots, and boost performance and productivity.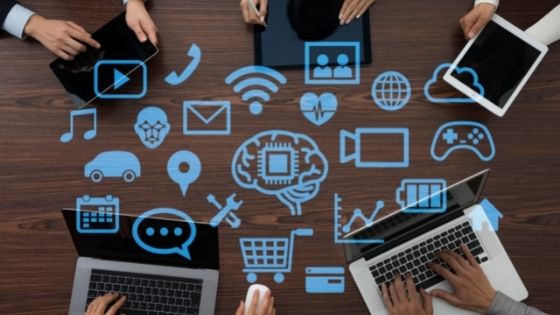 Business communication software (like BizBaby) provides a versatile platform for meeting the diverse demands of internal connection. The following are some of the most important benefits of using business communication technologies to help your company flourish.
Adaptability
The modern workplace is rapidly evolving, and companies across industries are supporting remote employment. Leaders may collaborate with remote staff as needed using a dependable communication tool while allowing them to work on flexible schedules. Because more than 70% of millennial employees prefer to work in a flexible environment, firms must adapt and guarantee effective communication channels to increase productivity.
Data sharing
Modern communication tools have easy capabilities to communicate all of the data and information you need for any task. Team leaders and employees can share files, upload links, or even stream content to ensure that everyone is on the same page. Files and data can be saved on the connected cloud system using certain business communication tools. This makes working on a project easier because everyone can access the necessary files later.
Task Management
When a team communicates across many channels, it can be challenging for leaders to manage a project. A business communication tool isn't the same as a regular texting app. It centralizes everything to get a rapid overview of the procedures and keep track of the project's development. It also makes task planning, assigning responsibilities, setting deadlines, and other activities easier while increasing team member accountability.
Communication
Team collaboration applications keep employees informed about what's going on and concentrate on their jobs. To ensure that everyone stays on schedule and completes their tasks on time, messages can be issued to individuals or groups of employees. Video conferencing options are available in business messaging apps, making meetings more participatory and engaging.
Integrated Technologies
Machine Learning, Robotic Process Automation, Natural Language Processing, Predictive Analytics, and Artificial Intelligence are just a few of the latest technologies that may be integrated into an enterprise collaboration app. By categorizing information, analyzing data, generating reports, developing regulations, and much more, these technologies can help streamline company communication. This will relieve employees from the stress of doing routine chores, making them focus on more productive tasks.
Improved Productivity
The most apparent advantage of office apps is increased employee productivity. Business communication technologies enhance employee morale and efficiency by making it easy to define goals, assign assignments, track progress, generate reports, and connect with team members in real-time. Having a single channel for all corporate communication also eliminates multitasking, which aids time management even more.
There are many ways for team members to communicate with one another, but business communication software provides a more specialized platform for creating a dynamic workplace. While it is impossible to predict how the future will shape workplace culture, advanced and feature-rich business communication tools will undoubtedly become more important in the coming years.