Utility costs, particularly those related to electricity, can constitute a sizeable portion of a company's total annual operating expenses. The first step toward reducing your electricity bills is to understand how do business electricity bills work, how they impact the price you pay for electricity, and what you can do to reduce those costs? Let's have a quick overview.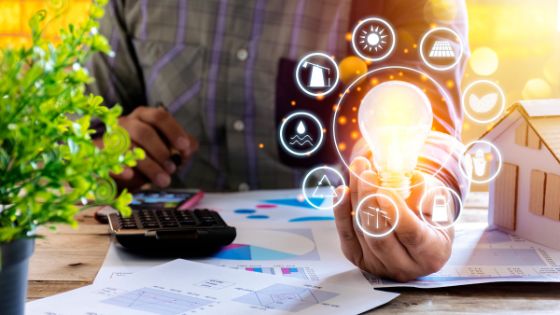 Understanding Business Electricity
Business electricity is the term used to refer to the electricity supplied to a place of business. Business electricity tariffs are structured differently from residential electricity tariffs because they are intended to meet the energy requirements of commercial consumers. This makes them distinct from residential electricity tariffs.
Contracts for commercial electricity are typically customized to meet your company's requirements rather than being selected from a predetermined list of tariffs. Your use and company credit profile are two of the most important elements that will determine the deal that you are offered. You may need to contact each provider to compare tariffs, making comparing prices challenging because bids can be more specifically tailored.
Average Business Energy Consumption
Comparing the amount of energy used by businesses requires, despite each company being unique, an estimation of the typical amount of energy utilized by a sample of businesses. The following table provides an overview of the typical amounts of gas and electricity utilized by enterprises of varying sizes.
Micro-business – A typical micro-business has an annual gas consumption of between 5,000 and 15,000 kWh and annual electricity consumption of between 5,000 and 15,000 kWh.
Small Business – The annual energy consumption of an average small business ranges from 15,000 kWh to 30,000 kWh for gas and from 15,000 kWh to 25,000 kWh for electricity.
Medium-Sized Business – The annual use of gas by the average medium-sized business ranges from 30,000 to 65,000 kWh, while the annual electricity consumption is from 25,000 to 50,000 kWh.
Large Business – A large corporation consumes, on average, more than 65,000 kWh of natural gas and more than 50,000 kWh of electrical power annually.
Although the quantity of energy your company consumes is also influenced by the sector in which you work, comparing your company's energy consumption statistics should give you an idea of whether you're consuming excessive energy.
How to Find the Best Deal for Your Business Electricity Prices?
It's essential for businesses to understand and conduct regular pricing comparisons and to ensure that they are getting the best bargain possible. If you let the terms of your business energy contract get automatically renewed, you may be charged more than necessary for your electricity.
Before agreeing to the pricing offered for renewal, it's strongly advised for business owners first to conduct an electrical price comparison. Renewal costs in the commercial energy sector are typically significantly higher than negotiated rates because there's usually little customer loyalty.
Suppose you're currently bonded by a contract that isn't meeting your needs or is working with a provider that doesn't pay attention to what you have to say. In that case, switching providers can save you a lot of effort and provide you with the right amount of energy required to run your company.