The COVID-19 pandemic left us many lessons. One of the lessons we've learned is how to be productive when working from home. A home office has become a crucial component of most households during the pandemic. Working from home is, without a doubt, a blessing to most of us because we can still work and earn a living. This post will look at seven gadgets and accessories to help you take your WFH experience to the next level.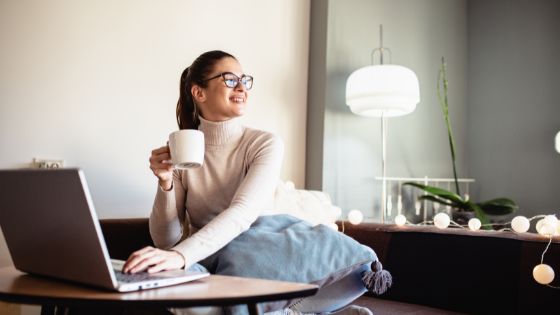 1. Good Office Chair
An ergonomic and comfortable chair is a game-changer when working from home. Sitting in the wrong chair can cause a variety of aches and pains. Neck pain chronic back can be debilitating and, in the long run, can impair your posture, increasing the likelihood of future health problems.
Investing in a comfortable, adjustable office chair with good lumbar support is an essential piece of furniture in your WFH arsenal. That will relieve any discomfort and allow you to work comfortably.
2. Wireless Headphones and Earphones
Working from home entails having family, friends, or pets around that would not usually be a problem at an office. Investing in a good pair of wireless headphones is necessary for individuals working in remote areas. While many people utilize the ear pods with their mobile devices, these aren't long-term solutions.
They can not only be burdensome and uncomfortable to wear, but they can also be a breeding ground for bacteria. This can leave you with a terrible ear infection. A good pair of headphones will keep noise interruptions to a minimum and help you focus on your work.
3. Good Lighting System
Working in poor lighting conditions is harmful to one's eye health. Homes have dim light compared to office buildings that have high-powered fluorescent lights. Investing in a high-quality desk lamp will significantly impact your work-from-home setup. Adequate lighting will help you avoid errors and reduce eyestrain. A ring light is also a terrific item to assist in brightening and polishing your appearance if you engage in regular video conferences.
4. Laptop Stand
Many of us don't have sufficient space in our houses to accommodate a complete desktop setup and opt to use a laptop instead. While there is nothing technically wrong with working from a laptop, you may have to reposition it and find typing difficult continuously. A laptop stand can assist you in determining the optimal ergonomic position for you.
This is because it elevates your device, allowing you a more pleasant experience. Many laptop stands include extra functions such as coolers to keep your machine running at peak performance and additional USB ports that always come in handy.
5. Wide Screen
Working from your laptop for more than 8 hours daily can induce eyestrain, leading to discomfort and headaches. Investing in a large screen monitor that you can connect to your laptop can make all the difference. If you can't afford a new display, try connecting your laptop to a TV screen. It works just as well and allows you to work without straining your eyes or increasing your screen size.
6. Bluetooth Mouse and Keyboard
A Bluetooth mouse and keyboard is one of the simplest ways to improve your home office. Designing a workstation setting with both your neck and shoulders in the proper position can be troublesome. You have much more ergonomic freedom when disconnecting your mouse and keyboard. You may now raise your laptop to a neck-friendly height without sacrificing your typing arms.
7. Good Notepad
Even with the advancement of technology, paper remains infinitely valuable. When you need to make a quick note or scribble down an idea, you reach for your notebook and start scribbling. Unlike a cell phone, paper can never run out of power when you need it the most.
Branded notebooks within your company can inspire better productivity and provide a platform for displaying your branding to new audiences. Making a to-do list or taking notes is a breeze with a personalized notepad.
Closing Thoughts
To ensure you remain productive throughout the work day, it is important to set clear boundaries for when you begin and end work. Get dressed in the morning so you feel ready for work. Switch off the TV to avoid distractions and turn off the computer after you finish the day. You can use this list as a checklist for necessary home office accessories that might work for you. You can always do further research to see how you can maximize the desk and workspace in your home office.