A strong brand creates instant recognition and leads to success in the marketplace, your industry, and especially among your target audience. The backbone of your branding process for your small business is getting an amazingly attractive and functional custom logo. A stunning logo will build loyalty, be the face of your brand, make your brand memorable, make you unique, and even better.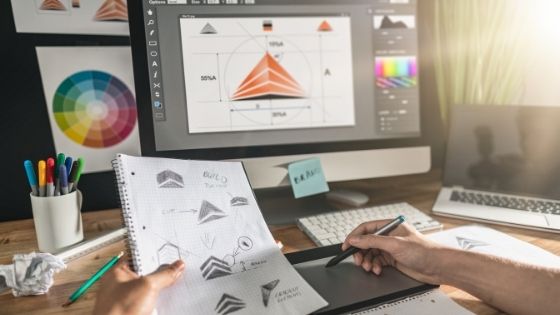 To create a logo you will need a logo designer or a logo maker. However, for small businesses, logo designing tools are the best option. Here are 6 free brand logo tools for your small business branding that you can choose from-
1. Designhill Logo Maker
Desinghill is one of the best free brand logo tools for your small business branding. This logo maker allows its users to make a few style choices upfront. You need to enter some details at the start to create a stunning and relevant logo for your small business at the end.
First and foremost, open the Designhill logo maker and fill in your company's name and choose the industry too. After this, you can enter your company's slogan which is optional. Select icons from the Designhill library that will be the centerpiece of your logo. You can also make the choice of your styles, colors, shapes, designs that appeal to you.
Plenty of stunning logo designs will pop on your screen in just a few seconds. Select the one that does a good job of describing your business. You can customize each and every element to create a perfect design at the end. It is totally free to do all the design. However, you will need to pay to download the logo at the end.
2. Logomakr
Logo Makr is one of these free online logo makers which use similar concepts when designing and editing. These use logo templates to create cool logos with a user-friendly interface.
To create with Logomakr, go to the homepage and watch an instructional video if you wish. To being your logo designing process, you need to select a graphic for your logo. You can search graphics from the database by filling keywords in the search bar. Then, you can fill text of your choice of font style and size.
After you are satisfied with these two elements, you can consider the colors of your custom logo. Keep in mind your branding scheme and brand color palette to create a matching logo for your company.
To get the free version, you can download and give credit to Logomakr. You can get a higher resolution image for free then you will need to pay a premium.
3. Graphic Springs
With GraphicSprings, you can make your own logo for your small business branding. For this, go to the logo design page on the website and then enter your company name. From the 'choose the graphic' option, select a relevant image or icon for your logo.
After you select a graphic, the software will create a logo design and take it to the editing page. At this point, you can select elements and start editing to create the perfect logo.
You can alter the color of the elements and even add some effects. Split the design into different elements, so you can focus on each element separately. The ultimate motive should be to create a logo design that is memorable, attractive, connects, and communicates with the audience.
After being done with customization, you can click 'Download your logo' at the bottom right of the editing page.
4. Canva Logo Maker
Next, on the list to create a free brand logo for your small business is the Canva logo maker. It uses drag and drop design tools and has a huge library of icons, images, fonts, and much more.
First, you can select icons or any images depending on your company and industry. There are plenty of free-use graphic elements that you can select. Always keep your brand theme in mind while designing to stay on the right track. Next, you can open the 'Text' tool and choose font style and size for your company logo.
Pick the perfect color for your text as well as the icon that you have chosen. After dealing with all these elements, you can download the free logo version in JPG, PNG, PDF formats with just one click. You can even choose an existing logo template from the Canva library instead of creating a logo from scratch.
5. Designimo
Designimo is a free logo designing software that requires payment only when you have finalized the logo for downloading. Earlier, a free low-resolution version was available but now, Designimo offers only high-resolution files. It follows a simple design procedure- select, edit, download, and display.
Go to the homepage, add the company name and click 'create logo now'. Next, select a category based on your industry. You can select the option that appeals to you and then begin the editing process. Using the tools available, you can change element size, alter graphics, flip elements, change text size or font style, apply opacity, move elements by clicking and dragging. After you are satisfied with designing, you can finally purchase your logo in PNG, JPG, and EPS vector files.
6. Free Logo Design
With Free logo design, you can easily create a brand logo for your company on your own. It involves simple steps and just a few clicks. You need to select an existing logo template on the platform. The first step includes, going to the homepage of the website, and entering the name of your company. To be more specific, pick a category from the drop-down menu and click 'start'
Now, you will see templates containing your company's name based on your industry. You must choose a template that you think looks visually appealing, defines your brand, fits your brand strategy, and is memorable.
Then, use the editor to customize the template as your needs. You can easily drag and drop elements to favorable positions. You can alter text, graphics, colors, size, etc. to make a custom logo that connects with your target audience. Finally, you can download free PNG files and display your logo wherever you want.