Healthcare has always been a big deal in our society. From providing medical care to helping us live longer lives, healthcare touches every aspect of our daily lives.
As technology continues to advance, healthcare is also changing rapidly. The Internet of Things (IoT) is revolutionizing how we diagnose illnesses and treat patients. Artificial intelligence is improving the quality of life for millions of people around the globe. Virtual reality allows doctors to provide better patient experiences.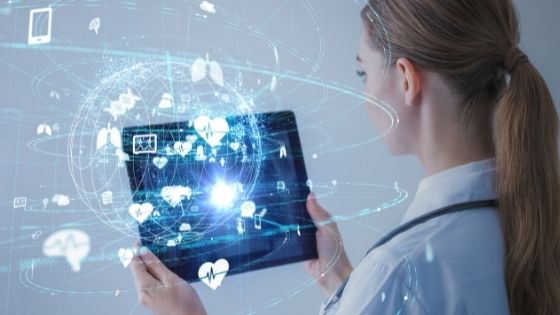 Technology is transforming healthcare in ways we never imagined possible. As these innovations continue to evolve, they will improve the quality of life for everyone.
In this article, we will discuss five ways technology is changing healthcare:
1. Electronic Health Records
Having records electronically means that more information can be shared among clinicians and other staff immediately. This allows for faster treatment options when needed. It also helps prevent errors because no one person needs to store all the information about a patient's record. They are instantly accessible by anyone who needs them. The benefits of this include:
Better communication between providers
More accurate diagnoses
Faster access to important patient data.
2. Telemedicine
Telemedicine allows people to receive medical attention without traveling long distances or waiting in line for an appointment. Using telehealth technologies like video conferencing, individuals can connect with their provider through a computer, tablet, smartphone, etc. All interactions occur remotely over secure connections, with real-time feedback on each process step. These methods allow clinicians to examine a patient virtually rather than physically. Benefits of this type of service include:
Improved accessibility – Video conferencing removes many barriers, including time constraints and geographical limitations. For those located in rural areas or far away from large cities, telemedicine can make it easier to get care.
3. Surgical Technology
Surgical technology is constantly improving. New tools are being created to improve operating environments and safety. For example, surgical robots can provide surgeons with enhanced agility and accuracy. They increase precision and reduce risks associated with operating on delicate tissue. Today, robots are regularly used in orthopedics, urology, gynecology, neurosurgery, and electroencephalography where they follow an EEG guide. The benefits of these devices include:
Better outcomes – Surgeons who use robotics report improved recovery times, reduced scarring, and faster healing compared to those who don't use them. Evidence shows that robots can lead to higher success rates and lower complication rates.
4. Virtual Reality in Medicine
Virtual reality has been used in medicine for years. However, recent advancements have allowed VR to become more sophisticated. Now, there are plenty of applications for virtual reality in healthcare settings. Physicians can prepare patients for surgery, administer medications, or perform physical therapy. VR can also give doctors a first-hand look into what it would be like to experience a particular condition. For instance, a physician might use VR to simulate walking downstairs. Before a patient goes under anesthesia, they can use VR to practice climbing ladders and taking steps. Benefits are:
Accurate – A VR patient will feel much less pain during procedures because everything around them looks natural. This leads to fewer complications and a lower risk of infection. It also helps people adjust better when going back home afterward. Furthermore, VR gives patients a sense of control and lets them take charge of their care.
5. AI In Healthcare
Artificial Intelligence (AI) uses software programs to mimic human decision-making processes. It may diagnose diseases, recommend treatments, and improve efficiency across different industries. At its core, AI technology looks at patterns within data sets and makes predictions based on what it knows about similar situations. In healthcare, AI is already improving the accuracy of diagnosis and treatment planning. Clinicians can leverage AI to predict whether or not a certain disease will progress further before symptoms appear. They can also use AI to analyze lab results and identify patients' treatment plans. The major advantage here is:
Accuracy – AI diagnoses are just as accurate as humans. This means patients won't face unnecessary anxiety or stress while receiving proper treatment.
As technology has transformed how we interact with our health, it hasn't completely replaced traditional methods. Doctors still rely on diagnostic tests, physical exams, X-rays, and lab work. However, these tests are becoming more accurate and affordable thanks to advances in technology. Nowadays, you might only need your doctor's touch to get a diagnosis!