It goes without saying that providing excellent customer service is crucial to every company. Despite this, many businesses ignore customer experience and rarely regard it as an ROI-generating metric. Many factors point to the direct relationship between customer service and financial performance, particularly as we transition to more "customer-centric" business conditions.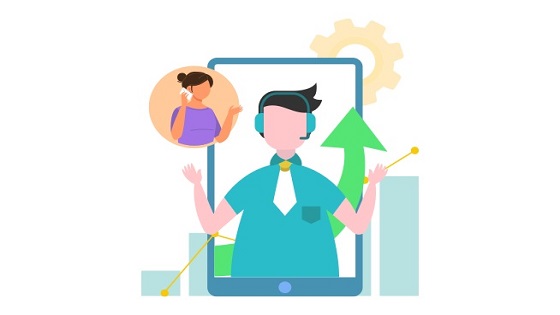 A call can make or ruin a sale, or a connection, whether you work in retail, the services sector, Business-to-Business (B2B), or Business-to-Consumer (B2C). Customers' telephone interactions with call centres and customer care agents are the main source of their discontent. This is due to the fact that many employees are frequently not properly prepared to handle phone calls. Today, we will go over a bunch of ideas for resolving that.
What are the factors that make a call great?
It can be somewhat unsettling to make business phone calls, especially given how much contact now occurs digitally. But nothing can quite match the sound of a real voice, and sometimes making a call is just more practical. Anyone can handle the fundamentals as long as they talk properly and clearly. But to make the call as productive as possible for best sales engagement and customer experience, you must decide on its goal before picking up the phone and remember it as you speak.
Greetings
You have a crucial opportunity during the greeting to build a relationship with the caller and learn precisely what they are calling about. Start with an ice-breaker when appropriate. For instance, you can start by saying, "Hi, Good morning, I'm Rohit from MyOperator and whom do I have the opportunity to talk with today?
Research
In the research stage, you should determine the customer's inquiry and confirm that you are both pursuing the same objective. Explain to the consumer what you are doing to investigate their condition.
Inform
In the inform phase, you give the customer any necessary clarifications or facts. The important thing is that you have the chance to inform the consumer about what was done by responding to their inquiry based on your study.
Agree
In the agreement section, you should propose a solution that benefits both sides. Saying "I will get in touch with you within 24 hours" should be simple if the query or request is straightforward. It will also make your customers happy knowing that you are providing 24/7 customer service to them.
Your mutual agreement is the key idea here. Ensure the caller agrees that this is a sensible and suitable course of action once you have presented your plan of action.
Grateful
Making the caller feel respected and valued requires complimenting them for their purchase, their time, or their understanding. Always express your gratitude to the client for their attention and any assistance in finding a solution to their specific problem.
For example, "Mrs. XYZ, I genuinely appreciate your support and thank you for your understanding. Enjoy your day.
List of 5 tips to handle customer calls like a pro

Instantly respond to phone calls
It typically takes 6 seconds for a ring. Five rings on the phone are equivalent to 30 seconds. It can also catch folks off guard to pick up too soon. It is a smart option to pick up the phone on the third ring.
Talk in a clear tone
To interact with callers correctly, you must adhere to several essential principles, such as speaking slowly and voicing clearly.
Always ask before putting on hold
People may become agitated if they are left on a call with no explanation. It's important to set goals before a call. In order to avoid confusion, let people know what to expect before holding or transferring them.
Fun fact: In the year 2012, an Australian airline kept a client on wait for 5 hours, 40 minutes, and 1 second.
Be polite and friendly
You can convey more than just your voice over the phone; you can also communicate sentiments. Due to this, maintaining a kind and helpful demeanour helps make a good first impression on your callers.
Our accent has a significant impact. Customers can typically sense whether you're honestly happy to chat with them or not even when they can't see you. Are you still not sure? Well, you call a friend and talk to them while smiling the entire time to verify this for yourself. Observe how they talk with you.
Make a callback
It is crucial to reply to calls or messages in continuity, and I cannot underline this enough. Do not wait until the following day or the next to reply to messages left by customers. Nobody likes to be kept waiting for a response from a company.
With the MyOperator IVR system, you can monitor call volumes, greet customers with customised messages, have timely follow-ups, generate call reports, track turnaround times, and assess them to identify methods to raise conversion rates.
A consumer may contact you occasionally merely to vent their irritation, but other times they may want immediate action from you. Whatever the situation, make sure you're paying attention and jotting down things so you can have a clear understanding of what needs to be done.
Even though you probably didn't cause it, you should nevertheless make apologies on behalf of your organisation. Ensure that the customer understands that you are sorry for the issue they are experiencing and that you will do all in your power to fix it. You may say, "I'm really sorry to learn this, we will see what I can do to assist you,"
Do you know any unique tips to handle customer calls and accelerate business growth? Please share with us and comment below with your thoughts.