Design is just too critical, and effective design ensures that your app remains on your customer's phone. Not only can design affect your customer's behavior, but it also shapes perceptions and, to a degree, helps you reach the app store's featured list.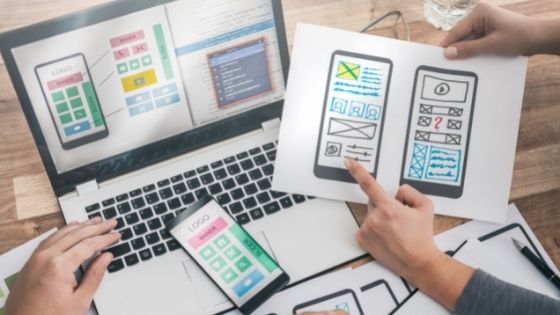 While it's common to think of design in terms of appearance and feel, it encompasses much more. Your app's appearance and functionality and how your consumers interact with it are known as design. Designing entails ensuring that you provide an exceptional customer experience.
1. BuildFire
BuildFire is a full-featured app creation platform that enables you to create an app without writing a single line of code. Utilize their templates and add hundreds of features like push alerts, timers, private portals, loyalty programs, checklists, forms, and media to your application.
Additionally, they provide a white-label capability that enables you to create and sell applications to customers.
Though more expensive than other solutions, this app development tool has a plethora of additional tools and capabilities, making it an excellent choice for creating more comprehensive applications which bring about a digital enterprise transformation.
2. Icon Template for Applications
This is a free Photoshop resource that will assist you in creating mobile app icons for OS X, iOS, and Android. It has built-in textures and colors, which will generate all the varied icons required for your iOS and Android applications.
3. Unsplash
Finding high-quality stock pictures to use in your app or the linked website may be difficult, and they come at a premium. Unsplash is an excellent resource for finding high-resolution photographs that are copyright-free and may be used in any manner you like.
4. Android Application Design Patterns
This is highly specialized to the Android operating system, and it has incredible design ideas with over 1600 screenshots of brilliantly designed mobile devices. Additionally, there are functional applications spanning 31 categories that might assist you in creating a visually attractive mobile application.
5. Lookback
This tool lets you see how users interact with your app to improve the user experience. Additionally, it is capable of tracking bugs. It's an excellent tool for improving the usability of your software.
As a Bonus!
Appy Pie AppMakr
Want to create an app but lack coding experience? Appy Pie enables you to create an app in three simple steps. Select from over a hundred features, including GPS, in-app purchasing, offline functionality, and push alerts. Additionally, they provide statistics to help you monitor the success of your app.
You may use it to construct dating applications, customer loyalty programs, chatbots, retail, and restaurant apps, among other things. They'll even assist you in applying to app stores.
App Icon Template is a free Photoshop resource that enables you to quickly build icon sets for OS X, Android, and iOS applications. This application has built-in textures and colors, and it generates all of the icon sizes necessary for Android and iOS.
GoodBarber
GoodBarber is a simple-to-use app development tool optimized for both e-commerce and regular app development. As is the case with many other app tools, it does not need any coding experience.
This technology is perfect for developing local delivery, retail, grocery, e-commerce, news, business, and community applications. Payment choices, push alerts, user authentication, geofencing marketing, videos, maps, calendars, and forms are all included in the features.
pttrns
A curated collection of over three thousand iPhone and iPad user interface patterns already receives over two million monthly page visits. Utilize it as a source of design inspiration for some of the top applications available. Naturally, the designs may be adapted for Android applications as well.
Bolt 2.0 starter kit
This highly professional and modern-looking kit includes everything you need to put together your ideas for a gorgeous web design swiftly. Every component you'll need is included, and the kit is an excellent time-saver that will ensure you always complete your assignments on time.
Conclusion
Launching an app is now simpler than ever with app development tools. You can design, launch, and optimize your new app with little to no coding skills in only a few days.
However, developing a great application entails much more than just dragging and dropping components. To be successful, devote time to developing a business and marketing plan, doing market research, and developing a fundraising strategy for your firm.