While Excel is great for storing information and performing calculations on those numbers, you can get many other benefits by converting your spreadsheets into PDF files. Here are five reasons why you should convert Excel to PDF: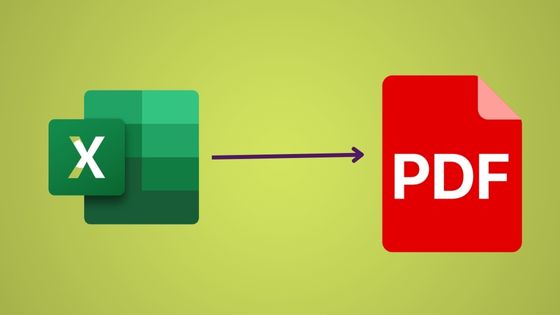 To Ensure Data Security
The first reason why you must convert Excel sheets to PDF is because of data security. Unlike Excel files, PDFs are not easily shared with others. If you work on a spreadsheet that contains sensitive personal information or financial details, you can turn it into a secure PDF by applying password protection or encryption.
If you have to share an Excel file with someone else, there's always the risk that they may expose your data online somewhere. When someone downloads an unsecured spreadsheet from your website—even if it's just for review purposes—you run the risk of exposing sensitive information about yourself and others who have contributed to your project.
To Save Space
First, you must convert Excel sheets to PDF because it saves space. An Excel file can be huge, which means it takes up a lot of space on your computer and slows down the performance of your machine. The second reason why you need PDF files is that they are easier to share online than an Excel document. Adobe Acrobat professionals say, "Turn a PDF into an XLSX file in seconds."
To Share Information with Clients
There are several great reasons to convert your Excel sheets to PDF. One of the most obvious is that you can share information with clients, as well as other businesses, friends and family, your kids and even your spouse.
To Make the Content Better Readable
One of the reasons you may want to convert your Excel sheets to PDF is to make the content better readable. This is especially important if you are sharing the PDF with other people and they are not familiar with Excel or if they have visual impairments.
Additionally, if you plan on sharing your document with more than just yourself and other people who know how to use an Excel sheet, then converting it into a PDF will allow everyone involved in this project to navigate through it easily without having any difficulties using it at all!
To Reduce Errors in the Data
If you've ever worked with a spreadsheet, then you know that it's nearly impossible to avoid errors. Spreadsheets are everywhere and often used as a go-to tool for data collection and analysis. The problem is that spreadsheets can be filled with thousands of numbers and formulas, making them difficult to read and error-prone.
When you convert Excel spreadsheets to PDF, you can keep your data safe and secure and make the content more readable. You can share it with clients and colleagues, saving space on your computer while ensuring everyone has access to the latest version of the document. You'll also be able to reduce errors in spreadsheets by manually checking them after converting them into PDF format.