Cell phone repair shops have their work cut out for them these days.
The industry, for one, is easy to get into – especially for managerial non-techs. A budget of around $20,000-$30,000 does the trick of opening a shop. Anything less, and you can still work on repair gigs the mobile way. An issue made even simpler with the use of good cell phone store POS software.
Also, the learning curve associated with entering the field isn't all that big. Thanks to freely accessible resources like YouTube and RepairDesk; among others. These platforms, with their wealth of tutorials, allow almost anyone to skill up. Learn the goings of the trade and get down, quick, with repair gigs.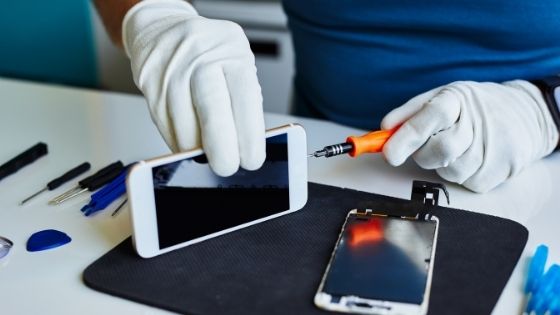 Further, in America, a majority of states don't mandate cell phone repair businesses to license. Except for California – which is big on taxation and registration.
A saturating field
All these factors have led to a growing saturation of repair experts in the domain. Making it difficult, for the everyday broken-phone user, to size up techs on quality.
From the business perspective, attracting customers has become even harder. Every business maintains full access to the standard marketing playbook. Digital marketing, physical promotions, influencer hype…you name it. No tactic seems to be beyond anyone's reach – courtesy of the internet.
So how does the small-time brick 'n' mortar stand out from the crowd?
Well… there are two methods to go about this.
You can either extend an existing trick to its logical conclusion.
Take the verbal/physical practice of marketing products in-store. Traditional and commonplace. And a total no-brainer.
A savvy marketer can choose to automate the concern. They can use innovative software to play product/service promotions on background screens. Have these do the work of hired labor. A neat way to also beautify the shop premises. Covered under the scope of modern-day in-store marketing.
[Also the subject of this piece – with 5 helpful pointers detailing its execution.]
Or you can innovate a marketing tactic anew.
Dive into human and organizational psychology; fish for clues. Gaps in cognition that you can exploit to stake your brand image.
An example could be an avant-garde marketer's decision to use shock value to sell. A slightly far-fetched scenario, but effective nonetheless.
Shock value collateral, whether it's persona-based or tangible, seeks to inspire through revolting. Irritating the consumer conscience into an eerie submission. Kind of like drawing on reverse psychology to mount a surprise assault.
Its engendered thought-progression goes something like this:
Surprise < Revulsion < Contemplation < Amusement < Acceptance < Fascination
A pretty intuitive chain link, when you look at it.
The In-Store Marketing Playbook – 5 Tricks for 2022
Since we're focused on the former orientation, let's get to it.
1. Smaller Rooms, Bigger Screens
A simple, everyday, illusion. Small rooms aren't only easier to decorate, they actually 'heighten the appeal of their minimals'. The lack of many items aids the discovery of its few resources.
For a store, larger screens dwarf their smaller counterparts on any day of the week. I'm talking about the ratio-sizing/making prominent front, of course.
The ads played on these projecting surfaces, in turn, stand a greater chance to affect. Especially if they're played in large retail settings – such as in big departmental stores. Think Walmart and Target in the US.
So, if you're looking to up your in-store promotions game with a little investment, go big. The returns accrued will be well worth it.
As a product marketer (ad hoc), I've witnessed first-hand the power of this tactic. Used to sell a drab repair shop software, no less! So take heart – the promise of this approach stands the test of experience.
2. Limit Promotions to the '3 by 15' Rule
Let me explain – since this isn't a concept you'll find in sales texts.
A pointer derived from experience.
While in-store screen marketing works, it's important not to go overboard with it. In practice, this means limiting a particular video stream of 15 minutes to only 3 promotions. No more, and no less; making for a total of 5 minutes per product/service.
This framework provides plenty of time for marketing each offer in detail. Allowing both the brand and its consumers to establish an effective 'conversion link'. Adequate time for the business to popularize all of the product entities. Just enough for potential customers to take it all in; come to a purchase decision.
At the same time, you're saved from bombarding the customer with promotional excess. Or wrongly conveying that your offer line-up is thin. Guarding against the two (perceptual) extremes.
For devising this prescription, I took a cue from the Point of Sales Software development playbook. Here, programmers, concerned about providing a good user experience, follow the 'less is more principle. They do this by limiting the payment options on POS terminals. Fewer payment channels lead to lesser customer stratification – which makes sales calculations easier.
3. Go HD (1080p) in all cases
Pixels count in the advertisements business. Because they impart clarity – making for comfortable optics. These, in turn, translate into a more engaging and convincing customer experience.
The end result of this sequence: more sales! Which is what every brand is after – the whole point of the affair.
So any investments in quality production tech pay their weight in gold.
A good rule of thumb is to go full HD (1080p) in all recording cases, so the compressed feeds arrive clear.
4. Play a Background Pop-Music/ Instrumentals Mix!
Pop music is catchy, relatable, and distracting. A surefire recipe for luring in 'feels' that are casual. So in practice, it makes for a soothing brand-pull device – but that's about it. In terms of selling stuff, it's a distraction.
For this second phase of customer acquisition, you need some quality instrumentals. Tunes without their overt voice parts; devoid of the singers' produce. Providing the perfect backdrop for some cozy deliberation. Room, from the sellers' perspective, to drive a lead down the funnel.
This regime, believe it or not, is suited to even the most difficult types of sales. Fit for selling 'premium' goods of all stripes. The kinds that all customers evade – if they can help it. Cell phone store POS software and the like…
5. Sprinkle with some human
Sometimes, even with the best of digital promotions, you still need the human component. The physical salesperson fills in the blanks with their nuanced pitch. Understanding exactly what the customer wants to hear, and then delivering. A creative feat currently out-of-reach for any AI program.
So just because you've got a hold on the right tech, don't be so willing to discount your sales reps. Even their mere presence is productive; it lends the right, convincing tenor to your customer engagements.
________________________________________
So there you have it.
My five, experiential, takeaways for a decent in-store cell phone repair (or otherwise) marketing run in 2022.
How do you deal with your insides, brick 'n' mortar, promotions?
I'm curious to learn if you've got a different take – let me know in the comments below.