What is (SCM)?
Coordination and control of all the tasks necessary to procure, create, and deliver a good or service are handled by supply chain management (SCM). It includes coordinating and managing all sourcing, procurement, conversion, and logistics activities.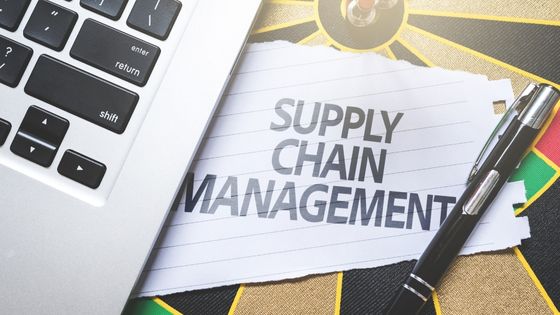 The objective of supply chain management is to optimize the entire supply chain so that it is more effective and efficient at satisfying client needs. Businesses can improve their overall performance and competitiveness by improving the coordination and communication between all supply chain members.
There are many different aspects to consider when managing a supply chain, including:
Sourcing: Choosing the right suppliers to provide high-quality goods and materials at a competitive price.
Procurement: Negotiating contracts and pricing with suppliers.
Conversion: Managing the production process to ensure that finished products meet quality standards.
Logistics: Planning and coordinating the transportation of goods from suppliers to customers.
How Does Supply Chain Management Work?
After asking what is supply chain management? you should know how it works. An effective supply chain management system is essential for any business that wants to be efficient and competitive. A well-run supply chain can help a company save money, time, and resources. It can also improve customer satisfaction by ensuring that products are delivered on time and as promised.
Supply chain management has four main components: planning, execution, monitoring, and control.
Planning: This is the phase where goals and objectives are established, and a plan is created for how the supply chain will operate. This includes deciding which suppliers to use, what inventory levels to maintain, and how you will fulfill orders.
Execution: This is the phase where the actual work of moving goods and materials takes place. This includes activities like manufacturing, transportation, warehousing, and order fulfillment.
Monitoring: This is the phase where data is collected and analyzed so that performance can be tracked and improved over time. This includes supplier performance data, order fill rates, and transit times.
Control: This is the phase where corrective action is taken when problems arise or performance falls below expectations. This can involve adjusting inventory levels, changing supplier contracts, or altering transportation routes.
The Various Types of Supply Chain Management Systems
There are a few different types of supply chain management systems. The most common one is the just-in-time system. With this system, inventory is only ordered and delivered as needed. This cuts down on waste and keeps costs low.
Another type of system is the make-to-stock system. This system produces inventory ahead of time and then stores it until needed. This can be helpful if you know you'll have a high demand for a product at certain times of the year.
The last type of system is the make-to-order system. This is where products are only made once an order has been placed. This guarantees sufficient inventory but can sometimes lead to longer customer wait times.
The Benefits of Supply Chain Management
There are many benefits of supply chain management. By integrating all of the activities in the supply chain, from suppliers to customers, organizations can achieve several objectives:
Improve customer satisfaction by providing them with the products they want when they want them.
Reduce inventory levels and associated costs.
Increase sales and revenue by reducing delays and stock-outs.
Improve operational efficiency and effectiveness.
Gain a competitive advantage over competitors who do not have an effective supply chain management system.
Key Features of Effective Supply Chain Management
An effective supply chain management system should have the following features:
Integrated planning: A good supply chain management system should allow for integrating different planning processes, such as production planning, inventory planning, transportation planning, and so on. This will help to ensure that all aspects of the supply chain are coordinated and working towards common goals.
Real-time visibility: An effective supply chain management system should provide real-time visibility into all aspects of the supply chain, from raw materials to finished products. This visibility is essential to identify potential problems and bottlenecks so they can be addressed quickly.
Flexibility: An effective supply chain management system should be flexible enough to adapt to changing conditions, whether a change in customer demand or a disruption in the supply of raw materials. This flexibility is essential to avoid disruptions in the supply chain and keep it running smoothly.
Scalability: An effective supply chain management system should be scalable to accommodate growth as your business expands. This scalability is essential to avoid overloading the system and causing disruptions.
How to Implement a Supply Chain Management System
Assuming you would like tips for implementing a supply chain management system:
Define the problem you are trying to solve with the new system. Without a clear understanding of the issue, it will be challenging to develop an effective solution.
Research various supply chain management systems and compare their features. Select a system that will fit your company's specific needs.
Once you have selected a system, work with your team to develop a plan to implement it effectively. Consider all the different aspects of your business that will be affected by the new system and how best to integrate it into your current operations.
Train your employees on how to use the new system. They will need to be familiar with its features and functions to make it work properly.
Monitor the new system's results after implementation. Be ready to make changes as needed to make sure it is operating as intended and bringing your business the expected rewards.
What Does a Supply Chain Manager Do?
A supply chain manager is responsible for coordinating and executing all activities involved in procuring, producing, and distributing goods or services. This includes developing and maintaining relationships with suppliers, managing inventory levels, overseeing transportation and logistics operations, and ensuring that products are delivered to customers on time and at the correct price.
In order to be successful, a supply chain manager must have a strong understanding of the big picture and the details of each process. They must also communicate effectively with all team members, from upper management to line workers.
Evolution of Supply Chain Management
The supply chain management field has evolved significantly since its inception in the early 1990s. The term "supply chain management" was first coined by consultants in the late 1980s, but it did not enter the mainstream business lexicon until a decade later.
In the early days of supply chain management, the focus was primarily on operational efficiency and cost reduction. The goal was to streamline the flow of goods and information within organizations and between suppliers and customers.
Today, supply chain management is about more than efficiency and cost reduction. It is now recognized as a strategic business function that can profoundly impact an organization's top-line growth and bottom-line profitability.
Organizations are increasingly looking to their supply chains as a source of competitive advantage. They use supply chain management to drive innovation, create new customer value propositions, and enter new markets.
Conclusion
Supply chain management is a process that involves the planning, coordination, and execution of all activities involved in the flow of goods and services from suppliers to customers. By managing the supply chain effectively, businesses can improve efficiency, quality, and customer satisfaction while reducing costs. Many resources are available online and in libraries, if you're interested in learning more about how supply chain management works.