Are you looking to implement mobile payment gateway integration for your business to streamline the user experience? Well, before doing so, you need to first learn about all possible options and how payment gateway for mobile apps works, how to choose the right solution for a seamless mobile payment gateway integration, which cross-platform mobile apps will support them, and many more.
We understand how critical payment processing is to any business. If it wants to generate more sales and target happy customers, it's important to offer the best buying experience possible. Electronic payments processed through smartphones, smart wearables, or tablets can help with both things.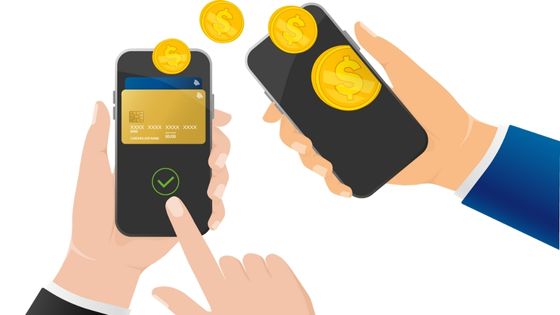 The penetration of smartphones into our daily lives and shifting away from cash have given a boom to effortless, direct, and real-time mobile payments. Millions of customers are appreciating these mobile app capabilities whereas many vendors still have no idea how their tablet or smartphone can replace the cash register, banking terminal, and analytics system for their small business.
With the number of mobile users exceeding billions and people seen spending more time on their smart devices, mobile commerce will continue to grow every year. So, if you're planning to start your business anytime soon, mobile app development in Chicago, as well as mobile payment gateway integration, seems inevitable.
However, make sure that the mobile payment gateway you implement in your business is easy, smooth, quick, and most importantly safe to use.
Let's understand more about mobile payments!
What are Mobile Payment Gateways?
Mobile payments can make it easier to accept in-person customer payments. Thanks to their security, speed, and level of convenience any business owner would love to implement the payment gateway for mobile apps.
When the right mobile payment gateway is integrated into your business, the customers can make purchases via Apple or Android smartphones, tablets, or wearable devices through all major credit or debit cards alongside the bank account information.
By 2024, the global mobile payment market size is estimated to cross 3 trillion USD. And almost 70% of millennials around the globe will continue to enjoy discounts and reward offers as incentives for using mobile payment methods.
Looking at these stats, we can see how mobile payment adoption will continue to increase in the coming years.
Let's check out more benefits of integrating mobile payments into your business.
5 Amazing Perks of Having An Integrated Payment System
Here are the numerous benefits that encourage the widespread adoption of mobile payment gateways.
1. Cost Saving
Opting for mobile payment gateway integration can help you reduce expenses in several ways.
The email receipts and creating an online invoice eliminate the use of expensive point of sale (POS) equipment or paper and ink.
The only external cost you'll have to bear to set up is a card reader. Rest, you can easily use your tablet or smartphone as your mobile point of sale terminal.
The cloud-based subscription models also usually have low sign-up and monthly maintenance expenses.
The alternative to using a card reader could be activate or Create QR Codes for the payment. Then, you can save that external cost as well. You can also generate your own QR code for your business.
2. Maximized Revenues
Adding payment gateways to your mobile app capabilities will provide your customers with more handy and easier ways to transfer money to your account instantly. They can pay as long as they have their mobile on hand and you can get your payments faster than ever.
In short, with integrated payment systems, you increase your chances of getting more money from more customers faster than traditional payment methods.
3. Reward Your Customers
Since you will have your customers' information stored in your mobile payment apps, you can quickly send them coupons, discounts, or rewards using them.
You can offer point loyalty to your customers for each transaction and can put them toward discounts or free products.
With the tiered loyalty program, you can help your customers unlock a new tier of reward points or discounts whenever they make a new purchase.
4. Outshine Competition
The better services you offer to your customers, the more likely they will engage. By offering multiple ways for customers to pay via their mobile phones, you can keep yourself ahead of the competition.
When investing in a payment gateway for mobile apps, choose one that can process the following types of frictionless payments –
Contactless (or EMV chip) credit cards.
Digital payment methods like GPay.
QR code payments.
5. Security
Cross-platform mobile apps use an encrypted or protected code to shield customers' confidential data.
This means that customers' real card numbers will never be stored on any of your devices. This enables greater security of payments and keeps your liability significantly lower.
How to Do Mobile Payment Gateway Integration for Android and iOS Apps?
Each payment provider will have its own set of software development kits (SDKs) and detailed instructions on how you can add the integration. The general steps for mobile payment gateway integration for Android and iOS will be the same –
Step 1 – Integrate Server and Client-Side Software development kits
Step 2 – Connect to API
Step 3 – Apply for a payment security certificate.
After that, your company will undergo an audit by one of the PCI Security Standards Council companies, passing which, your company will be certified and you can finally start accepting payments online.
Conclusion
Finding a perfect mobile payment gateway integration solution that meets all your needs takes time and effort.
Yet, you must know how to integrate the payment system in your app, where to start, and what your essential first step should be towards safety and security. It's important for selling goods and completing transactions on a mobile app.