English Grammar Guide for Writers [Grammar Check Sources]
If you are a writer then it is natural for people to assume that you have an excellent hold of grammar. However, that is not always the case! A professional writer is skilled in ideating, conceptualizing, and research work. But, many of them lack grammatical knowledge. Probably, the reason is – not everyone finds grammar to be a convenient or easy subject. I am sure that many assignment help specialists will agree to this.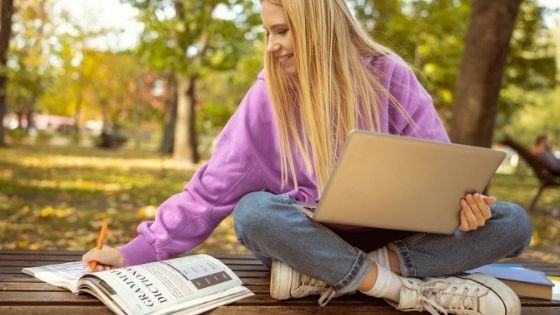 But, it is crucial to understand that grammar is the essence of writing in any language. It enables you to put forth the core idea clearly. Further, it provides authority to your write-up while making it look professional.
So, we decided to compile the important aspects of grammar that empower you to craft seamless content. Let's jump in!
Crucial Grammar Rules to Remember While Writing
1. Homophones
In many languages, you will find a lot of words that are spelled differently but sound the same. Such words are called homophones. In fact, they have different meanings.
For example, "caret" and "carrot" sound similar but they have distinctive spellings and meanings.
Therefore, always double-check everything as even a slight difference in the usage of words may cause a blunder. It is always best to access the dictionary and verify the spelling right there.
2. Active & Passive Voice
Many people find it difficult to truly understand active and passive voice in grammar. As per essay help professionals, it is highly recommended to write sentences in the active voice for the best results. It makes the content easy to understand. Active voice is all about taking an action.
Contrarily, passive voice means receiving action and it is considered a fairly difficult form for writing. It utilizes helping verbs for sentence formation.
3. Adjectives
Adjectives are the instrument that enhances the meaning of a noun or pronoun. It helps in describing the quality of a word which makes it distinctive from others.
Let us elaborate on it with a few examples.
She is a "tall" girl.
Steve is an "extremely" handsome man.
He attained a "perfect" score.
A "wise" old granny.
All of the italicized words are adjectives that modify the meaning of the terms that follow them.
4. Using Punctuation Properly
Punctuations play a major role in bringing clarity to any write-up. It breaks apart the words precisely and smoothens the sentences. Colons, commas, dash, braces, apostrophe, hyphens, semicolons- all these are punctuations.
A lot of people get confused about when to use a certain punctuation sign. That's why it is important to understand the intricacies of this useful grammatical element.
5. Capitalizing The Letters
Whether you agree or not, capitalization plays an important role in writing. As per the grammar rules, subheadings, headings, the first letter of the first word of a sentence and nouns should be capitalized.
You must be wondering why I am emphasizing this. It's because many people ignore the importance of capitalizing. When you are in doubt, head to the internet to ascertain you are on the right path. Let us show this with some examples.
The New York City.
The Shakespearean sonnet.
Lake Michigan
6. Conjunctions
Conjunctions play a major role in making any write-up lively and interesting. Besides, they bring logic to your sentences by conjoining the different ideas, phrases, and terms. In fact, the grammar experts have devised a fun way to remember the conjunctions for the learners!
Always remember "F.AN.B.O.Y.S.". It's an acronym for seven coordinating conjunctions which are "for, and, nor, but, or, yet, so". Isn't it a simple way to recall the list of conjunctions?
7. Quotes
As a professional writer, you would be often required to quote an expert or an excerpt. Even essay help specialists often embed quotes in the assignments to empower their write-up. It is essential to work according to the rules and use quotes properly.
If we look at the Chicago Manual of style and AMA while embedding quotations in a paragraph make sure to use punctuation followed by closing quotation marks.
8. Denote Numbers Properly
Whenever you write something, remember to use words instead of numeric. It applies to smaller numbers. In the case of bigger numbers, the rule would not be applicable. For instance, 685 when denoted as six hundred and eighty-six takes care of the readability.
However, when we talk about millions and billions it wouldn't be possible to apply this rule. So, keep this in pay attention while writing.
9. Useful Grammar Guides Recommendations!
Here are a few suggestions for grammar guides to help you out when you are stuck in a conundrum.
10. Grammarly
This online tool is widely used by professional assignment help specialists and content writers to spot grammatical errors. It quickly displays the loopholes in a write-up and highlights the mistakes. You can edit the issues through suggestions.
11. Ginger
This is another online tool that quickly performs the meticulous assessment of grammar in your content. Ginger helps you understand nouns, pronouns, plural nouns, etc.
12. EF Grammar Book
This is an excellent guide to deeply understand the complex grammar guidelines. You just need to invest your time and dedicate yourself completely to gain the required knowledge. It's a practical and effective way to systematically refurbish your writing skills.
Wrapping Up
If you have read so far, thank you for sticking to the end! Now, that you have a fair understanding of the ways to improve your grammar why not get into the practice? These tools and rules are extremely helpful for academic content writers, such as English assignment help providers. I hope you found this post insightful! Keep hustling.