Medical students are in a tough position. They have to deal with high tuition rates, the pressure of the job they will be doing after graduation, and trying to balance their school work with their social life. The latter is one that many struggles with because of how demanding medical school can be on them. But help does exist for these poor medical students! In this blog post, we discuss 10 ways you can help out a struggling medical student who wants help paying off debt or just needs some help getting through his or her day-to-day life as a medical student.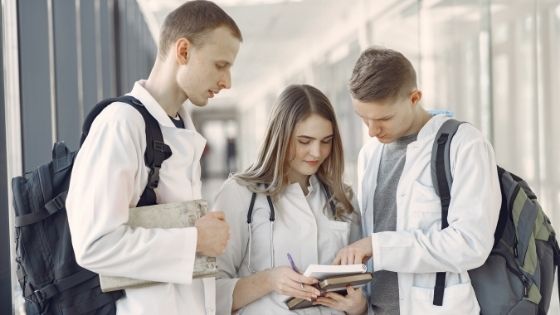 Donate money to help these poor medical students: There are many scholarships and grants available to help offset the cost of tuition, but not all students know about them or how to apply for them. You can donate money directly to a student or to an organization that helps fund these opportunities.
Approach friends and family members: If you know of a financially struggling medical student, help them out by asking your friends and family to donate money for their tuition or help pay off debt. This is one way you can help poor medical students in need!
Give your time and become an advocate on campus: An organization like A Leg Up puts helps poor medical students by working to raise awareness about the issues they face. Show your support for this organization and become an advocate on campus!
Donate supplies or textbooks that you no longer need: Help out a struggling student who is in dire need of some extra help financially, but can't afford school supplies or new textbooks (because let's be honest, those things add up quickly).
Volunteer your services as a tutor: If you are good at tutoring and want to help a struggling student, offer up your services for free! This can help the students focus on their schoolwork while also alleviating some of the financial burdens they may feel.
Provide help with studying: A struggling medical student likely has a hard time fitting in study sessions, but if you can help them out by providing some clarification or help to answer questions that they are stuck on it will be much appreciated!
Help the student find an internship: If money is not necessarily tight for this person and they just need help finding an internship, help them out by reaching out to your professional connections or even help the student apply yourself.
Offer up some moral support and encouragement: Sometimes all a struggling medical student needs is for someone to say "you can do it" (or something like that). So help out these poor students by sending words of encouragement their way!
Become a mentor: If you are in your third or fourth year of medical school and have some extra time on your hands, consider becoming a mentor to help out a struggling student. You can help them with advice, networking opportunities, and just being there to answer any questions they may have.
Join or donate to an organization: There are many organizations that help poor medical students with different things, such as paying off debt or providing scholarships. Find one that aligns with your beliefs and donates some of your time or money!
Attend protests and rallies: If you feel passionate about the financial struggles of medical students, join or help organize protests or rallies to help raise awareness of the issue.
Write a blog post about it: If you don't have time to volunteer your services, give money, etc., consider writing an article for your own blog (or someone else's) on how these students can be helped! Or comment below with what help you feel is best and help spread the word about how we can help out these poor students.
There are many different ways to help poor medical students, and we should all do our part! Donating money, time or supplies are all great ways to help these students. If you can help out a struggling student by providing moral support, help them find an internship, or be their mentor even better! You can visit DocWorld.com to help fund medical students' education. Let's help these poor, hard-working students and make their dreams of becoming a doctor a reality!
DocWorld is an organization that helps fund the education of financially struggling medical students by donating money to help pay for tuition, school supplies, etc. You can visit DocWorld.