In the dynamic landscape of the digital era, having a strong online presence is not just an option—it's a necessity. Whether you're an individual looking to showcase your portfolio, a small business aiming to expand its reach, or a corporation seeking to maintain a competitive edge, a well-designed website is the cornerstone of your online identity. However, in an age where devices of all shapes and sizes access the internet, creating a website that looks and functions flawlessly across them all can be a daunting task.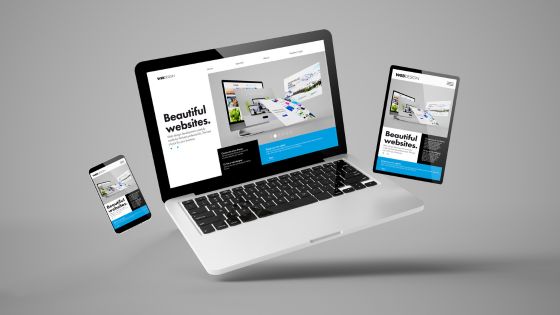 Enter the world of responsive website builders—the tools designed to empower individuals and businesses to effortlessly craft websites that adapt seamlessly to various screen sizes and resolutions. With a multitude of options available in the market, choosing the best responsive website builder for your unique needs can be a challenging endeavor.
Get ready to explore the world of responsive website builders and unlock the potential to create stunning websites that captivate audiences on any device, anywhere, and at any time. Let's begin the journey toward crafting your digital masterpiece.
Understanding Responsive Web Design
Responsive web design is an approach that aims to make web pages render well on a variety of devices and window or screen sizes. It involves using flexible layouts and images, as well as CSS media queries to adjust the design based on the device's characteristics. This approach eliminates the need for a separate mobile version of a website and provides a consistent user experience.
Why a Responsive Website is Important
Mobile Device Usage is on the Rise
With the increasing use of smartphones and tablets, more people access websites on smaller screens. If your website isn't responsive, you risk losing a significant portion of your audience.
Improved SEO Ranking
Search engines like Google prioritize responsive websites in their rankings. A mobile-friendly site is more likely to appear at the top of search results, leading to increased organic traffic.
Enhanced User Experience
A responsive design ensures that your website looks and functions well on all devices. Visitors are more likely to stay and explore your site when it's user-friendly.
Types of Website Builders
When it comes to creating a responsive website, you have two main options:
Website Builders with Responsive Templates
These builders offer a selection of pre-designed templates that automatically adapt to different screen sizes. They are user-friendly and require minimal technical expertise.
Customizable Website Builders
These platforms provide more flexibility, allowing you to customize your site's design and functionality extensively. While they offer more control, they may require a steeper learning curve.
Key Features to Look for
When evaluating website builders for responsive design, consider the following features:
Mobile-Friendly Templates
Ensure that the builder offers a variety of mobile-responsive templates to choose from. Test them on different devices to see how they perform.
Drag-and-Drop Interface
A user-friendly drag-and-drop interface simplifies the website-building process, even for beginners.
SEO Optimization
Look for tools and features that help optimize your website for search engines, such as customizable meta tags and alt text for images.
E-commerce Capabilities
If you plan to sell products online, choosing the best responsive website builder is crucial. A responsive website builder ensures that your online store can adapt seamlessly to various devices, providing an optimal browsing and shopping experience for your customers.
Look for a builder with e-commerce features like shopping cart integration and secure payment options to streamline the purchasing process and enhance the security of online transactions.
By incorporating these elements into your website, you'll not only attract more customers but also ensure their trust and satisfaction when shopping on your site.
Customer Support
Responsive customer support can be a lifesaver if you encounter technical issues or have questions during the website-building process.
Popular Responsive Website Builders
There are several website builders in the market, but here are five popular choices known for their responsive design capabilities:
Wix
Wix offers a user-friendly platform with a wide range of mobile-responsive templates. It's suitable for beginners and small businesses.
Squarespace
Squarespace is known for its stunning design templates and excellent customer support. It's an ideal choice for creative professionals.
WordPress
WordPress is a highly customizable platform with countless responsive themes and plugins. It's suitable for both beginners and advanced users.
Also read: 5 Best Free Elementor Themes for WordPress Websites
Shopify
Shopify specializes in e-commerce and provides responsive templates designed for online stores. It offers robust features for selling products online.
Weebly
Weebly offers a straightforward, drag-and-drop builder with responsive templates. It's perfect for small businesses and personal websites.
Comparing Website Builder Platforms
To make an informed decision, create a list of your requirements and compare how each website builder meets them. Consider factors like pricing, available features, and user reviews.
Factors Influencing Your Choice
Your choice of a website builder should align with your specific needs and circumstances. Consider the following factors:
Budget
Determine how much you're willing to invest in your website. Some builders offer free plans, while others require a subscription.
Technical Skill Level
Assess your technical skills. If you're a beginner, prioritize user-friendly builders. Advanced users may prefer platforms with more customization options.
Website Purpose
Consider the primary goal of your website. Are you showcasing a portfolio, running a blog, or selling products? Different builders cater to different purposes.
Tips for Testing Responsive Design
Before committing to a website builder, test its responsive design features thoroughly. Use emulators or real devices to view your site on various screens.
Making Your Final Decision
Once you've evaluated your options and tested the builders, make an informed decision based on your needs and priorities. Remember that the right website builder will make it easier for you to create and maintain a responsive website.
Conclusion
In conclusion, selecting the best responsive website builder is a critical decision that can significantly impact your online presence and user experience. Throughout this comprehensive guide, we've explored various factors to consider, such as ease of use, design flexibility, scalability, and pricing. It's important to prioritize your specific needs and goals when making this choice.
Ultimately, there is no one-size-fits-all solution, as different builders cater to different requirements. We recommend thoroughly assessing your project's scope, budget, and technical expertise to make an informed decision. Remember to test out the features and functionality of different website builders, take advantage of free trials, and seek user reviews and recommendations.
By following the guidelines in this ultimate guide, you'll be well-equipped to choose the best responsive website builder for your unique needs.