Stock trading is an exciting and perhaps profitable endeavor for those trying to increase their monthly income. As a result of technological advancements, anyone may trade stocks from their home using a laptop. However, for newcomers, entering the world of stocks might be intimidating. This guide is intended to assist novices in boosting their stock trading game by offering insightful information and helpful advice.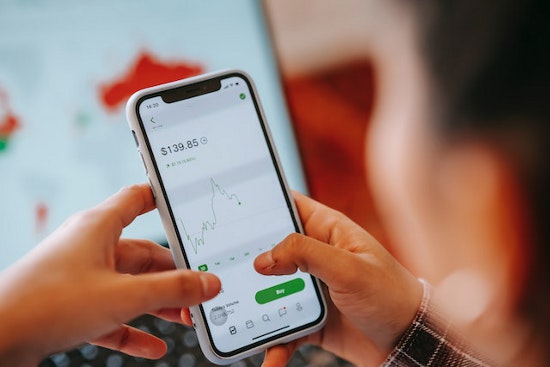 1. Understanding the Basics of Stock Trading
Comprehending the fundamental ideas before starting your stock trading experience is vital. On stock markets, stocks are traded, which are shares of ownership in a firm. You'll need a brokerage account to purchase and sell stocks, which may be opened quickly online using your laptop for trading. Learn important stock market terminology, including "stock market index," "bid and ask prices," and "market orders." Your stock market trading and management abilities will greatly benefit from your newfound understanding.
2. Developing a Solid Trading Plan
Successful stock traders refrain from making arbitrary choices or relying on chance. They adhere to a well-organized trading strategy. Establish your financial objectives, risk tolerance, and investment time horizon first. Establish a defined plan, such as long-term investment or short-term trading, and decide how much cash you can put toward trading. Long-term success depends on maintaining your strategy and setting reasonable expectations.
Risk Management Strategies
Risk management is one element of any trading strategy that needs serious thought. In stock trading, capital protection is crucial. To reduce possible losses, think about using stop-loss orders. You may also diversify your portfolio to disperse risk among other industries or asset classes. Learn about risk-reward ratios and position size to ensure you're not taking on too much risk.
3. Conducting Fundamental Analysis
To establish the value of a company's shares, fundamental analysis entails assessing the health and performance of its finances. It's recommended that newcomers to finance familiarize themselves with the fundamental income statement, balance sheet, and cash flow statement. Learn to evaluate economic statistics, market trends, and competitor positioning. For fundamental research, websites, financial news sources, and corporate reports are excellent data sources.
4. Implementing Technical Analysis
For the purpose of making trading decisions, technical analysis focuses on analyzing price patterns, trends, and market indicators. Learn how to apply different technical indicators, identify support and resistance levels, and read stock charts. The relative strength index (RSI), moving averages, and candlestick patterns are just a few examples of instruments that may help with technical analysis. Keep in mind that technical analysis is subjective and has to be supplemented by other methods of investigation.
The Role of Trading Indicators
Calculations used to create trading indicators are based on past volume and price data. Traders might use them to locate probable entry and exit points. The stochastic oscillator, Bollinger Bands, and moving average convergence divergence (MACD) are a few common indicators. Try out various indicators to see which ones best suit your trading style and help you make better decisions.
4. Practicing Paper Trading
Take into consideration experimenting with a virtual or paper trading account before putting your hard-earned money in danger. utilizing real-time market data, you may do trades utilizing these simulated accounts without taking any risks. Take advantage of this chance to practice new techniques, improve your abilities, and gain confidence. Consider it a learning opportunity and assess your skills to find areas that need work.
In addition, you may practice making and closing trades without risking any of your own money by engaging in "paper trading." Without suffering any monetary losses, it offers a secure environment in which to make errors and learn from them.
5. Continuous Learning and Adaptation
Successful traders adjust to shifting circumstances because the stock market is constantly changing. Keep up with business announcements, economic reports, and market news. By reading books, participating in webinars, and following reliable financial websites, you may increase your knowledge. Making connections with seasoned traders can also yield insightful information. Keep in mind that learning is a lifetime process and that constant development is necessary for success in stock trading over the long run.
Conclusion
With the right information and attitude, those who enter the stock market as beginners may find it to be a rewarding experience. You may improve your stock trading abilities by learning the fundamentals, creating a strong trading plan, doing careful research, and remaining committed to continuous learning. Always maintain discipline, efficiently manage your risks, and adjust to changing market situations. You can harness the power of the stock market and reach your financial objectives with commitment and practice. So take out your laptop, dive into the world of stock trading, and start your thrilling financial journey.