India is one of the largest producers, exporters & consumers of spices in the world. India produces about 75 of the 109 varieties of spices listed by the ISO(International Organization for Standardization) and accounts for half of the trade of spices in the world. The Indian spice export basket includes pepper, chili, turmeric, coriander, cumin, cardamom, ginger, fennel seed, fenugreek, and celery.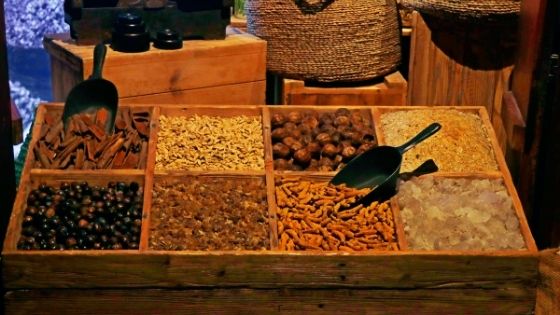 The government has been taking a number of measures to boost spice exports. In February this year, it increased the minimum export price (MEP) for onions to $850 a tonne from $500 a tonne in order to curb shipments and keep domestic prices under control. Similarly, MEPs on other products such as potatoes and garlic were also raised from time to time.
Despite these measures, India's spice exports have risen by over 7% between April 2017 and January 2018 to Rs 21,638 crore ($3.4 billion), according to data from Spices Board India.
The country's total spices production is expected to be around 4 million tonnes in 2018-19 against 3.5 million tonnes in 2017-18 with a growth rate of 14%, according to industry estimates cited by PTI news agency.
The business of exporting spices is one of the most lucrative businesses of the 21st century, and this is because more and more people are beginning to appreciate the health benefits of using natural herbs and spices in their food.
As a spice exporter, you would be responsible for supplying your local markets with spices. If you live in a place where there are many spice farmers; then you will find it easy to start this business.
How to start a spice export business
In the United States and Canada, spices are commonly used in food preparation. In fact, spices are an important part of the flavor profile of many U.S. dishes.
The spice industry offers a very good opportunity for entrepreneurs to start a small business. Whether you want to start an independent business or a franchise, this industry is one that has potential for growth and profits.
If you want to start your own spice export business, here is how you can start a spice export business:
Certificate of incorporation for business from the Registrar of Companies
Get Import Export Code from Director General of Foreign Trade(DGFT)
Certificate of membership with registration from Spice Board
Goods and Service Tax(GST) registration for tax purposes
MSME registration
Trademark registration to protect your brand in international markets
Food Safety and Standards Authority of India Registration certificate
Passport size photograph
Phytosanitary Certificate
Authorized Dealer Code from a recognized bank
Bank certificate and statement
Company PAN card
Spice Export Business in India! What is the scope?
You can take up the spice export business as a part-time or full-time business. This is one of the most profitable export businesses that you can start with a small startup capital investment.
The Indian spices online are famous worldwide. In fact, it is India that produces, consumes, and exports the largest amount of spices in the world. Of the 109 varieties listed by the ISO, India produces about 75 varieties and accounts for half of the global trade in spices. The total value of spice production in India is about Rs 15,500 crores out of which the share of export is about Rs 11,300 crores.
The scope of spice export business: The scope of this business is very bright and promising because every country consumes spices on a daily basis. You can also export this product as a raw material to other countries where they process it further before selling it to their customers. So, this is one of the most profitable businesses you can start from home with minimal investment and high returns on investment.
What are the types of spice export business? 
Spices and condiments are natural products that are used to enhance the taste and flavor of food. They add aroma and color to the dishes. It is being used for centuries all over the world in order to make food palatable. In India, spices are grown in different regions. The spices grown in India have made it a prominent player in the export market of spices.
One can start a spice export business with moderate capital investment. It is one of the most profitable agro-based businesses in India. Spices are mostly exported to countries like UAE, Canada, USA, UK, European Union, South Africa, and many other countries.
Types of Spice Export Business:
There are many types of spice export businesses listed below:
Black Pepper Exports
Cardamom Exports
Chillies Exports
Cinnamon Exports
Clove Exports 
Benefits of starting a spice export business  
India is the largest producer and exporter of spices & spice products. The global spices market was valued at US$ 14.64 Bn in 2017 and is expected to register a CAGR of 4.03% during the forecast period (2018 – 2026).
The country exports around 80% of the world's total spice product supply. Indian spices are known for their freshness and quality across the globe, making them an obvious choice for foreign buyers.
The demand for spices is increasing worldwide due to changing lifestyles, health awareness, and a rise in population. People are increasingly buying spices online. The growth in the demand for Indian spices has led to an increase in export volumes. The revenue from exports has also gone up steadily since FY11 as India continues to be one of the largest players in the global spice trade.
In 2017-18, India exported spices worth Rs 27,904 crore (US$ 4.1 billion) as compared to Rs 26,440 crore (US$ 3.93 billion) during 2016-17 i.e., an increase of 5% this means:
Huge market
Indian spices are popular all over the world, especially in Europe and Asia. With this massive market and high demand, there is always room for growth and development in this sector. You can easily set up your own spice export business by setting up a shop in a Tier 1 city like Cochin or Mumbai where there are many opportunities to grow and expand your business.
Profits
There is a huge profit margin in exporting spices as they are highly demanded all over the world. The spices exported from India capture 40-50% of the global market share, making this sector extremely profitable for entrepreneurs and investors alike.