Not all are born with a silver spoon. Not everyone can take decisions just like that, and their parents and relatives shall accredit the same. Some people still depend on their parents, teachers, relatives and friends to take career decisions, and they do not get the freedom to choose the best for themselves. It might be because of the financial crisis, background, values, pressure, compulsion, etc. They opt for some random career suggested by their close ones and regret their life long.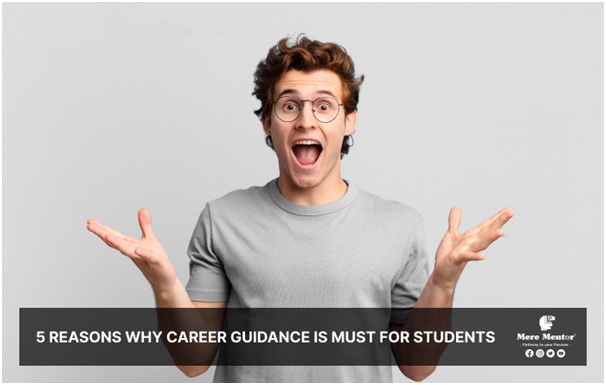 For something sad like that not to happen, the students must take the decision-authority into their hands. Only when they select the stream, course or job, which they think might suit themselves, they can become successful in their lives without any guilt. While picking the right career, all the students will have a moment where they doubt their choice. They hesitate to go further with their options, thinking about what if they fall in the future. That is when professional help from Best Career Counselling in India comes to the rescue to assist their queries. They make the students feel contended with their choice and give tips to help them reach victory. They also assist the students in all their career-related uncertainty.
What is Career Counselling, and who are Career Counsellors?
Career Counselling is a systematic process that includes psychometric assessments, career reports, counselling sessions, action plans, and expert connections. Career counselling is a tool used by psychologists having expertise in career specialisation to help students overcome their fears, doubts and hesitations in choosing the right career. Career counselling mirrors the students' strengths and weaknesses based on the report and suggests career options accordingly. Career counselling helps them find their hidden interests, passions, skills, and abilities, align them with suitable careers and map them. With career counselling, students can select an apt option based on their values and personality.
Career counsellors are professionals who help students, graduates, and working professionals shape their career paths the right way. They have a vast knowledge of all the careers available and do intense research before recommending them to others. Their qualities are being very patient and non-judgemental and empathetic, compassionate, good listening, and interpersonal and communication skills. The career counsellors sit with the clients and analyse their career reports of their psychometric test attempts. They also provide an action plan to plan their future and remind them of all possible ways to free themselves when stuck. They also connect them with the experts of a particular industry to motivate and encourage them to pick their chosen careers.
Psychometric Assessments, what are they?
Psychometric assessments help analyse and evaluate one's intelligence, potential levels, personality and abilities. The three psychometric assessments are Aptitude, Skills, and Personality tests. The primary purpose of career aptitude tests conducted by the Career Counselling in Nagpur is to measure a person's cognitive ability and behaviour. Also, these tests differ much from the usual tests students take in schools and colleges. So, there is no pressure or fear for the students while attempting these tests. They just need to be honest before answering every question. The test consists of numerical, verbal and logical quizzes with multiple options. Psychometric assessments showcase students' strengths and weak sides and uncomplicate the process of choosing the right career. It can take between 30mins to 60 mins to finish a test. Simply put, these tests are psychological tools created and designed by eminent psychologists to help people know better about themselves.
Need and Importance for Career Counselling for students:
Career counselling should be a part of the education system and students' lives. Listed below are the top 5 reasons quoting the need for career counselling for students.
1. Assist set clear and centric goals – Students will develop ideas and will have goals to achieve. But many will not know how to align their work plan to accomplish whatever they aim. For some, the goals themselves would not be clear. Career counselling helps students set clear and centric goals. Having an aim in life is significant because it assists one keep productive, successful and focused. As per the saying, 'An idle mind is a devil's workshop', no goal can make people lazy. Career counselling helps students fix their goals and toil towards them with intense effort and hard work.
2. Opens the door to new opportunities – Career counselling can benefit students by knowing the numerous career options. There are more than 250+ careers and 3000+ occupations available worldwide. But the irony is that people are aware of only seven career fields and pick up the same always. Career counselling showcases the different options and gives them other details like employment sectors, job profiles, educational eligibilities, salary insights and study-material recommendations. Simply put, career counselling offers exposure to a new world of careers and their scope.
3. Narrow down the numerous options – Career counselling that helps students know the different career options will also help a person narrow down the career options. Students will have a lot of dreams, and it is not problematic. One can have more than one passion and interest. But having a career in more than one field can be impossible or troublesome. One can multitask, but having legs in aviation and navy is impracticable. Career counselling by Best Career Counselling in India help handle such situation and help narrow down a person's interests and stay fixed on one.
4. Enhances overall personality – Career counselling helps students improvise their overall identity. Students develop lower self-esteem and lower self-confidence when they are young. The inferiority complex will help the students not shine and pull them down. Career counselling helps students know their strengths and weaknesses. It also teaches students life skills like interpersonal skills, decision-making skills, efficient communication skills, self-awareness, etc. Also, it imparts the techniques to face the challenging world with exam stress management techniques.
5. Make you think beyond the box – Career counselling helps students come out of the box and anticipate other fields. Career counselling shows you different ways and gives alternate options for the students to pick a career. For Eg: If a student is interested in Medicine, career counsellors suggest unique career options like Homeopathy, Naturopathy, Veterinarian Science, BDS, Ayurveda, etc., in addition to MBBS. Students and parents believe that only an MBBS graduate can become a Doctor, but there are many other courses from which you can become a doctor too. Career counselling makes students explore different options and assist them in all their lows and highs.
Wrap Up:
Career counselling help students shape their career life and help them take a stand for themselves in whatever they choose. Career counselling by the Best Career Counselling in Nagpur can be a life-changing event for the students to excel in their endeavours. Career counselling is a need and the right of the students. And not some fancy word. Students should take up career counselling at least once in their life.