Ignoring the significance of live streaming will be tomfoolery. Since its inception in 2016, Facebook live streams have taken the world by storm. Today, 82% of people prefer a live video over a boring social media post. Connecting with the audience is important, and Facebook live streams allow you to do it effectively.
If you are not willing to accept the transition, here are some more facts. The total number of watch hours on major streaming platforms increased 99% from 2019 to 2020. Facebook employees enjoy the popularity, and now one in every five videos on Facebook is life. Hope you have a Facebook account to verify the information? If not, get one now. You are missing out on a lot of things.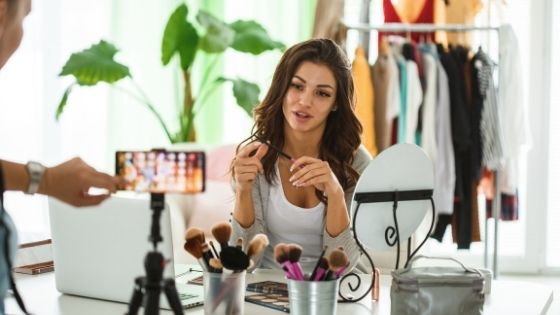 Facebook is one of the most popular social media websites and has grabbed all our eyeballs since its debut. Presently, social media professionals emphasize using Facebook as a medium to promote products and use live streaming for better reach.
Are you willing to reach out to your customers using the feature? Then learn how to live stream an event on Facebook and add the missing spark to your marketing efforts.
How to Live Stream an Event on Facebook?
Understanding technology has never been easy. Thanks to some initiatives by experts, using technology has become easy for all. The Facebook live stream is one such element that has solved a major problem for start-ups, marketing. Here are a few easy steps to go live on Facebook and get maximum audience:
Click on the Live button from your Facebook News Feed
Let's assume that you are not new to Facebook and browse through the platform every day. You have heard and are aware of the news feed on Facebook. So, sign in to your account from your personal or business page, open the status bar and click on the Live Video option.
Facebook will ask you for camera and microphone permissions once you click on the option. Here's how it looks:
Allow all the access to start the Facebook live streaming process.
Add a description to make it exciting
Facebook live is not only about the video. You have to make things interesting and grab the attention of viewers. The viewers must know what they are about to witness before joining the live stream.
It is a great way to get more viewers when you use a good description that flashes on their timelines. Going live without a good description won't be fruitful. Use catchy phrases to describe the event and grab the viewer's attention.
In addition, ensure to add your location, use some emojis, and tag people to help them know that you are hosting a Facebook live event. It will add to the excitement!
Check the privacy settings to secure your personal account
Business pages are open to the public; you need not check privacy settings if you are going live from one such page. But if you are using your profile to live stream an event on Facebook, ensure to check the privacy settings.
Live streaming is all about connecting with an audience, but you might still want to restrict it to a certain location. Restricting your audience to a certain location is easy. You can click on the ellipsis button in the bottom right corner to start the process. Then, click on audience restrictions and switch on "Geo Controls" to choose the locations you want and exclude the others.
You can also restrict the viewers to your friend list if you want. Facebook has the option of changing the type of viewers. You can choose to stream it for people who want to see it. These restrictions help you enjoy the whole live streaming process.
Use Facebook live filters, lenses & doodles
Don't miss a chance to make the live stream exciting. Viewers look for that X factor to sit through a live stream. Facebook has live filters and lenses to make things easy and allows you to draw or write on live streams.
These things add a spark to a dull live stream only if you choose appropriate filters and lenses. Many live streamers get too excited and use the wrong filters. It will hamper the main objective of live streaming. Your audience will not get enough attention and might leave.
After making the necessary preparations, take the leap and click to start the video. Ensure everything is in place and the object you want to focus on is highlighted well. Your chemistry assignment helps the audience must understand and learn about the product well. If you are showcasing your talent, ensure your internet connection is good, and your voice is heard properly.
Facebook allows live streaming for up to 90 minutes. It is unnecessary to use the entire time, and you can keep it short. But extending the live video will only get you more viewers. Some might join in out of curiosity. Ensure to keep things crisp, don't extend your video too much if you don't have any content. It will take a few viewers away and will not let you complete your objective.
Finally,
Live streaming has a lot of perks, only if you know how to do it. The gaming community has gained prominence thanks to living streaming on Facebook. It is always better to go through some live streams of popular influencers to understand the best ways. Experimenting without knowledge won't help. Hence, take baby steps and be updated with the new elements being introduced on Facebook.