If you'd like to build wealth, trading stocks is one of the fastest ways to do it. However, you have to learn how it's done before reaping the rewards. That's why we've put together a few tips to teach you how.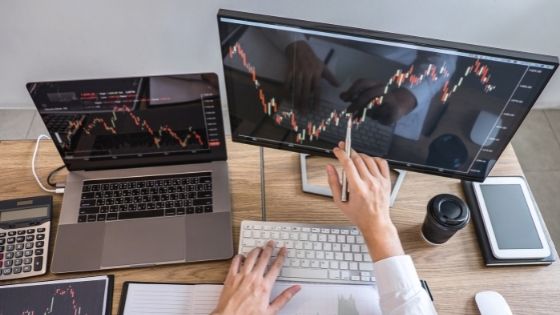 Watch a Training on Swing Trading Patterns
Part of what makes traders successful is learning to recognize shifts in momentum. When that happens, you can buy in on the way up. If you've read about swing trading, it's a pretty effective strategy for tons of investors.
However, you must recognize when there's a real change in the market. Otherwise, anything you've invested could be lost to its whims. We'd suggest learning how to see entry points on the way up first. That way, you can start making small bets and earning some returns fast.
There are quite a few videos online teaching the basics of swing trading. Try watching a few of them, and then implement what you've learned. More than likely, you'll notice a positive impact on your portfolio by doing that.
Learn How Volatility Impacts Your Strategy
Volatility refers to how likely an asset's price is to change. When it has high volatility, its price changes tend to be more dramatic. While this isn't great for long-term investments, it's perfect for short-term trades.
Looking for a volatile stock happens to be a keystone to many approaches. By finding them, you can invest with the intent to sell before long. Once it has gone up a bit, get rid of your position to lock in the profits.
Enroll in a Course on Forex Trading
NinjaTrader courses cover a ton of topics, expanding your skillset. One of our favorites has been their coverage of Forex market tools. Compared to regular stocks, there's less barrier to entry here.
So, you don't need a large account to start trading Forex if you're interested. In fact, traders can begin with as little as $500 and still turn a profit. For us, foreign exchange is a great place to cut your teeth as a trader. Once you've mastered the basics, they'll transfer to stocks quite easily.
Read a Book on Technical Analysis
Technical analysis differs from fundamentals by looking at things from a new perspective. Instead of P/E ratios, it's more concerned with stats.
When certain patterns show up in the charts, it's indicative of future movements. By learning how to recognize the patterns, forecasting future prices is much easier.
However, when it comes to learning something, this can take some time. So, we'd recommend picking up a book on TA and reading it from cover to cover. That's one of the best investments you can make in yourself as a new trader.
Start Figuring Out Indicators and Other Metrics
As part of TA, you'll need to learn about market indicators. For example, the MACD looks at price movements and analyzes them. When prices are converging, it tends toward stable prices long-term. However, diverging prices indicate more volatility is coming down the line.
Another good indicator to learn is the RSI. The relative strength indicator can tell you whether something is oversold. If so, then it could be a great time to enter a position. On the other hand, if the RSI says it's overbought, you might want to sell.
Listen to Someone Explain Elliot Wave Theory
Years ago, Elliot wave theory was all the rage. It's a descriptive theory, describing the market's fractal nature. According to its adherents, prices tend to move in recognizable patterns.
By learning how to recognize them, you can use them to forecast market conditions. Each wave is comprised of smaller waves and is also part of larger ones. Over time, they cycle recurrently, appearing again and again.
Learning About the Stock Market as a Beginner
Getting started as an investor is a tall order for many, but it's doable. As long as you've put in enough effort, you'll notice a difference. After learning for a while, you won't feel like a beginner anymore. Investing is something you have to put time into for it to be worthwhile. So, start putting it in now to get a payoff sooner.