Are you looking for ways to earn money from your animation videos? You are on the right page. Animation qualifies as a prominent sort of art. Used primarily in the industry of entertainment, it is mainly linked to the children. However, there is not just one type of animation; there are many. Each is designed as per the interest of various age groups of people, not just children. People all over the world enjoy watching animations and get entertained.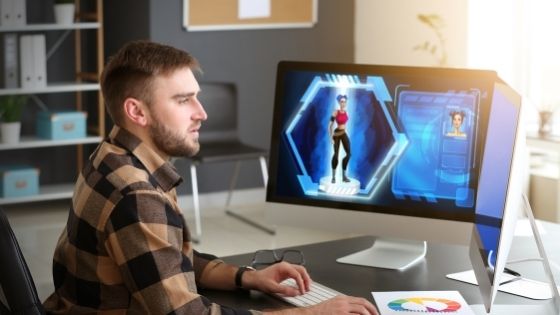 By the use of animation, you can put just any person in an animated form; it is so much fun! Now, with emerging technologies, animation is gaining increased popularity. It is turning into a field and career path that is quite lucrative. If you know how animations work, you can start your career as a freelancer or just make animations for fun and start earning online. Sounds pretty cool, right? It is pretty simple to start making money online simply by using your animation skills.
What is it all about?
Making an animation isn't quite as simple as many people feel. There are a few career paths for which you are not required to get a particular degree or tutoring. Nonetheless, artists require extremely comprehensive training and knowledge – usually around four years of study. If you are energetic about creating characters and making stories through animations, this could be the right profession for you.
Animated films have been around for a long while now. Animations are sought after in every field now; many companies use animations to tell their brand stories and target the intended market. The set of skills expected from an animation artist varies, depending upon the specific sort of animation they want to pursue.
But, what are ways through which you can earn money online? Let's talk about the most prominent ones. Shall we?
Prominent Ways to Make Money Through Animations
Assuming you want to try your hands on animation design and earn money through it online, you might need to polish your skills. You can't learn a skill overnight; that is a fact. It would be best if you had proper training and expertise to be a success in the field of animation. A few quite popular platforms can help you make money online through your animation skills.
If you need hands-on training and knowledge with the help of leading experts in the industry, the global designer's community can help you a lot. They will help you commit to your creativity and design animations that create magic! You can start taking these online classes as per your schedule and preference; it's undoubtedly a great way to learn and start making money through animations online.
Now, let's see what ways are currently the most prevalent ones.
YouTube has been the most basic platform for animations, yet it is also the least popular. You create a video, publish it to YouTube, commercialize the account by allowing adverts, and then wait and watch the cash coming in. Since it is based on the time watched and frequency of postings, YouTube is not the most viable forum for animators.
These two elements make animators' jobs challenging because it takes longer to generate a brief animation, which is generally relatively short. Nevertheless, there seems to be a method for animation channels to achieve well on YouTube, creating material based on the shorts.
Quick tutorials, funny vines, and creative vlogs are being uploaded. You will struggle to gain momentum if you solely publish your shorts; however, if you generate some flow around that with other stuff, you would have a better chance of thriving on YouTube.
Famous YouTube animators frequently use a restricted animation technique, more akin to an animated short, yet nearly invariably in 2D. They will be able to generate a lot more videos this way.
Vimeo is another popular platform that helps you make money online using your animation skills. There are two ways you can earn money; firstly, through cartoons and secondly, through designing animations for businesses. Vimeo will give a broad exposure and the best opportunity to showcase your work widely.
It is a paid platform that offers you all the benefits you need to make your animation career a success. You will be billed twenty dollars on a yearly basis – after you start earning, the ninety percent of the whole revenue you make will be solely yours after the deduction of the cost of the transaction.
After you have polished your skills and are ready to offer your animation services, you can set up your profile on these platforms. Both of these classify as freelance platforms where sellers can sell their skills and earn money online. You will need to set up your profile and provide proof of your expertise.
Next up, you will need to reach out to clients through gigs and bids for Fiverr and Up work, respectively. With consistent effort and dedication, you will soon and your first client and start making money online by providing your animation services.
Another great way to garner an audience and make money online is through Social media platforms. It will give you exposure, and prominent brand may reach out to you and request you to work for them. You can start designing animations and uploading them on social media platforms.
It can also help you create a dedicated fan base for yourself and turn it into your business, which will surely pay well if you plan everything strategically.
Tools That You Can Use
There are many tools that you can use to create animations. Tools like Animaker, PowToon, Animatron, GoAnimate, Windows Movie Maker, Explore and Renderforest, etc., are some of the popular tools and software used today. However, these are not the only ones. You can explore the options and find the best pick for you.
In a Nutshell
Animation design is a pretty time taking task – you need in-depth knowledge and expertise to make a name for yourself in the field. It will demand time, effort, dedication, and training to climb the mountain of success. However, you can surely start earning online through your animations through these ways.