There are many youngsters who are interested in teaching and helping others. Online teaching business is a suitable job for such people. After the covid outbreak, all the schools and colleges are closed to prevent it from spreading to many people. This is when educational institutions all over the world introduced online platforms to take classes, examinations, and other things. This is the only way that schools and colleges can teach the students without any risks involved. It is also the only way that both teachers and students felt comfortable and safe by taking and listening to the classes online while staying in their own safe places. The covid lockdown has increased the demand for online teachers. Lockdown paved the way for online teaching business.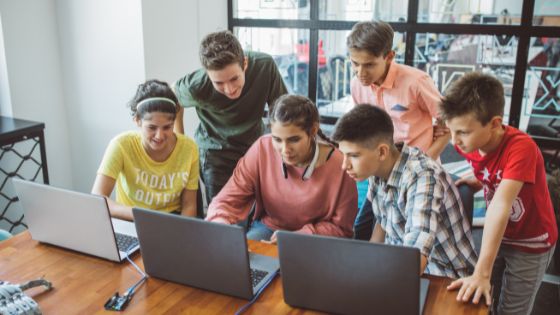 Because of this pandemic, all parents are afraid to allow their students to go anywhere. So, all the students had to attend the online classes regardless of their choice. Because of this, many online teaching platforms started appointing teachers and those who are interested in teaching have also started their own tutoring via online platforms. This is a great way to earn money while staying at home in this critical situation. Even though covid cases have decreased, people aren't feeling safe when they go out. There are still many students and parents who prefer taking classes online to real-time classes. If you have enough knowledge in any subject and have an appropriate degree certification, anyone can apply or pursue this online teaching job. Following are some tips on how to improve your online teaching business.
Teaching Equipment:
If you are going to start your own online teaching business, then it is important to have suitable online teaching equipment. These include things such as a stable internet connection, A good conditioning laptop with a web camera, and a microphone. Make sure everything works perfectly, it is always good to check all at once. You can also arrange lighting equipment and green backgrounds, to make your online classes livelier. So far, we have seen the hardware requirements. For the software you should choose any one of the online platforms such as google classroom, Google meet, Microsoft teams, zoom, and so on. There are multiple free websites and applications available for both teachers and students online. You can select any one of those according to your preference and make sure you know every feature available on that app. It is also good to have good video and editing software, in case you want to pre-record videos for your upcoming classes. So that you can take classes smoothly without any technical difficulties and errors.
Teaching Subject:
You have to choose any subject or stream which you are going to teach to other students. Don't select a subject just because it is in demand. If you know that subject well, then you can go with the most requested option. Even though it is good to take the subject that is on-demand these days, not having enough knowledge can turn your classes into a horrible sessions. None of the students wants to be in a class where even their teacher did not even know basic things about those particular subjects. If you are adamant about your choice, then do some research and study it thoroughly. You can also teach more than one subject in your online teaching sessions. But the important thing is you must know the curriculum and also be able to answer every question that student raises on that particular subject.
Choosing the Right Platform:
You can create your online platform or can join any other online teaching and writing business like abchomework help and ABC assignment help. If you are going to start your online teaching business and writing homework help services, then it is important to choose the right platform to establish your business. Learning Management Service is the perfect platform for teachers who are interested in teaching through online platforms. In LMS there are multiple options and features such as you can post any type of information content (such as video, audio, and written content) and can interact with the students in the best and easiest way possible. It also makes your online sessions more engaging and fun.
Courses and Materials:
After that comes, courses. You need to come up with specific courses according to your stream. In this way, your students can choose any of the courses they want and are interested in. While you are selecting your course, make sure you have knowledge about that specific course and have adequate materials to provide to your students. You need to prepare a detailed schedule with the prize for each course. It is always better to follow any textbooks or create your own materials to avoid plagiarism. Your content can be of any type such as video clip, audio clip, word documents, PowerPoint presentation, and so on.
Teaching and Evaluating:
You can take both private and collaborative classes for your students according to their preferences. Of course, the payment for private classes costs much more than the normal classes. Either way, when teaching you must know how to connect with your students. By interacting with them and including them in the fun debates and conversations in the middle of your class sessions. By interacting with them, you can get an idea about your students personally. Students must feel comfortable and free around you. Allow them to ask questions and doubts anytime they want to. This freedom will put them at ease and they will learn their course effectively and interestingly.
Payment:
Make sure your business accepts all types of payments. Always prefer a confidential and secure way of payment. Customer satisfaction is an important key to the development of your teaching business. If you are in case willing to take international students, then you must have accounts on the following applications that help you to manage transactions in foreign countries. PayPal and Stripe are the topmost applications that are used to do online money transactions in foreign countries.
Reviews:
Always welcome the reviews. Reviews are the ones that decide your business's fate. As long as you are getting positive and constructive criticism. If any of your customers are not satisfied with your service, then you are responsible for those consequences. You can either talk and make them change their mind by providing the good service that they expected from you.