Buying a used car today is much easier than it was in the past, especially if you shop online. You no longer need to scour the newspaper and call sellers or spend a lot of time checking out car lots in your area. When it comes to buying a new or used car, you may decide that you no longer need your old vehicle.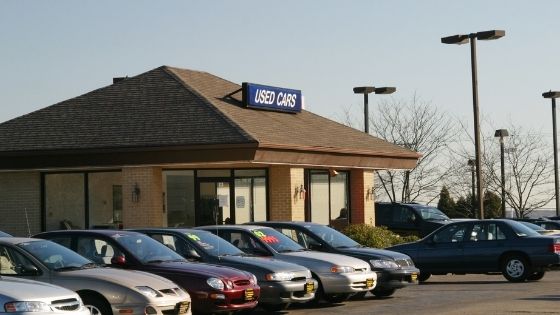 Different factors such as the number of miles on the engine and the age of the vehicle all determine its value. You can easily find out how much your used car is worth before you attempt to sell or trade it.
Make and Model
Two factors that determine the value of your used car are the make and model. Dealers use make to describe the brand or company that made the vehicle such as BMW or Ford. The model is the name of the vehicle and will often include the trim package or edition that you have. For example, you may have a 2012 Ford Escape EX. Certain trim packages are worth more than others. You'll also find that some makes have higher values.
Age and Mileage
In most cases, older cars are worth less than newer cars are. You'll get more out of a car made in the last few years than you would for one that is a decade old. The number of miles on the motor will also affect your used car's value. This shows buyers that you spent more time on the road and may show that the car will need more repairs in the future. One thing to keep in mind is that some models are worth more when they're older because those models are hard to find and in demand.
Interior and Exterior Condition
When you look at your options and check out different cars for sale, you'll probably spend a lot of time looking at the overall condition of each one. You want a car that is in good condition and doesn't need a lot of work. Buyers looking at your car feel the same way and may offer less because of the issues they see. Even cosmetic damage can bring down the price. Cosmetic damage refers to issues that don't affect the way the car runs but affects the way it looks such as a ding in the driver's side door or small scratches on the bumper. Interior damage also affects the price, including upholstery stains and rips.
Bluebook Value
Bluebook value refers to the value of your car in a specific price guide. You can still pick up a value guide and go through it to look for your car, but it's much easier to check the value online. Simply answer some basic questions such as the car's make and model and the damage that you see. Some sites even let you search for your car's VIN, which is on your title and on the car itself. This allows the site to view the vehicle's history and give you an idea of its worth.
Selling vs. Trading
If you plan on selling your car through private means before shopping for a used car, consider trading it in to put money towards your next car. You can either enter some basic information about your car and answer a few questions or use the VIN to see what it is worth. The dealer will give you an offer that is good when you trade in your used car and buy a different model from them. Trading your used car helps you avoid the hassles of private sales such as buyers who ask tons of questions and never show up and those who offer much less than you want. Whether you want to buy used cars online in Canada or trade-in your new car in Colorado, you can find a buyer or a seller in most case scenarios. As a bonus, you may even find that the dealer will pick up your old car from your house.
Final Thoughts
Why deal with a used car that doesn't have enough space for your growing family or one that gets poor gas mileage? You can now sell or trade your old car and get one that better matches your needs. Finding out how much your used car is worth is easy. With websites and value guides, you'll see just how much you can get for your old model when you trade it in towards or a new one or sell it yourself.