Many firms are turning to drones for various applications in the modern construction industry. Drones offer superior perspectives and data collection capabilities, allowing construction firms to monitor their projects better and make informed decisions. From monitoring job sites from afar to providing up-to-date aerial images for project planning, drone technology is revolutionizing the construction industry. The following are some of the many benefits construction firms can enjoy from drone technology.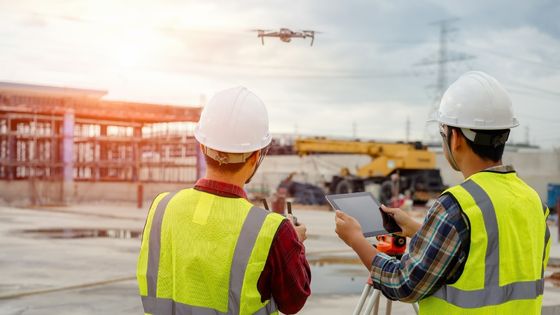 1. Improved Efficiency
When it comes to construction, time and money are always of the essence. By utilizing drones, construction firms can get a more accurate and efficient read on their projects. Drones provide an easy-to-access bird's eye view of the entire job site, giving workers a better understanding of what needs to be done at any given moment and allowing them to work more quickly and accurately.
Additionally, drones can collect data much faster than humans, making it easier for companies to stay on top of their projects without using extra personnel or resources. This not only saves time and money but also reduces potential errors.
2. Improved Safety
Drone technology is also a great way to keep your workers safe. By using drones, construction firms can easily monitor hazardous areas without putting personnel in harm's way. Additionally, since drones can be remotely operated, they provide an extra layer of safety as workers do not need to be near any dangerous equipment or materials.
Drones are also able to detect potential problems before they escalate into crises. With up-to-date aerial images and data, companies can quickly identify potential issues, such as unstable structures or exposed wires, and address them before they become serious hazards.
3. Cost Savings
In construction, the cost is always a major factor. Using drones, construction firms can save money through more accurate planning and better-informed decisions. With up-to-date aerial images and data, companies can quickly identify potential issues that may not have been noticed before and address them cost-effectively.
With the improved efficiency of using drones, construction firms can also reduce their labor costs. Drones can collect data much faster than humans, meaning fewer personnel need to be hired or kept on the job site for longer periods. This allows companies to save money while still ensuring the quality of their projects.
4. Enhanced Project Planning
When planning a construction project, the more information you have, the better. With drones, companies can access up-to-date aerial images and data to help them make informed decisions. They can also monitor changes over time and plan accordingly, reducing potential errors and delays.
A professional drone can also be incredibly useful for surveying sites for potential projects. Companies can quickly identify potential issues or obstacles before they start building, allowing them to make adjustments without wasting time or money on projects that may be doomed.
5. Improved Collaboration
Drones can also help construction firms collaborate more efficiently. With up-to-date aerial images, data, and video footage, companies can easily share information with their team members and other stakeholders. This makes it easier for everyone to stay on top of their projects and ensures that the project runs smoothly regardless of location or time.
Moreover, drones can provide real-time updates from the job site, which can be invaluable in helping teams make informed decisions quickly and accurately. This improved collaboration helps to reduce miscommunications and potential mistakes, resulting in a smoother workflow overall.
6. Improved Documentation
Documentation is an essential part of any construction project. Drones can make it easier for firms to document their projects by providing accurate and up-to-date aerial images, data, and video footage. This ensures that any changes or modifications are properly recorded and accounted for, making it simpler to review a project's progress if needed.
Documentation can also help protect a company's interests in disputes or legal issues. With accurate records, firms can easily demonstrate that they have done their due diligence and adhered to the necessary regulations and protocols.
7. Increased Customer Satisfaction
Finally, using drones can help construction firms increase customer satisfaction. With improved project planning, cost savings, and enhanced collaboration, companies can deliver better results in less time. Construction firms can also send customers regular updates with aerial images and data, allowing them to track the progress of their projects in real-time. This transparency helps to build trust between customers and firms, leading to increased satisfaction overall.
Conclusion
Drones can be a powerful tool for construction firms. By providing accurate data, enhanced collaboration, and improved documentation, companies can reduce costs, plan better and deliver projects faster. Moreover, drones help to improve customer satisfaction with increased transparency and better results in less time. These benefits make it clear that drones are an invaluable asset for construction firms.