Do you think all the benefits that packaging brings to your business can be summed up in one sentence? It seems difficult, but let's try:
Packaging is more than a wrapper that protects your items.
It is the first thing the customer sees when he receives an order at home, the one that makes the user remember your brand better and the one that reinforces your corporate identity.
In addition, thanks to technology and the multiple tools that we have today, you can customize it and align it with your branding as much as you want.
Today we are going to talk about one of them, the dyeline, and the tool with which you can turn your online packaging design into real packaging, that is, in three dimensions.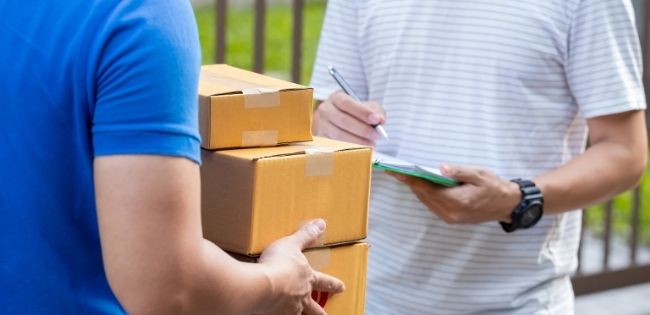 Specifically, we are going to tell you:
What is a dyeline and what elements make it up.
Why it is important to become familiar with this tool to design custom packaging.
The difference between the online editor and the dyeline, the two tools that Pack helps offer you to design packaging.
What is a dyeline?
The dyeline is a two-dimensional physical representation of a product that will later be built in 3 dimensions.
We can say that it is a plane that is used as a guide to know what shape the product will have, where it will be folded or glued, and in which area the logo or design will be printed.
In short, the term refers to a template whose objective is the good design of the physical packaging.
Thanks to it, designers and manufacturers can work on plans and clearly visualize the cut-and-fold lines.
In addition, the dyeline is not only used to make boxes with a rectangular or square shape. It can also be used to manufacture packaging with special shapes, such as food.
What parts make up a dyeline?
The most important thing about the dyeline is its internal lines since they provide us with information on where the box will be cut, folded, and glued to have our packaging in three dimensions.
After watching this video we are going to explain each line in detail:
Cutting lines or corner pieces
They are usually outlined in black and show the actual size that your packaging will have. They define where the final cut will be made in the cardboard sheet.
These lines can be closed (when they join each other forming a single stroke) or open.
The advantage of open marks is that, if there is any variation when cutting the cardboard, these are not visible.
Bleed lines
They are placed outside the cutting lines. They are a safety mark for those designs that exceed the limits of the corner pieces.
It is normally placed 3 mm (in some cases 5 mm) from the cut line and equidistant throughout the entire packaging.
Security zone
This area is very important if you are going to use packaging that includes background colors or images.
The machines are not perfect and sometimes there are millimeter variations in the cut and the designs move slightly from their original position.
Thanks to this area, designers can ensure that the important part of the design is visible and that it will not appear in an inappropriate place within the packaging.
Fold lines
They show the area where the cardboard sheet will be folded to achieve three-dimensional packaging.
In addition to facilitating the assembly of the box, they allow you to check that the design is centered and that it does not occupy any fold of the box.
Internal cut lines
They are used to manufacture packaging with special designs, such as boxes with windows, like this one:
In these cases, it is necessary to add internal cut lines that indicate which areas of the packaging should be cut and eliminated.
In this guide, you will find information in English where the parts of a dyeline are described very well.
Why is it important to become familiar with this tool?
As we have seen, the dyeline plays a vital role during the die-cutting or cutting process, as it displays clear information about:
• The shape and final size of the packaging, that is, its dimensions.
• The exact place where the visual elements (logos, texts, or images) will be placed.
• The place where the cuts (standard or internal) and folds will be made.
In this way, both the dyeline and its brands become a crucial tool for designers, since it is what allows them to go from a digital design to paper or cardboard and to assemble the packaging without setbacks.
With what tools can I create a dyeline?
If you are going to make your design for the first time, we recommend opting for Illustrator or InDesign, the two tools most used by professional designers.
Another common trend in the design world is to submit the final project in a two-dimensional vector graphic.
Vector images are digital images made up of geometric objects. Their advantage is that they can change color, shape, or position without losing quality and independently of the rest of the elements. This helps during the packaging cutting process.
Also, keep in mind that when you create the dyeline, the program will ask you to draw lines based on mathematical formulas, so it will be convenient (and easier for you) to work directly with vector images.
Pack help offers you two options to design packaging Online editor
Pack help offers you an online editor with which you can design your packaging in a few minutes.
It is a highly recommended option for those businesses that are going to design packaging for the first time without the help of a professional designer.
The Pack help team is at your disposal if you need help with the editor. In addition, we have prepared this guide in which you will learn how to combine Canva and the Pack help editor to design custom packaging.
Does it convince you? Well, you just have to enter the store, choose the packaging that best suits your needs, click the blue START button and start creating your design.
Once you are inside, you can add an image, a logo, or a text, modify the external color of the box, add accessories (such as a gloss or matte finish), choose the quantity and size, and place your order.
Dyeline
If you prefer to use a dyeline to design, just click the Design on a dyeline (AI, PDF) link located just below the Get Started button.
Ideally, you should use a dyeline if:
You have a lot of images that intentionally go over the cut lines.
The design or pattern that you are going to print on the packaging covers several sides of the box or an entire area of it.
You will be using high-quality bit images, as these files are very large and heavy when uploading to the editor.
Pack help has a die line that you can download from the web.
It is a file in Adobe Illustrator or PDF format, and you can open it in the program to place your design inside.
Likewise, our design colleagues also have several guidelines for you on the web:
1. The size of the letters must be greater than 8pt.
2. It is much better to use vector graphics than bitmap images.
3. Design lines must be at least 0.5 pt. thick.
4. It is advisable to leave a bleed of at least 2 mm.
5. Take into account the safety margins. Place important items at least 5mm away from cut lines.
Read all these recommendations carefully (you will find more on the web) and, once you have your file ready, upload it and place your packaging order.