The Distractions of a Long Drive:
Although the end result is the same, when we deviate from the tried and true procedures and take the unconventional route, we are treated to an entirely new and memorable experience. This is a result of my recent road trip from Chandigarh to Manali, which prompted this notion.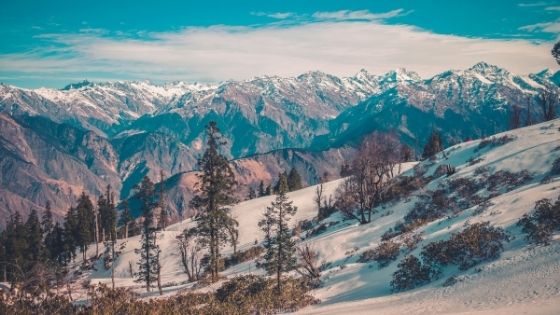 My friends and I were planning a vacation to Manali, Himachal Pradesh, to meet up with some of our mutual friends who lived in the town. It was to be our first journey together to the Himalayan town.
We could have easily boarded one of the overnight buses from Delhi and arrived in Manali the next day with ease, comfort, and most likely faster than we would have otherwise. However, being the adventurous people that we are, we decided to take a different approach.
Before Departing for Manali, Consider the Following:
We took a journey with a family friend to Chandigarh, where we remained for the evening. The next morning, we went out to find a taxi service in Chandigarh that would be capable of navigating the mountainous terrain.
Fortunately, we were able to negotiate a very favorable price with our chauffeur, who also happened to be a wonderful guy. Because he was kind and experienced, he could easily drive across the mountains with his eyes closed.
Technically, the drive from Chandigarh to Manali on NH 3 takes 8-9 hours, but we were prepared for a long day on the road. It was anticipated to be a day-long voyage with an arrival time in the late evening in all situations. Despite the fact that there are two alternative roads between Chandigarh and Manali, this was the quickest and most scenic route, with intriguing stops for refreshments or simply to refuel.
The Route Up to the Manali Peaks
We noticed a significant difference as soon as we exited the Chandigarh city limits and entered the sun-kissed highway. The broader highways, bluer skies, and limitless vegetation on both sides provide a vista that we would have missed if we had stayed on the overnight bus throughout the trip. Plus, who could have provided us with a customized playlist of Himachalese and Punjabi music to keep us entertained?
We were on the road through Punjab in less than an hour. Despite being in one of the state's less desirable regions, the view is precise as depicted in Bollywood films, with luscious mustard fields against a clean blue horizon and tractors zipping over the fields. These little brick buildings were along with the fields, their colors and elaborate stucco work on some of them indicating the status of the family.
Stopping for a Bite of Food
Road trips make me more hungry than any other experience in my life.
During our first detour, we stopped at Rupnagar, Punjab, for the morning meal preparations. This stretch of road is dotted with eateries of various types, the majority of which serve traditional Punjabi and other north Indian dishes, as well as international cuisine. Formed in 1950, Haveli Dhaba is your standard highway-side cafe that has been serving tourists since then. As we proceeded on our trek, we stopped for a regal Punjabi-style lunch.
After passing through Bilaspur in the late afternoon, our next destination was straight in Himachal Pradesh. The Bhaduri Ka Dhaba is a popular stopping point for visitors looking to get a bite to eat.
We wanted to take a break from the trip to breathe in some fresh mountain air because the altitude was getting to us. It took our taxi around three hours to get us to a place where we could view the Bhakra Dam, which is otherwise a three-hour drive away from the highway intersection.
There are also a handful of fascinating locations to stop by in Sundernagar, but we decided to hurry on and halt immediately in Kullu because the sun was fading.
Kullu, the gentler sister of Manali, is a renowned tourist destination on par with the latter. Rather than the other cities we had left behind, it is a valley resort that provides you a flavor of Himachal life and is much different from the others we had left behind.
It was towards the end of the day, and the stores were preparing to close. We made a pit stop at the Kullu market for some tea and to do some window shopping. If one wants to appreciate the true beauty of Kullu, he or she should visit the town during the daytime.
Our arrival in Old Manali took us well beyond 9 p.m. by the time we reached our final destination. Thanks to an amazing Chandigarh to Manali taxi service and our fantastic driver, we didn't feel tired at all while traveling for 12 hours over steep terrain. He helped to make the road trip a very unforgettable experience for us!