Everyone knowingly or unknowingly has experience with SEO every day. Yes, you heard right, every time you are stuck with new words or when you know more about nearby restaurants, to shop something, to learn more about new technology, for that matter to seek any kind of insightful information. What we do is turn to Google right! We search in Google to find answers to our questions, then Google loads your search and shows you the results containing many websites related to your search.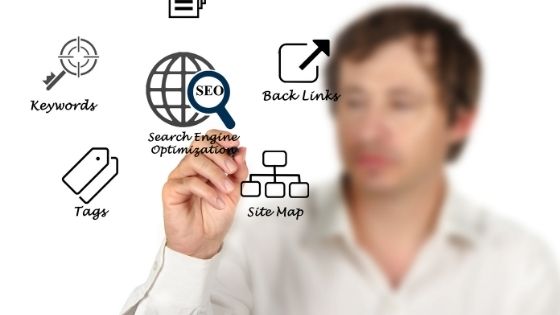 Have you ever wondered how a few particular websites appear on the top of a search results page? Here is how SEO plays its role in enhancing the visibility and ranking of a particular site. If you're familiar with SEO you already know what I am talking about, if you're new to SEO then read on to learn more about it. SEO is the main priority for any marketer in 2022. This helps you learn simple yet effective strategies to build your online brand using SEO.
What is SEO?
SEO means Search Engine Optimization. SEO helps to increase your site visibility and Rankings that
drive more users thereby increasing chances of conversions leading to increased customers and revenue organically. It's a strategy that ensures if any search is made related to your product or services categories then your website is found on the search results page for the users.
Usually, Search engines analyze certain elements like title tags, keywords, images tags, internal link, and backlinks and also takes account of your site structure and design and visitors' behavior and related factors to determine how your site should be ranked in their SERPs. After all, taken into consideration search engines decide your site ranking and visibility.
Let's know how SEO works?
It optimizes your site content and conducts keyword research and earns inbound links to enhance your site's visibility and ranking. As you're familiar with how SERP works, once your web page is crawled and indexed by a search engine, it takes a few months to materialize the efforts of SEO fully.
Ranking
This talks about the position of the particular web page to be placed in The SERP
Usually ranking starts from position number zero to the final number of results displayed by search engines related to the query. A web page will be ranked one position at a time. Overtime ranking of a particular web page changes depending on age, SERP competition, and any algorithmic changes made by search engines.
Visibility
Describes how prominent a website of a particular domain appears in the search engine results. Search visibility will be lower when a domain isn't visible for various related search queries and will be higher when a domain is visible for many such related searches. They are responsible for domain authority and traffic.
SEO helps to improve your brand and also ensure your marketing enhancement by understanding market trends ( also customer behavior has been changing as everyone prefers online services.)
Before, customers used to gather information through google, later with the help of reviews and media hype, now for the customers to consider your services is by showing in their search results which is the organic approach to building your brand
How does Google rank your page?
The main objective of search engines is to provide the most relevant answers and information to the users. Every time we use them, their algorithms choose relevant pages related to our query and display them according to their ranking, enabling the one with the highest-ranking and visibility and authority to appear at the top of the Page.
The relevance that exists between the search query and content on the page especially topic and keywords etc. Authority is measured by a website's visibility on the internet assuming the more visibility is the more is its ranking.
Search engines consider various factors to ensure the users are provided with relevant information related to their query. With the help of search algorithms which are complex equations to analyze all this information. Search engines maintain their algorithms secret.
There are ranking factors that increase your site's ranking and visibility. We will talk about them in our further discussion.
SEO Strategy
It's a comprehensive plan to attract more traffic to your website through search engines. They can be technical, on-page, and off-page. Certain on-page strategies like using specific keywords and off-page strategies like earning inbound links from other websites.
Three basic components that need to be optimized are website technical setup and content and links.
Website technical setup :
This talks about whether your website and pages allow Google to scan and index them without any issue. Also, Search engines look at your website and web pages as only text whereas we see them as a collection of graphics and colors and text formats and links. Hence search engines view your page very differently from the way you view it. Any element that can't be depicted this way will remain invisible to Search engines and content is inaccessible to Google.
Search engines crawl sites by following links, they land on a page and use links to find related content to analyze. Navigation and links must be in text form only.
Search engines don't consider lengthy strings of words with complex structure so make sure you keep URLs Simple and short by adding less text beyond the main keyword of the page you want to optimize.
The search uses the loading time which is the page speed that enables the users to read the page. Google's page speed insights tool would be a great help to improve your page speed.
Dead links of non-existent pages or broken redirects point to a resource that no longer exists Both provide poor user experience, also search engines from indexing your content
A sitemap is a simple file containing all URLs on your site, used by search engines to understand what pages need to be crawled and indexed. Robots.txt file describes what content is not to be indexed by search engines. Creating this helps to speed up your content crawling and indexing by search engines.
Duplicate content is pages of identical and similar content considered to be confusing and a negative factor.
Content :
All kinds of information are structured in different formats like text, images, videos, blogs, webpages, event listings, etc. The quality of content brings customers to your websites. Analyzing page length and structure defines the quality of content, search algorithms make sure persons' queries and pages are relevant.
Keyword research is potential phrases that are often browsed in search engines. Includes identifying the terms and topics related to your business to target your audiences.
On-page optimization ensures the search engines understand page topics and keywords and be able to match them with relevant searches. Optimization of keywords and non-keywords related to On-page optimization.
Links:
Any search engine or Google aims to provide users with the most accurate information. They prioritize pages that are relevant to their queries. Links are responsible for authority or popularity.
A backlink refers to your content on other websites. Google considers the quality and quantity of links as websites authority. Often referred to as a more popular high-quality website than a mediocre one.
There are certain link quality factors and link building like relevance and authority and trust in the domain.
Link building defines the process of acquiring new backlinks which need to satisfy various quality criteria. The following strategies would be helpful to fulfil those criteria.
Editorial or organic links: backlinks come from websites that reference your content on their own
Outreach: contact other websites for links.
Guest posting: blog articles you publish on third-party websites include your links in that post.
Profile links: Websites provide an opportunity to create a link using your online profile.
Competitive analysis: you should understand competitor backlinks and recreate similar kinds for your sites.
By enhancing your visibility, you can attract more visitors and hence conversions and sales. Hope these would be a great help to understand how SEO functions and can contribute to your financial success. Also, you can get connected to an SEO company in Banglore or some digital marketing company in hrs layout to make things easy for your SEO.