Andaman and Nicobar is an Indian archipelago in the Bay of Bengal that includes nearly 300 islands. While some of these islands have been commercialized and developed as tourist destinations, the majority are uninhabited, free of human interference, and exemplify virgin nature. 
Here are a few places to explore when visiting the Andaman Islands.
The Viper Island and Port Blair
We were soon on our way to the Sea Shell Resort, our hotel. Port Blair is a small town with no public transportation.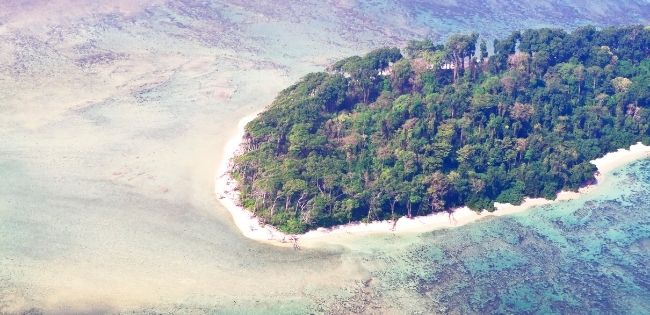 We drove to the Phoenix Bay Jetty after a delicious meal. Viper Island was our final destination. During the British reign of India, Andaman was a prison colony. Exile to 'Kala Pani' – the cellular jail — meant receiving a prison sentence in Andaman.
Ross Island's Red Cheeked Bulbul
The main structure is now in ruins, and the island is a haven of quiet and tranquility that is only broken when ferries carrying tourists dock at the jetty.
I discovered that Viper Island was an open prison where inmates were bound since they had nowhere else to go with miles and miles 
The Cellular Jail's Light and Sound Show
The next day, after breakfast, we were heading to Coral Island in North Bay, where we could go snorkeling and have a glass-bottom boat ride. First, I went snorkeling.
I have to admit that the mask over my nose was uncomfortable at first, and I had to learn to breathe through my mouth, but I got used to it. The coral and fish are visible, and it was a lot of fun.
At Ross Island, there's a deer.
Ross Island was once the British capital of the Andaman Islands, but it is now in ruins. We were accompanied by Anuradha, a dedicated guide.
The island used to have a church, a tennis court, a bakery, a mint, a cemetery, and other civilization-related amenities.
There were Red Cheeked Bulbuls aplenty on the island, as well as deer. It was past lunchtime by the time we departed Ross Island! We had a late lunch and then went to the Cellular Jail for the sound and light display in the evening.
The problem with writing about this trip is that some of the places we visited, such as Ross Island, Cellular Jail, Scuba Diving, and the Limestone Caves in Baratang, could all be articles in themselves! Modes:
The Wandoor Beach, the Cellular Jail, and various museums are all located in Port Blair.
The light and sound spectacle were so touching that one of Make My Trip's young tour managers stated he cried the first time he saw it.
Cellular Jail
The Cellular Jail was our first trip on day three. We had learned some facts about the infamous jail through the light and sound presentation, but being able to tour the facility was a very different issue.
Port is home to Wandoor Beach, the Cellular Jail, and a number of museums.
On day three, we went to the Cellular Jail for the first time. Through the light and sound performance, we discovered various information about the historic jail.
Naval Museum
The next one is the Naval Museum, the aquarium, and a museum dedicated to the lives of the Andaman tribes. Museums, as you can tell from my description, are not my cup of tea!
Wandoor Beach
Wandoor Beach is around an hour and a half drive from the city center. It's a peaceful spot.
Limestone Caves are located near Baratang. The highway passes through the Jarawa Tribes Reserve Area, and cars must go in convoys escorted by police.
Baratang
The Jarawa people notice the caravan moving and approach the path. No unauthorized stops are permitted; cars must maintain a constant speed, and photography is strictly prohibited. 
Limestone Caves are located near Baratang.
The route runs through the Jarawa Tribes Reserve Area, and cars are only permitted to go in convoys guarded by police.
Conclusion
Thus, from lively beaches bustling with fun-loving people to beaches teeming with nature's tranquility, Andaman and Nicobar offer a range of experiences that make it an ideal destination for all. From children to adults, from vacationers to explorers, everyone returns from Andaman feeling elated and rejuvenated. In a nutshell, Andaman offers a wealth of experiences and delights in the form of diverse activities, breathtaking scenery, and, of course, delectable seafood.