In the contemporary business world, every marketer acknowledges the massive significance of social media. In fact, social media marketing has become quite a buzzword in the corporate world and there is every reason to believe that it is now a critical success factor.
To elaborate, social media platforms offer you an immense opportunity to take a brand among billions of active monthly users in a viral way. As a marketer, you would already know that a large number of people these days find new brands and businesses via social media. Having said that, creating a strong social media presence becomes indispensable for your brand.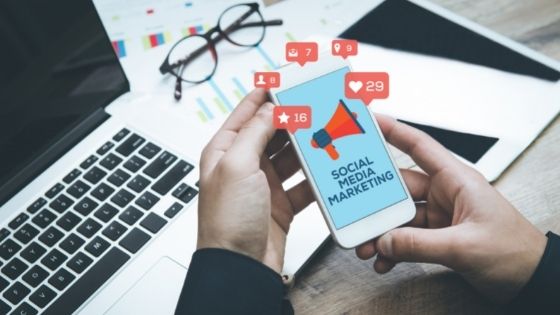 Moreover, social media videos have helped 93 percent of businesses to acquire new customers as per social media marketing statistics. Similarly, brands are now aggressively investing in social media polls, live streaming sessions, and new social media strategies to optimize their marketing. However, ultimately, the success of these tactics entirely depends on the effectiveness of marketers.
The bottom line is that marketers need to have the prerequisite skills to create a huge difference and help a brand become a familiar name on social media. What are these skills and why do they matter so much? Let us elucidate on the same by delving deep into this blog.
1. Appealing creativity
Engaging people on social media and establishing a connection with them is all about creativity. In fact, when you market a business on social media, creativity proves to be your greatest USP. You have to bring new innovations to the scene every day because your audience will expect unique content from your brand on a daily basis. Remember, authenticity is the key to high customer engagement on social media.
If you are not able to get that newness going, your audience may soon begin to disengage. You need to keep trying creative ideas to get the engagement going. Not all of them are going to work with the same impact but that must not compel you to give up your knack for creativity.
Your quest should be to create fresh and informative content for your social media community. Besides, this content needs to be presented to them in different forms ranging from podcasts, small videos, social media polls, and stories to enticing captions.
For that, you need to work on your creative intellect and build it daily in an incremental way. As long as you have proficiency in creative intellect, you will have an edge over others who have become complacent. People on social media absolutely love creativity and uniqueness and hence, it is your best chance to create a strong social media tribe for your brand.
2. Keen observation skills
It would not be incorrect to say that observation skills complement marketing skills in a holistic way. When you lead a marketing team or are a part of marketing brainstorming, you have to keenly observe the influence of each tactic on your social media audience.
To elaborate, you should have proficient observational skills to gauge the influence of each social media marketing strategy. That will help you understand which ideas work the best for your brand's social media promotions and which ideas have been redundant. In accordance with the same, you can decide the course of your future marketing strategies.
Also, you need to observe the kind of responses your social media engagement tactics are getting and which demographic segments are the most engaged. Such observations will hold the key to the planning of your marketing strategies. The more effective the observation skills the greater will be the success. You have to keep observing and learning to keep getting better at it.
3. Great flexibility
To be a successful marketer, you need to incorporate flexibility into your approach. When you are flexible in your strategies, you can adjust to the dynamic nature of social media marketing with greater ease. Moreover, flexibility will give you an incredible opportunity to exploit the emerging social media marketing trends before your competitors do.
Besides, when you are flexible, you are more open to experimentation and going outside the box with your strategies. You never know, your experimentation may emerge as the next thriving trend on social media. Thus, flexibility in your marketing approach can be a great competitive advantage. Remember, nothing about social media is rigid and this explains why flexibility will be a great skill to have for social media marketers.
4. Effective data analytical skills
As a digital marketer, you simply cannot ignore the need to take metrics into consideration. To explain, social media marketing comes with its own share of key performance indicators that you need to keep tracking. To add, marketing in contemporary times is becoming largely dependent on the analysis of big data to understand customers' preferences and patterns.
Therefore, it is high time marketers hone data analytics skills to excel in digital marketing. You will be amused to know that as per AI marketing statistics, AI has helped marketers to boost sales by 52 percent. Moreover, with the help of AI and data analytics, marketers have been able to enhance customer retention by 51 percent.
So, as you can see, data analytics based on artificial intelligence is the new mantra of marketing success. The sooner you align your skillset with data analytics abilities the greater it would be for your success. Big data has big power to drive massive changes and it is time you start making the most of it to refine your marketing tactics. With data analytics, you can achieve greater distinction in your SMART goals and objectives to excel in social media marketing.
5. Brisk adaptability
Social media trends tend to change in the blink of an eye at times. Having said that, as a marketer, you ought to have exemplary skills when it comes to adaptability. You have to adapt to the nature of briskly changing social media trends and deliver on them before it's too late. After all, there is no fun working on a social media trend when it is already out of trend.
In general too, in marketing, you ought to have fine adaptability to exploit every opportunity available around you. When you have great adaptability, you can respond to any challenge with conviction and innovation. Otherwise, those who lack adaptability will rather feel overwhelmed when surrounded by challenges.
Remember, as a marketer you should have what it takes to shine amid a daunting challenge. In simple words, your adaptability will be your greatest core competency when the stakes are high and challenges are ample.
6. Engaging storytelling skills
If you talk to seasoned marketers, they will tell you that storytelling is the future of marketing. Having said that, marketers in this new age ought to have streak smart storytelling skills. Your content marketing strategies ought to be such that they are able to build a personalized connection with your audience. This is where storytelling marketing will prove to be your best bet.
To elucidate, you will be glad to know that people's chances of buying from your brand are 55 percent higher when they appreciate your brand's story. Moreover, 15 percent of them will make an immediate purchase if they love your brand story. These insights clearly indicate the growing significance of storytelling marketing.
However, creating compelling stories is no cakewalk and takes a specific skill set to excel. As a marketer looking to make it big in the coming years, you ought to master the art of storytelling. To achieve the expected ROI of storytelling marketing, your brand story has to be authentic, enticing and something that your audience can relate to on a personal level.
If you can do that via social media, that is going to be among your greatest achievements as a marketer.
7. Efficient SEO skills
Practically speaking, SEO skills have now become indispensable for all digital marketers. To elucidate, the correlation between social media marketing and SEO is helping marketers achieve great outcomes. Thus, as a marketer, you ought to know how social media marketing can benefit your SEO results.
The more optimized your skillset in SEO the more effective will be the planning of your social media marketing strategies. What can be better than your social media marketing efforts yielding SEO benefits for your business? However, to decode how that works, you need to build strong SEO skills and should be committed to enhancing your SEO knowledge consistently.
To encapsulate, in the ultimate sense, the success of social media marketing strategies is subject to the creative intellect, adaptability, and analytical skills of marketing professionals. With a skill set that can embrace all challenges and brainstorm new ideas every day, you can take your brand to the pinnacle of social media authority. Once you establish your brand on key social media platforms, your brand will enjoy a flourishing dominance.