Replacing the roof on a home can prevent it from being damaged by bad weather conditions, especially if the roof is old. However, roof replacements may be too expensive if you're not prepared. So, it's essential to figure out when the right time for a replacement is.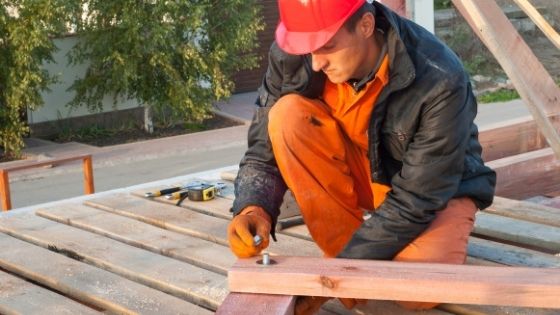 Here are a few signs you can check to see if it's time for a new roof at your place.
1. There Are Leaks in the Attic
One of the first places to look is the interior of your home. First, grab a flashlight, and then head up into the attic. Once you've made it up there, look around for signs of leaks. For example, if there's light coming through the roof, this may indicate a crack.
Using the flashlight, look near any cracks to see if there's any water damage. If the roof has a gap, water seeps into it most of the time.
As a result, it may cause damage to the attic, costing tons. So, keep your eyes peeled for anything suspicious when examining the space. That way, you'll know whether it's time to order a replacement.
2. The Roof Has Missing or Damaged Shingles
After seeing the interior, you should head up on the roof from the outside. Usually, it's not hard to see if there's a broken shingle from out there. So, grab a ladder and climb up on the roof.
Once you've climbed up there, walk around carefully while looking for damage. Even a cracked shingle could signal the need for a replacement. Since damage starts small, it could indicate the potential for problems in the future.
So, try to note where you've seen damaged shingles while up there. Then, let someone know about them if you've spotted several. A single broken shingle might not warrant a whole new roof, but it's still noteworthy.
3. The Roof Is Old
Roofs tend to last for at least 20 years, if not longer. But, their lifespans usually depend on the material used to build them. So, take a look at what's been used and compare that to the material's average lifespan.
Asphalt shingles may last up to 30 years if you take great care of them. But, once they've aged enough, nothing will keep them working. So, you can tell if it's time for a replacement by checking out your roof's age.
When it's more than 20 years old, replacing it may be a good idea. Otherwise, you're running the risk of it getting damaged. The sooner you've replaced the roof, the less likely it will be to cause any harm.
4. The Flashing Is Damaged
Flashing is the part of your roof that meets the chimney and other protrusions. Since it extends from the rest of the roof, flashing is vulnerable to damage. So, if you're checking out the roof by hand, take a close look at all of its flashing. Sometimes, that's where you'll spot damage first.
When examining an older home, you may notice its flashing is made of tar. If your place has tar flashing, upgrading to a metallic system would be beneficial. Since it isn't as easy to damage, it typically lasts longer after being installed.
While looking at the flashing, keep an eye out for signs of cracks. That could show something has broken the flashing's seal, leading to water damage.
5. There Is Interior Water Damage
The main reason you need a well-preserved roof is to prevent water damage at home. So, you may want to see if there's been any to the attic if you're going up there.
It'll show up near places with cracked shingles or flashing most of the time. Make sure to check out the underside of any damaged spots you've found up there. That way, you'll know if it's time to contact a business that does roof replacement in Austin, or wherever you live.
In Summary
Getting a new roof can be great as a homeowner. Since it won't leak, water damage won't be a problem, either. But, you don't want to get a replacement if the old one is still working well. That's why checking it out is crucial. If it's damaged, you'll know it's time for a replacement.